Nusa Penida is a beautiful, rugged island, just a short 30 minutes by boat from Sanur in Bali. Angel Billabong, a natural wonder, is one of the island's main highlights. It is not easy to find, which makes the discovery even more delightful. An emerald green pool, which is in the shape of an angel, sits nestled in rocks, perched above the ocean.
I got to enjoy this place with no one else around. It was just me and my trusty ojek (motorbike taxi) driver. We followed a series of small tracks to reach this remote, angelic place. It is also possible to access the site by car but for me, the motorbike ride added to the thrill and adventure of being on this rugged island.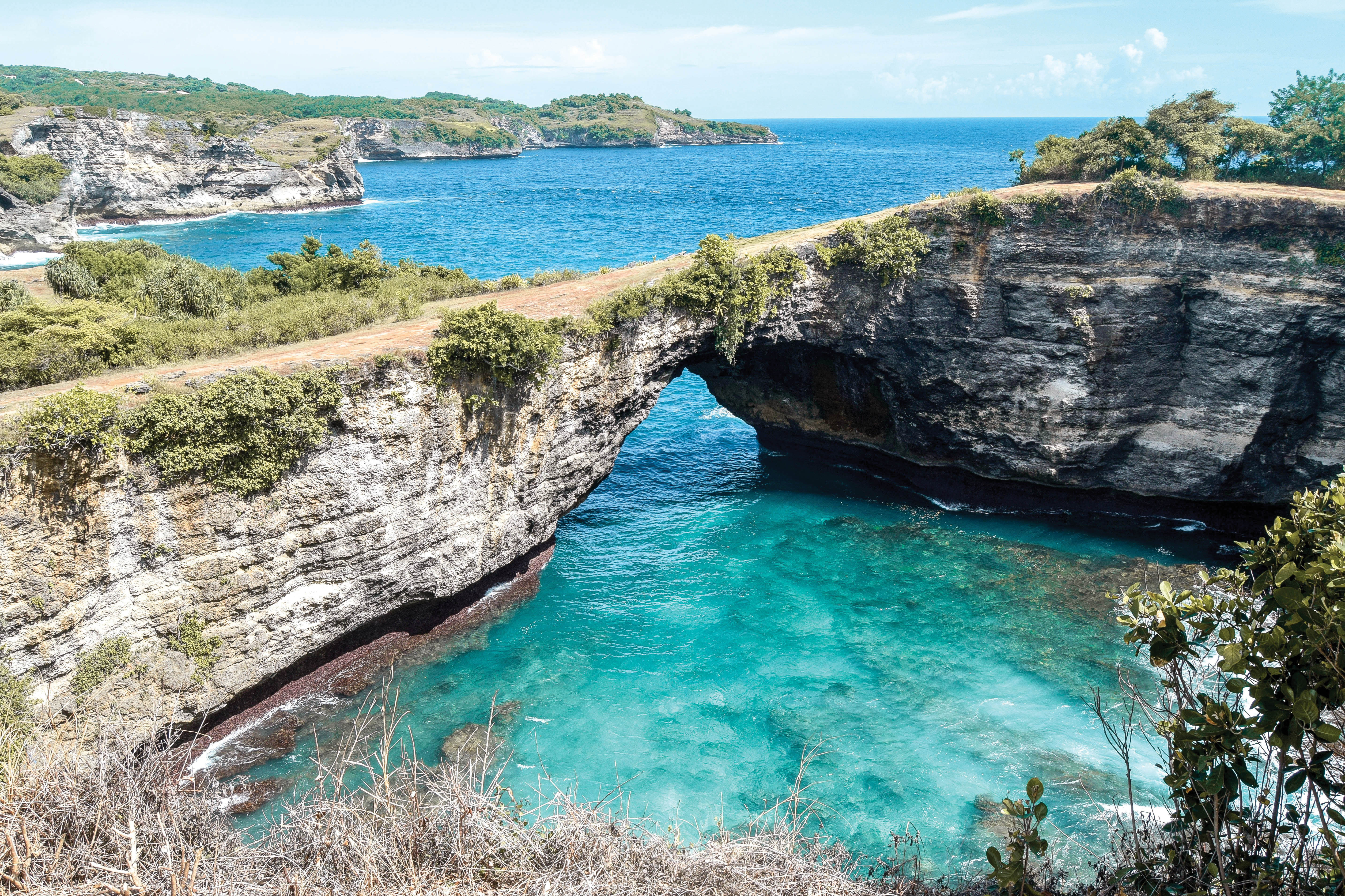 When you swim at the pool, or billabong as they call it, make sure you enter the water at low tide. If it's high tide, or if a king tide is present, the pool can be dangerous. Once you are in, you are at the hands of nature but a little caution helps. A freak ocean wave can come over the lip of the pool.
The day I visited the ocean was calm. My driver, Purnama, also joined me, ensuring I kept a safe distance from the infinity edge drop off. Although it's very tempting to go closer to the far end, to check out exactly how high you are suspended over the ocean, it is best you do not do this. Like all adventures when you are travelling and discovering new things, always listen to the locals and do as they say. It's their domain, and they know best.
As I floated at a safe distance, I caught sight of four dolphins just a little way out in the calm, blue, ocean waters. "Never, in my whole life, have I seen dolphins here," Purnama commented, "You are very lucky, Miss."
Nusa Penida is an island barely influenced by tourism. You can, however, find local homestays from USD$15 a night around Ped Village. Staying home-style with a Balinese family is a great way to connect with the culture. There are also a few hotels (not many) and even a tree house available for rent on the island.
Just at sunset, I grabbed a drink near Ped Village. A little wooden handcrafted sign, "Penida Colada Bar" had attracted me. I promptly ordered the drink of the day, not surprisingly a pina colada. The bar and restaurant served delicious fresh cassava chips and the menu included an array of fresh seafood, excellent vegetarian dishes, chicken curries and fresh juices.
I met Liza and Wayan, the most gracious of hosts, and their two children who were being happily entertained by grandma and other extended family members. I learned that Liza and Wayan also organise local basket weaving classes, where you can sit right at the water's edge and listen to the waves while doing the class. I went back the next day and managed to weave myself a fisherman's trap and a little flax drink coaster, a first for me. No experience was needed and it was such a relaxing way to hang out at a beach while chatting with the locals.
Don't leave Nusa Penida without visiting the giant blowhole, another natural delight, and if time permits, set aside three or four hours to discover some of the 1,000 temples dotted around the island. You can easily make local transport arrangements once there. Motorbike is the preferred way to get around because of the small roads. Some cars are available, and in the North East around Ped Village, you can also get a bemo, a small local truck with a driver. You will have to sit in "hard-class" in the back, but it's an open-air ride which affords great views.
Make sure you include a visit to Mike's Gallery, just South of Ped, and delve into the local art scene. Be sure to order the home-style roasted fresh coffee and enjoy a delicious cassava brownie cake while
there. The full menu includes standard Balinese options plus vegan, vegetarian and western fare.
Pura Penataran Ped in Ped Village is another "must-do" on the list. This is a temple said to have mystical powers. My local guide, Nengah, turned out to be the son of the temple-keeper and told me about a special ceremonial dance held at the temple at significant times of the year, where the priest chooses young children who are to perform, through a dream. After the dream he seeks them out and the children then commit to a lengthy dance practice regime. This can be weeks or months via the timeline of the dream, in time for the auspicious ceremony day.
Nusa Penida is magical.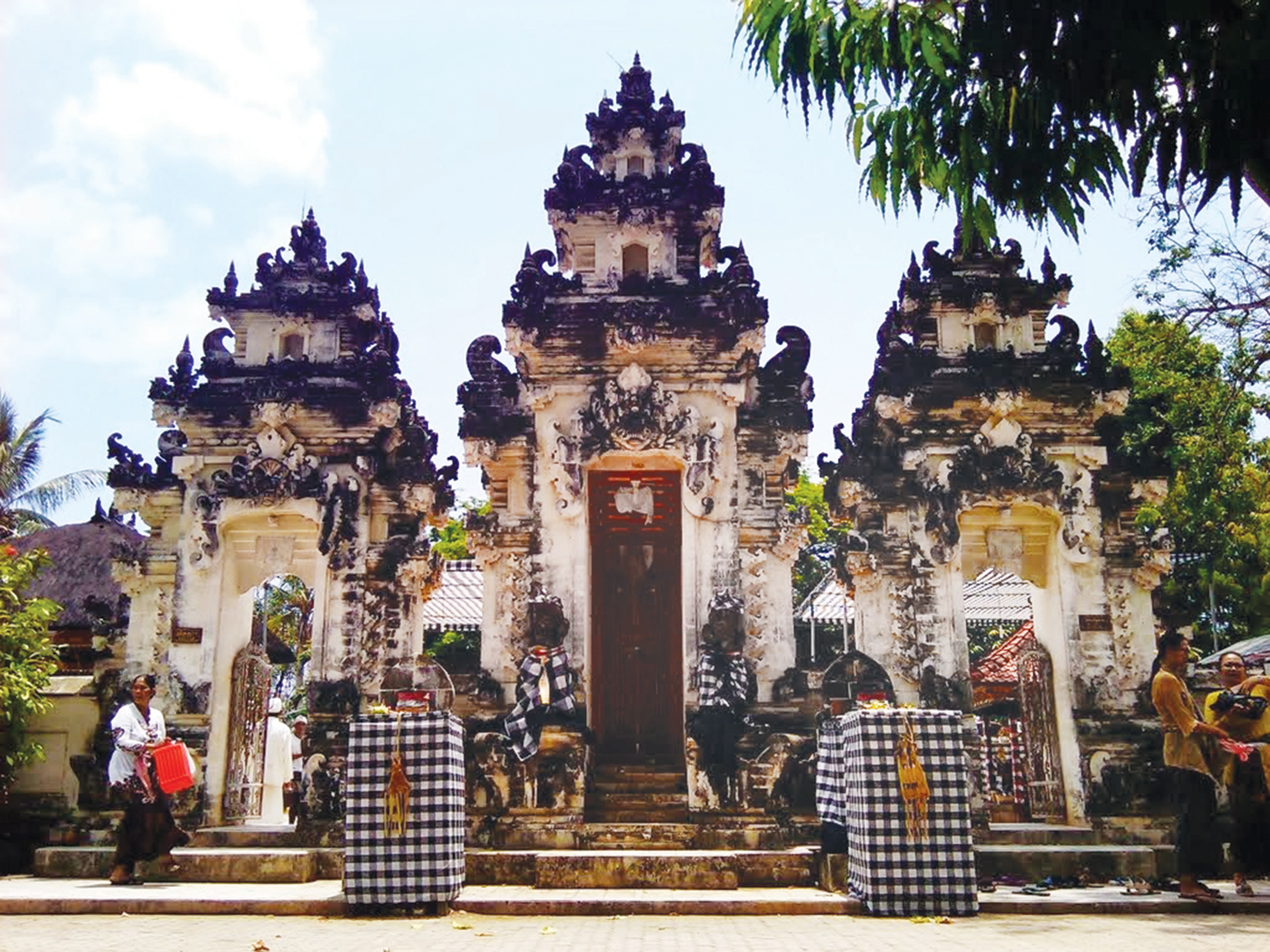 Ped temple is also known for its power to help you attract whatever it is you need – money, power, talent etc. The former President Megawati Sukarnoputri, who served as president of Indonesia from
2001 to 2004, came here to pray just before winning the election.
Another important temple, Goa Giri Putri, is located twenty minutes from Ped. To enter the temple you have to squeeze through a small hole in a rock. A path leads you into a cave, which opens up to a massive cathedral shaped space that houses four temples as well as an upper-level cave area for meditation.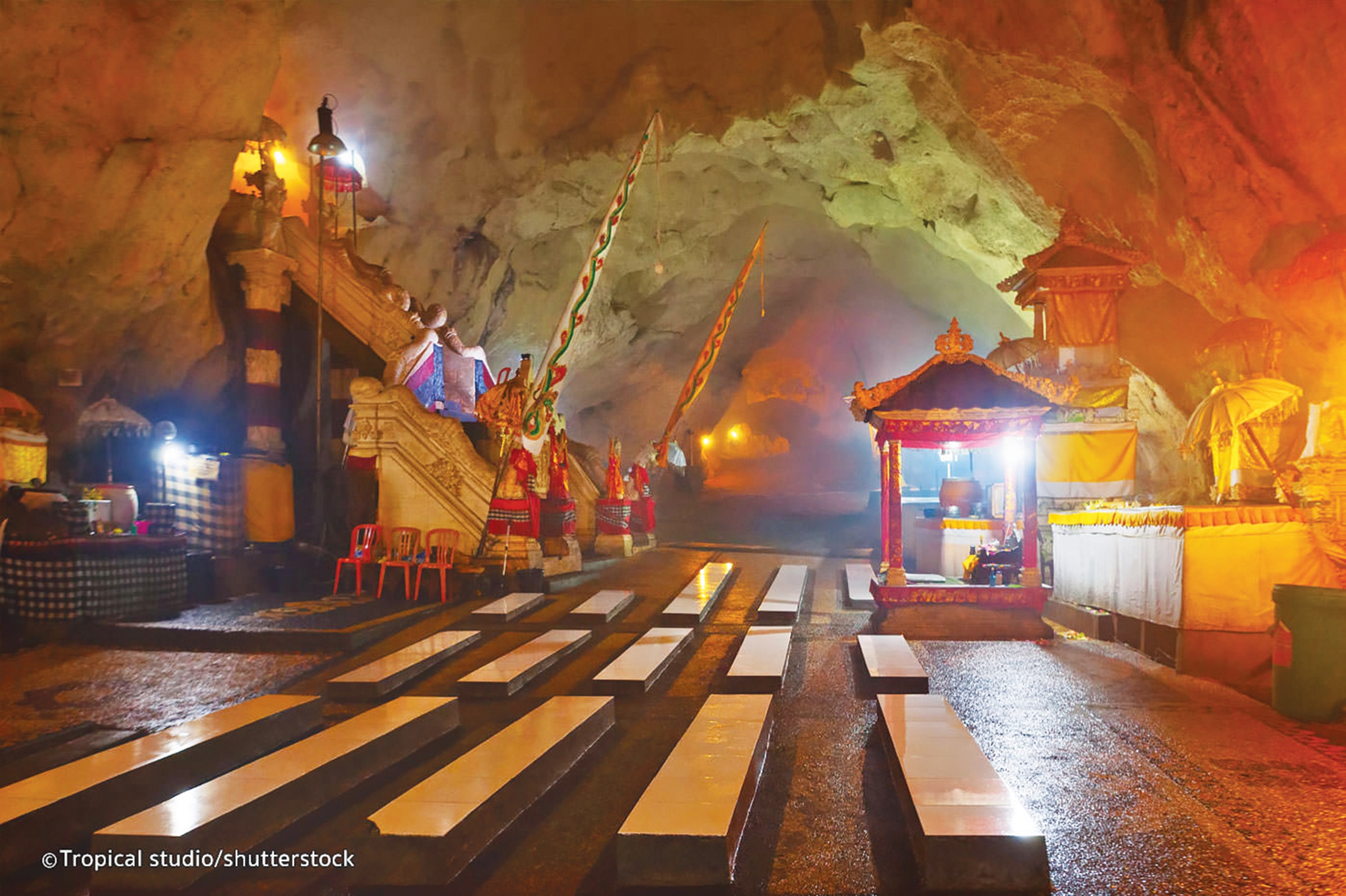 To enter the temple, you must wear special attire – a sash, sarong and a shirt covering your shoulders. You can stop on the way and buy these items at the market or borrow one from your guide. Men wear
an additional piece, an udeng, a headpiece. Once you are outfitted in temple attire, you can pray or meditate with your local Balinese guide in the upper platform area. If you wish, you can partake in Melukut too, a Balinese water purification ceremony, before climbing the staircase to the mediation area.
The other "must-do" on the list is Crystal Bay. You can swim in the clear blue waters with the 1,000kg sunfish called Mola-Mola that frequent this bay at certain times of the year. A couple of simple beachfront warungs (local road-side eateries) cook up fresh fish, and some also provide beer. Make sure you stay for sunset. You can see the silhouette of the lone Hindu temple on Baut Jineng rock, which sits out in the water, framed by the stunning natural beauty of this lovely island.
Nusa Penida offers a slow pace of life and a travel experience filled with angels, magic and colour.
ACCOMMODATION
Namaste Bungalows – Crystal Bay
www.namaste-bungalows.com
Ring Sameton Hotel – Ped Village
www.ringsameton-nusapenida.com
Mikes Art Gallery – Ped Village
A social enterprise art gallery focused on supporting the local community. Great food.
www.facebook.com/The-gallery-Nusa-Penida
Penida Colada Lounge Bar and Restaurant – Ped Village
Fresh, healthy western and Balinese food and great cocktail menu
www.facebook.com/penidacolada
LOCAL GUIDE/DRIVER
Nengah (son of Temple Keeper)
Call/ WhatsApp: +62 812 393 39020
Purna Purnama
Call/ WhatsApp: +62 878 619 15593