Before Indonesia became the republic it is now, the Nusantara archipelago was ruled by many kingdoms with distinct territories, cultures, and political powers. Grace Susetyo visits the Royal Palace of Karangasem and talks to members of the royal family about the legacy of the Last Raja, the politics of cultural heritage and the status of former Nusantara kingdoms today.
"I Gusti Bagus Djelantik is not the 'Last Raja' of Karangasem. The Raja is the raja," said AA Made Arya of his late grandfather who bore the title. A true Balinese renaissance man, I Gusti Bagus Djelantik (also known as Anak Agung Agung Anglurah Ketut Karangasem) was best known for maintaining a peaceful rule through several changes of political sovereignty, religious poetry that the Balinese Hindu revere as life-giving wisdom and his architectural masterpieces of meditative water garden palaces.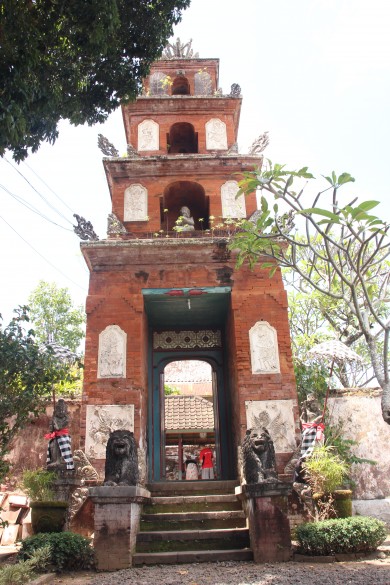 Established in 1661 by I Gusti Anglurah Ketut Karang, Karangasem was an eastern Balinese kingdom that included the territory presently known as the Karangasem Regency and the western half of Lombok. The 18th and 19th centuries saw Bali-Lombok colonial wars against the Dutch, led by the Anglurah Ketut Karangasem sub dynasty until its defeat in 1894.
Born in 1887 during Karangasem's sovereign independence era, I Gusti Bagus Djelantik started his reign in 1908 as a Dutch colonial representative (stedehouder) heading 22 localities. Karangasem fell under the Japanese invasion during World War II and saw another period of brief independence in 1945. A few years later Karangasem joined the State of East Indonesia under the short-lived United States of Indonesia, and eventually merged into the current Republic of Indonesia in 1950 as part of Bali province.
In contrast to I Gusti Ngurah Rai who slaughtered a great number of Dutch soldiers in the 1908 Battle of Tanah Aron and Bebak, I Gusti Bagus Djelantik does not quite fit Indonesia's typical template of the national hero.
Rather than frontally attacking the colonial rule, I Gusti Bagus Djelantik collaborated with the Dutch for opportunities for the advancement of his people. In 1922, he got the Dutch to grant zelfbestuur over Karangasem – a policy of autonomous governance – during which the Dutch constructed water distribution systems, electrical grids, and asphalt roads for Karangasem.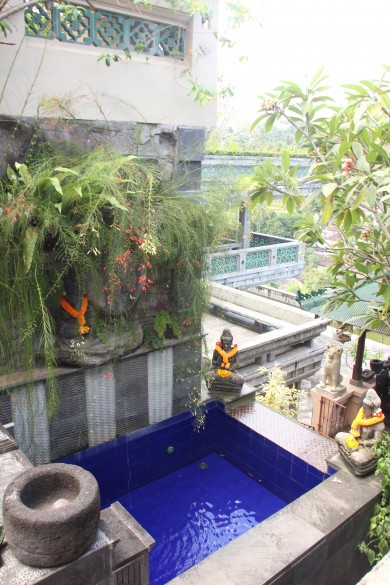 Treading through politically sensitive interests from all fronts throughout his reign has earned I Gusti Bagus Djelantik much wisdom, which he expressed through meditative Hindu poetry. Awi-Awian, a collection of the Raja's lontar manuscripts, details wisdom for governing a nation and a large family from at least a dozen wives. It also contains teachings on human values, accounts of wars with Lombok, advice given by Buddhist and Shivaist royal advisors, and the meditations architecturally expressed through the Raja's water garden palaces such as Taman Ujung Sukasada, Tirta Gangga, and the royal palace Puri Agung Karangasem. The Raja, whose architectural training is strictly traditional Balinese, drew blueprints for the palaces in sand and directed craftsmen to construct them in accordance to the revelations gained in his meditations.
According to Professor Dr AA Gde Putra Agung – historian and I Gusti Bagus Djelantik's heir apparent – Bali's wealth of cultural heritage continues to become a colonial point of interest for the Dutch to the present day. Many of Karangasem's lontar manuscripts, prasasti inscription stones, and keris are no longer in the royal family's possession because they were brought to the Netherlands where they are professionally cared for in museums. Prof Putra Agung conducted studies for his doctoral dissertation on Balinese Babad manuscripts in Leiden because these documents are no longer in Bali.
There has been dialogue between the Netherlands and Indonesia regarding the possession of Nusantara royal heirlooms. However, Indonesia's bargaining power in the matter is weak due to the lack of competent human resources, the prohibitively high cost of professional care for the items, and a corrupt bureaucracy that is not designed to facilitate Indonesian possession of its own cultural heritage.
"We need a leadership that is heritage-oriented and common-people-oriented. Unfortunately, our bureaucracy is still very militaristic and elitist, and yet Balinese ethical values are corroding away," said Made Arya. He adds that there is hope for Bali to eventually receive a return of exported cultural property once Bali demonstrates a commitment to this heritage-oriented vision through competent professionals and well-maintained facilities. This should give the heirlooms the treatment they deserve.
Though Prof Putra Agung never became Raja, he is currently active in an organization of Nusantara monarchs. "Although we come from royal families throughout Nusantara, we are committed to the Republic of Indonesia in a collaborative partnership to celebrate and perpetuate the diverse heritages that make us Indonesia today," said Prof Putra Agung.
While some members of the royal family do not acknowledge the dissolution of Kerajaan Karangasem, it is a fact that no one has succeeded the throne since I Gusti Bagus Djelantik. When asked what he thinks of currently legitimized kingdoms within the Republic of Indonesia such as the Yogyakarta Sultanate, Putra Agung mentioned the Suharto era Land Reform Law of 1969, which set limits on private property ownership to seven hectares and ruled royal land as private property.
"The difference between Yogya and Karangasem is that Keraton Yogyakarta still owns much of the land and many businesses in Yogya," said Prof Putra Agung. "That's why Yogya has so many abdi dalem (royal servants committed to serve the Keraton pro bono out of devotion and pride), because the kind of wealth in the Keraton's possession serves as a guarantee to the people's prosperity. In contrast, Kerajaan Karangasem and other Balinese kingdoms lost most of our land to the Land Reform.
Consequently, Bali has no equivalent to abdi dalem, only penglingsir puri (committee of royal family members that takes up responsibilities managing the palaces and organizing ceremonial family gatherings) and a more independent kind of royal bureaucracy. I don't know why Karangasem became subject to the Land Reform, and Yogya became exempt." It may be worth noting that Suharto is of Yogyakarta heritage.
Regardless of its status, Karangasem today remains full of memories of the great kingdom it once was. From the water palaces of Amlapura to the ancient villages of Tenganan and Pesedahan, from the majesty of Gunung Agung to the ocean waves of Candidasa-Padangbai, every step in Karangasem is a reminder of the cultural vision that its great leader once had, and the life-giving energies of the land his people call home.
"As an artist and architect, I Gusti Bagus Djelantik wanted to leave a noble legacy for the royal family of Karangasem to remember, and for the people of Bali to be proud of. But there have yet to be other Balinese from the following generations to match the greatness of I Gusti Bagus Djelantik's legacy," said Made Arya.
Fast Facts
Country:                                  Indonesia
Province:                                Bali
Land area:                               839.5 km2 (Karangasem Regency)
Largest city:                           Denpasar (Bali province)
Population:                           430,251 (2008 estimate)
How to get there:              Daily flights into Denpasar international airport, and car rental to Karangasem
What to bring:                     Camera
Sleeved tops and sarong for entry into sacred places
Cash for entry tickets, donations and souvenir purchase