Padangbai is a small, friendly Balinese seaside village and a great little getaway about an hour and a half from the airport. Tony and Marita, the visionary owners of Bloo Lagoon, have designed and built a gorgeous small villa resort, which is more like an eco-tourism village.  
It is located high on a hill above the township of Padangbai, and as the resort wraps around flower gardens and fruiting trees, little pathways lead you to individual private villas catering for singles, couples or family groups.
Bloo Lagoon is an eco-resort, which embraces sustainable architecture, self-sustaining water systems, organic gardening and room-by-room recycling systems.  Even the pool is bio-friendly and uses an ionising filtration system, which means you swim in pure, fresh filtered water with minimal chemical use.  You can swim in the pool without the fear of your swimmers corroding, or if you are blonde (via a bottle), your hair won't go green (a hazard of swimming in chlorine pools). The care shown by the owners to make everything eco-effective and sustainable is remarkable.  
A short walk from the resort brings you to a beautiful white sandy beach with a casual warung eatery (with cold Bintang) and fabulous views. Try to get up early and watch the sunrise – it's worth it. The water is crystal clear and remember to take some flippers and a snorkel with you from the resort. The snorkelling is outstanding. You can also take a local boat to some of the remote islands and snorkel around the shallow reefs.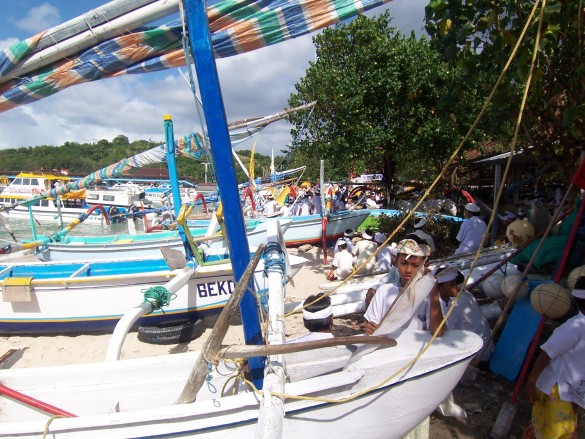 Padangbai itself is a busy little place, as this is the jump-off point to the Gili Islands, Lombok and other islands. It's a real hub of activity down at the harbour, where villagers go about their business amidst fishing boats coming in and out and commercial vessels transporting throngs of tourists out to their Gili paradise mecca in the middle of the ocean. You can find a selection of cafes, many cute little bars and a wide variety of restaurants in the village.  
Because you are located at the top of a hill, it's a pleasant downhill stroll into town, but you may well need the resort shuttle to get you back up the hill. At the end of the day, it's a welcome relief and the weather can make it too hot to walk back.  Just take the phone number of the driver, and he will pick you up when you are ready. It's a free shuttle, on demand. Fabulous.
What really stole my heart at Bloo Lagoon was the stunning ocean views. Each villa not only has different décor but also looks out over a different angle of the ocean. My villa had a huge, open style tropical lounge, ideal for entertaining.  
As we were there to celebrate a birthday, this was perfect for our group. The rooftop sunset bar was a great place to gather at happy hour, sip a cocktail and watch the sunset. Vivid late afternoon colours danced across the massive expansive sky, eventually transforming into a brilliant star-studded night. Set against a stunning ocean backdrop, this also makes for spectacular photos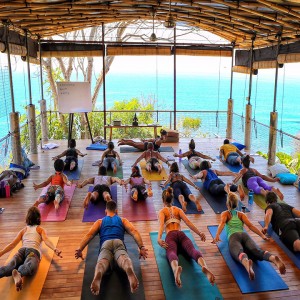 Fancy yoga? If you want to get a head start on the day, why not join the early morning yoga class? The yoga session I took part in was led by a lovely local Balinese man, who took me on a gentle journey of yoga poses and guided breathing. He took great care to explain the different asanas and the philosophy behind the movements and yoga flow.   
Whatever you do, remember to make time for a spa treatment. The rooms look out over a thick jungle to the wide blue ocean. I even had a monkey happily swinging in a tree next to my spa room, momentarily stooping to scratch his butt. I really enjoyed the little show he put on for me. Luckily, I chose a pedicure treatment, which allowed me a ringside seat to take in the antics of this monkey, who was later joined by his family. It was an absolute delight.
When you are ready to venture out, make sure you visit the 11th-century temple, Pura Silayukti which is located at the northern end of the town. There is also a wonderful selection of cultural options and tours which Bloo Lagoon has hand-picked to embrace sustainable tourism including a visit to a nearby traditional Bali Aga village and other attractions, which are all easily arranged at the front desk.  
Accommodation:  Bloo Lagoon Villa & Resort, Padangbai
One-, two- and three-bedroom villas
How to Get There:  1.5 hours from Denpasar International Airport to Padangbai, Bali
2012 Winner Gold Medal -Tri Hita Karana Tourism Award

Sustainable & Environmental Principle Award