There is something so delightfully charming about the warung. It's a celebration of culture, where traditional foods meet a relaxing, unpretentious ambience that reflects the lives of people in the neighbourhood.
I can feel the vibrant radiance of intimacy every time I sit in a warung. Friendly waitresses rapidly move, bringing trays of food to customers; loud laughs and the rattle of cutleries, enthusiastic conversations between diners over humble gastronomic artworks seem like a dynamic song that livens up this ordinary life.
"The great thing about the warung is watching the people, and experiencing a day-to-day life passing in front of you," says Max Lommers, a Dutch expat who currently lives in Indonesia.
One thing that is quite amazing is the social aspect that adds to the flavours. "It's more about the environment that makes you feel comfortable, a part of the culture where people usually eat out. They still need to have some locations for social interaction, like a pub in the UK for example," continues Max.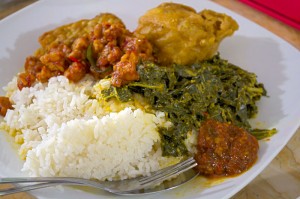 Warung Nikmat, one of the favourites in Bali, is a good example to see the description of how life works on this island, which is filled with tourists, expats and locals. My friend Tari Morlanes loves it here. She regularly eats at Warung Nikmat once a week for more than five years. To her, lunch is merriment in this warung which is located in Kuta, the centre of the tourist destination; it's a perfect meeting point to meet her friends, and a good place to introduce humble Javanese cuisine to her tourist friends.
Another example of a simple and friendly eatery is Warung Kampoeng, my friend Maya Nursari's favourite place to eat, where she also gets her food delivered from. This warung presents a mix of cultural influences from Javanese, Chinese, and Western cuisines in a romantic rustic atmosphere. Office workers stop by after hours to relax with colleagues over ayam kungpaw, mie goreng or es teler, families share tables for extensive Chinese cooking, while couples enjoy eating simple home foods such as rawon or stir-fried water spinach.
"The foods remind me of my mother's cooking, like cap cay and nasi goreng. The Chinese flavour is so distinct with thick soup and sauce. It's really a nice blend," Maya tells me.
Warung is a lifesaver for me, a single and hard-working young woman. Let's admit it, it is an amazing concept you can't find in many places around the world. Delicious fresh foods are available at an affordable price, and ready in just a short period of time. Just drive to your nearest warung, and in less than 15 minutes you can have your meal and still keep your hands clean.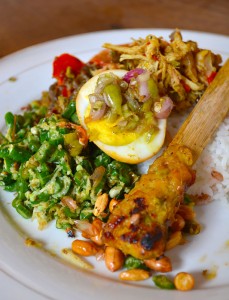 Nasi Ayam Ibu Oki is one place I visit regularly. The warung (although it's actually a house turned into a place to eat) combines delicious Balinese chicken and rice that is so rich in spice and chilli. The pleasure of getting a plateful of rice with chicken cooked in seven ways, served with crunchy fried peanuts and steamed vegetables, and mixed with coconut shreds, is something I always miss when I am away from Bali. When I touch down on the island after being away, I make sure to go here first. It's almost like a statement for me saying, "I'm glad I'm back in Bali!"
For Geoff Drake, a reservation manager in a hotel, warung gives a different cultural experience which he doesn't see in his home country. He is quite impressed with how warung present their food to the customers. "It gives a better sense of comfort to know the foods before getting what I want. I like to pick and choose, and especially like the ones where all the dishes are already made," he said. "And I like to eat too. When I eat I like to be fulfilled at the end, and at the warung, you can manage your portions; if you want to eat more you ask for more, and if you want to eat less, just ask for less."
Simplicity is another factor people like from a warung. According to Juliana Tu, formerly a worker in a private hospital in Bali, warung has a unique down-to-earth character when it comes to foods but with better tastes and cheaper prices. "Restaurants kind of complicate the food and put too much stuff on it, but if you go to a warung, they're really simple and straightforward," says Juliana.
Her favourite is Warung Jawa located on Jalan Danau Poso. She praises it for the continuity and providing foods for customers 24/7. "They have a big selection [of foods] and you can just pick what you want. They always have stuff, they never really run out, and if they run out then they already have a new tray to replace."
Alison Bone, a writer, thinks that the atmosphere and characteristic is the most important thing from a warung. It should have a story about the culture it's presenting and a strong concept about foods. "I like to go to a warung that celebrates Balinese rituals," says Alison. "I like the traditional aspect of warung, like Warung Kayun up in Mas. It has a Balinese village setting and a relationship between food and the gods, so foods as an offering."
Countless quaint warungs in colourful portable stalls or permanent/semi-permanent buildings can be found in every corner of this island, serving delicious foods from all over Indonesia. But although I'm quite adventurous when it comes to eating, there is nothing compared to comfort foods. And something about the warung that everyone must remember is to look at the locals. If locals go there, you know it's a good place to go.
Warung Nikmat
Jalan Bakung Sari, Gg. Biduri No. 6, Kuta, Badung
Warung Kampoeng
Jalan By Pass Ngurah Rai, Jimbaran, Badung
Warung Kayun
Jalan Raya Mas no. 47, Ubud, Gianyar
Nasi Ayam Bu Oki
Jalan Uluwatu 2, Jimbaran, Badung