Raden Saleh Boestaman (c. 1807-1880)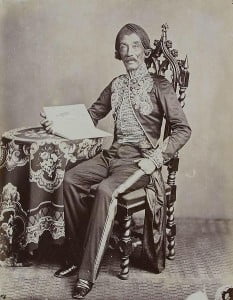 This well-known photo of Raden Saleh, Indonesia's 'first' western-style painter was taken in 1870 when he was at the peak of his fame.  Seated upon a tall Gothic Revival chair in total ease, the artist turns away from an art book he is reading and gazes directly at us with his large deep eyes. Dapperly dressed in military gear including a short officer's jacket embroidered with swirling gold thread and wearing immaculately polished shoes, his only concession to his homeland is his Javanese blangkon headgear.
Although Raden Saleh billed himself as a Javanese prince and was probably born in a minor royal place, his claims of being a scion of a grand royal lineage seem to have been flimsy at best.  The son of Sayyid Husen bin Alwi bin Awal bin Yahya, a Yemeni Arab immigrant, the fact that he took the name, Boestaman, from his mother's family suggests that the marriage between was short-lived or might not have existed at all.
What is certain is that Raden Saleh was intelligent, talented and ambitious. He also had a knack of penetrating the circle of the normally whites-only colonial elite during an era when natives rarely got to do much more than bow and obey.  While still young he sought out the famed colonial painter A. J. Payen in Bogor and convinced him to take him on as an apprentice. In 1829, while barely 20 he received a grant from the Dutch colonial government to travel to Holland and study under Cornelius Kruseman from whom he learned the art of portrait making which would become his bread and butter. His second teacher Andries Schelfhout would teach him the art of making landscapes for which he was also famed. He also loved circuses and fierce big cats, which were regularly featured in his often-dramatic paintings of battles and hunts.
The combination of excellent painting skills and an exotic, polite, charming, native who was also a brilliant conversationalist in several languages was an immediate hit. Introduced as a foreign prince, he gained easy access and recommendations to one royal court after another. The life of an itinerant artist wandering from one palace to another suited him well. He would hit his prime in 1839 at 32 when he worked as the official court painter of Ernst I, the Grand Duke of Saxe-Coburg-Gotha for five years.
Only returning to Indonesia in 1851 after more than 20 years abroad, the successful artist was met like a conquering hero. Here he would continue making portraits for the colonial elite and wealthy Javanese princes whom he claimed as his brethren. By this point, the veracity of pretentions were of no relevance. Raden Saleh, as one of the few Indonesians to succeed in the white man's world, was a celebrity and the talk of the town. Indonesia.  His major contribution to Jakarta was the building of a rather ostentatious Gothic Revival manor with a huge garden in Cikini. Now located on the street named after him, the main building is now a hospital office and reception building. His most famous painting depicts the surrender of Diponegoro, the Javanese prince who led a rebellion against the Dutch colonial regime in the 1820s. Another painting, an allegory of Diponegoro's defeat, depicts a victorious roaring lion (the symbol of the Dutch coat of arms) with a broken Javanese spear in its shoulder.
Raden Saleh, whose politics we can only guess, would pass away in 1880 after returning from a short trip to Europe. As we can see in the pathos in the eyes of the photo, he was a man of many experiences who had bridged the gap between the East and the West during an era when this was considered impossible. Today he is acclaimed as the first Indonesian artist and his canvasses bring pride to the nation regardless of the authenticity of his royal claims.
Also Read How did Indonesia's Economy Come Around?