Indonesia is known for its rich natural resources and limitless ecotourism spots. Whatever your interest, you can find it in this country. Although Indonesia is famous for its breathtaking mountain landscapes, mysterious caves, and rapid rivers, some forget that it is, in fact, a maritime country filled with alluring beaches, coral reefs, marine life, and magnificent horizons. The Indonesia International 2014 Maritime Festival dubs themselves as a movement wishing to remind the whole world of that fact.
On the far west island of Sumatra, bordering with several countries lies a regency of islands that is set to be the stage for the Multilateral Naval Exercise Komodo 2014. Countries visiting Indonesia on this exercise include Singapore, Thailand, Malaysia, Vietnam, Philippines, Burma, Laos, Myanmar, Cambodia, along with other Non-ASEAN countries such as China, Australia, New Zealand, India, Japan, U.S.A., and Russia. In conjunction with this naval exercise, the Indonesia International 2014 Maritime Festival is held to maximize maritime awareness, investment, development, and opportunity during this eventful occasion. This regency of islands is called the Anambas islands.
Hidden Pearls: What to explore of Anambas
The Anambas islands hold a total area of 46,460-metres square and 93% of the area is water-based. So do make sure you pack your swimsuit and sun lotion because getting wet could be on the agenda every day.
During my visit, I conversed with the Bupati (local government head) of Anambas, Drs. Tengku Mukharuddin. "Anambas is a busy area passed by ships every day coming from and to Singapore, Vietnam, Thailand, and Cambodia. And so the local government is in close relations with the National Navy in keeping these borders in order". There are currently 255 islands to monitor. Some are also kept safe by occupying companies, and some others are watched extra close for the beauty it beholds.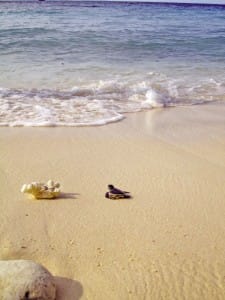 Amongst these beautiful islands is Bawah Island. So beautiful that in 2012 CNN.com named Bawah Island the best tropical island in Asia, winning over other islands from Thailand and Vietnam. Here you will find lush coral and colourful fish, consisting of species that you may not find anywhere else. This location would be the perfect opportunity to go scuba diving and explore the clear waters of the uniquely shaped island. If you plan on going here, it would be best to do so in the early morning since it can take up to three hours on a speedboat.
Another island worth mentioning is Durai Island. Durai is known for its long white sandy beaches and sea turtles conservation. If you're adventurous enough and wish to catch a mother sea turtle watching over her eggs, camping out for a night could be very memorable. Do keep an eye out while you're there because dolphins often pass by.
There are still many other islands worth exploring, but if you prefer to take a break from the speedboat, exploring the capital, Tarempa, for its local food isn't a bad idea. Visit any of the local port restaurants and ask for Tarempa's local fried noodles, braised in herbs, spices, and citrus. Accompany that with fresh grilled fish, local fried snacks, and coconut water, and you'll have eaten a rich tasteful meal not soon forgotten. Visiting the local mosque of Jami'Baiturrahim or the mountain monastery of Dewa Siantan after your meal may offer interesting insight on local culture.
Travelling, Staying Inn, and Getting Around
Getting to this uncommon destination tends to cost extra effort, but is definitely worth the miles. The journey begins with a plane ride to one of the busiest cities in the Riau province, Batam. The tricky part is booking a flight to the next leg, in which there are still very few airlines available. One available airline is Sky Aviation flying out from Batam for approximately Rp.2,000,000 round trip. A propeller-powered plane is taken to Sumatra's borders where we arrive at Matak Island, the only available airport in reaching the Anambas islands. As you arrive you may want to take notice of the bird's-eye view of Anambas, feasting your eyes on the clear seas and lush green forests these islands have to offer. From Matak airport, minibuses are available to the island's dock, where there are ferries sailing approximately 30-minute trips to Tarempa.
Arriving at the Anambas capital you are welcomed with rich colours, stores, local food, and busy market occupying the island port. Visiting Anambas means having to stay for a minimum of four days – concerning hotels or resorts, there are several convenient choices on Tarempa Island and some are already located near the dock making it easy to travel to other islands. It would be a good idea to rent a boat and guide for the next couple of days to reach surrounding destinations during your stay.
Package tours are not yet available, therefore it is recommended that you have three or four companions during your visit in which at least one of them is fluent in the Indonesian language, as the English language is still quite unrecognized except for some of the friendly local government and navy staff. This will make matters easier concerning cost efficiency in renting rooms and a private speedboat. Information regarding hotels, scuba diving equipment for rent, boat or motorcycle rentals will not be too difficult because Tarempa is a considerably small town. A wide range of information can be obtained just by walking and conversing with the locals or stopping by the nearest coffee shop, or by asking your hotel staff.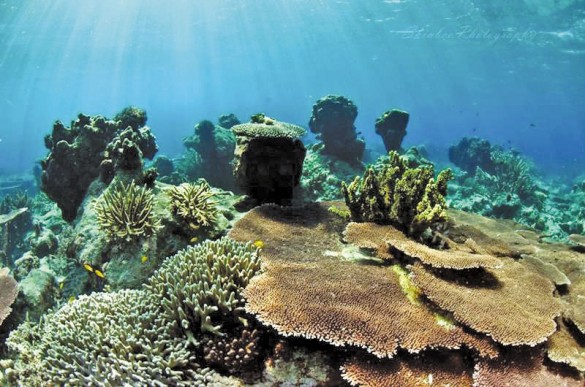 Maintaining these Beautiful Borders
Anambas may not be as well known as Bali or Raja Ampat, but it is on its way. Several islands, including Bawah Island, have already been signed for resort development rumoured to be capable in competing with other resorts like those in the Maldives.
Ir. Iwan Kurniawan Roni, Head of Tourism in Anambas, shares current development of the islands "At the moment, the Anambas government works closely with Indonesia's Navy in providing air and water transportation, especially now that we may soon be getting more visitors from the upcoming festival. In maintaining the natural beauty of our islands, we try to set up programs that in turn develop the local residents, as we did for Durai Island with its sea turtle conservation. We are also working with the National Marine Department in creating more of these programs. We are currently preparing a conservation program for Bawah Island. Furthermore, we have also worked with non-government organizations, such as Gebrak (Garda Bahari Anak Kepulauan – Youth Islanders Maritime Vanguard) in 2012 cleaning up several islands and setting up waste management locations."
Amidst all these efforts, Ir. Iwan Kurniawan Roni admits much work is still to be done further educating local residents, and regulating waste that is mostly caused by passing by ships from neighbouring countries. Luckily enough the residential people are willing to learn. The government also welcomes any organization or institution for purposes of study or environmental program implementation.
Be amongst the first to experience the Anambas Islands in its untamed state, before anyone else does.