"On land, beauty is the sight of a graceful woman. At sea, beauty is the sight of sails flying on the masts of a phinisi. The phinisi is, in fact, the maiden of the ocean." – HM Baso

Bira in South Sulawesi is the birthplace of phinisi schooners and some of the world's most feared pirates—on which the Anglosphere's urban legend "Bogeyman" (Bugi man) is based. In the 14th century, Bugis-Makassarese sailors had already reached Madagascar and Australia in their handmade wooden vessels.
Today, the phinisi still mesmerises both the East and the West. Two 21st century phinisi makers share their perspectives: Haji Muslim Baso in Bira, and Mark Robba in Bali.
An ancient wonder
In the 13th century epic La Galigo, Sulawesi's mythical first ruler Sawerigading made the first vessel from the tallest tree in Sulawesi, whose top pierced through the clouds, and was visible from Java on a clear day. The fallen tree slashed a mountain into two halves, one of which now is believed to be Bulu Poloe Island in the Gulf of Boné.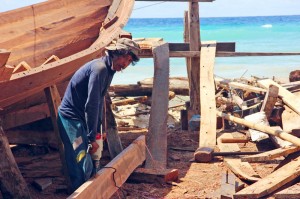 Sawerigading sailed to China and married Princess We Cudai. On the way home to his throne in Luwu, the seas near Bira raged, smashing the vessel into three parts, which landed in Ara, Tanaberu, and Lemo-Lemo. Natives of these villages reconstructed the wrecks into double-masted schooners, which they named phinisi. They used them to travel Nusantara and trade metals and spices to the Chinese and Indians. Today, Ara and Tanaberu remain thriving boat making hubs, and Biranites are reputed as tough seafarers.
"The phinisi is like a bridge that connects the islands, thus unifying Nusantara," said the 68-year-old Haji, who was born into a revered boat making clan and started his career in 1961. "The phinisi is full of spiritual meaning, because it is the lifeline of the Bugis-Makassarese peoples."
Haji Baso said that in the olden days, sailing was like balancing an egg at the tip of a bullhorn. "Imagine, a firm ship cutting through and floating on the soft waters of a massive ocean. But our ancestors were fearless. Even in violent storms, they faithfully bowed in prayer on the decks, and did not fall. That is the power of God—the feet of his worshippers were firmly planted on the rocking vessel as if having been glued."
That's why the phinisi's construction involves many rituals. When the keel is laid, a diviner performs special prayers for the vessel to be robust at sea and delightful to behold, for the safety of the workers, and for long-lasting profit.
When the vessel is released, chickens are sacrificed and their blood symbolically cleanses the phinisi of evil spirits. Locals are invited, and snacks are served. Onde-onde—a filled pastry that sinks to the bottom of the frying pan when raw, but starts floating as it cooks—is a metaphor of wood planks that individually sink in water, but floats as a vessel. Baje—a confection of glutinous rice, coconut, and brown sugar—symbolises hope for sweet profit that the entire community can "taste".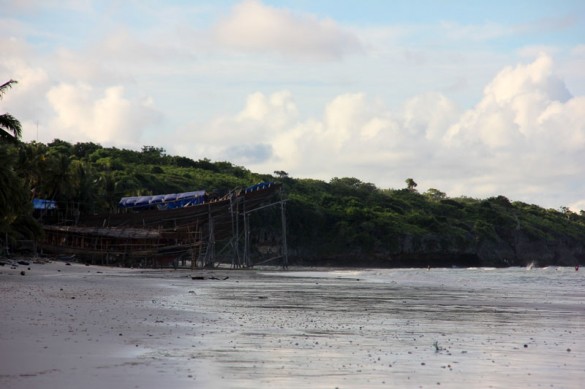 "The phinisi is loved because it's safe at sea," said Haji Baso, who has made more than 200 for international clients. "That's because the people of Ara are such hard workers. You can't call the vessel a phinisi unless it's made by Aranites, because the spirits of the ancestors and their secrets belong to us Aranites."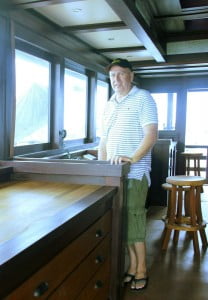 A modern masterpiece
Perhaps that's why American Mark Robba made it a point to recruit his builders in Ara. His phinisi-inspired superyacht, Dunia Baru, has been a seven-year labour of love crafted by Aranites.
It all started when Robba married his Indonesian wife in 2005. Robba, who has been living in Indonesia since 1990 and owns a sports glove manufacturer in Yogyakarta, also has grown children from a previous marriage, to whom he wanted to introduce Indonesia. The experienced yachtsman who sails his native New England every summer intended to build a villa. Instead, he ended up building a phinisi on which he plans to sail Indonesia's seas and foster friendships with Indonesians.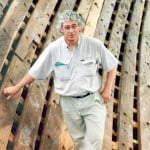 "The boat is a familiar place going to exciting, unfamiliar destinations," Robba explains the name, which means "new world". The 36-metre motor-sailor was designed by yacht maker Michael Kasten and architect Frank Hyde. Double-powered by an 829hp Yanmar diesel engine and sails, this seven-cabin superyacht has a range of 5,000 nautical miles at a cruising speed of 10 knots and is equipped with sophisticated safety and leisure features.
Dunia Baru was initially constructed in Sangkurilang, neighbouring Kutai National Park in East Kalimantan. Robba said that good wood is hard to find in Bira because there aren't old growth forests there. Dunia Baru uses ulin (Eusideroxylon zwageri), a slowgrowing evergreen native to Kalimantan whose tall trunks are among the heaviest and most durable woods in the world.
"[Sangkurilang] is a tough and remote place. There was no electricity, so we had to have our own genset. I went there 30 times, braving pit holes and premans. It was a scary drive," reminisced Robba.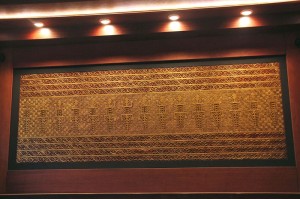 The boat was once seized on suspicion that it was built on illegal wood. Ulin is a commonly smuggled wood and Indonesia has banned its export. However, it is understood that any wood in the forest may be legally used as long as it is not exported. After a court case that stagnated over six months and had the builders detained, Robba bought back the boat for Rp.1 billion and another 120 cubic metres of wood from forfeiture.
Foreman Jamal, one of the remaining four original Aranite builders, declined to comment in detail on his tough days in Kalimantan. "Back then not many boats were being made, so I viewed [Dunia Baru] as an opportunity, even if I had to be in Kalimantan," said the 32-year-old. "I had no problem being far away from home because I wasn't married yet and I'd travelled before. Here I get to bond with my crewmates over drinks and late night chats."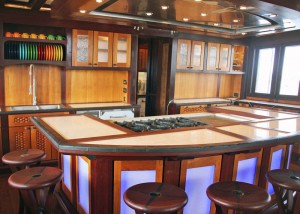 Jamal, who has been in the trade since age 16, said he felt the difference between boat making at home and aboard Dunia Baru. "Vessels back home are smaller and used for carrying wood, so construction is to complete as soon as possible. In contrast, Dunia Baru is all about quality," he said. "We take time and care in selecting the wood. We alter plywood dummies many times before making the real thing. We exercise strict quality control. But all this hard work results in a masterpiece."
Dunia Baru has been based in Benoa since 2009. Construction is due to complete in September, and a homecoming maiden voyage to Ara is scheduled in October. In December, Dunia Baru will be in Phuket to attend the Asia Superyacht Rendezvous. In 2014 Dunia Baru will also be available for charter, although its main purpose remains as the private family yacht for the Robbas to enjoy.
"Dunia Baru will be my first and last," said Robba, who claims that there isn't enough wood in Indonesia to make another equivalent of the superyacht. "The completion of Dunia Baru will be a great time for my family and me."