Bali Dynasty Resort is renowned for its exceptional hospitality, and it is no surprise that it has become a go-to destination for families travelling to Bali.
With its pristine beaches, lush landscapes, and exotic culture, Bali offers a perfect getaway for both parents and children. Popular as the best family resort amongst family travellers, Bali Dynasty Resort continues to enhance its facilities to ensure both parents and kids are happy having a family getaway at the resort.
Bali Dynasty Resort is proud to announce the completion of its newly renovated 'KupuKupu' Kids Club! The new concept Kids Club is now equipped with upgraded modern facilities and activities to cater to kids of all ages. The new design is themed around the concept of KupuKupu which means butterfly in Bahasa Indonesian. The new design is spacious and colourful and is the perfect place for your little ones to have a fun-filled day under the safe supervision of the kids club staff so that parents can relax and unwind knowing their little ones are in good hands. Parents will be happy to know that the facility will still remain free for guests to use at no additional cost.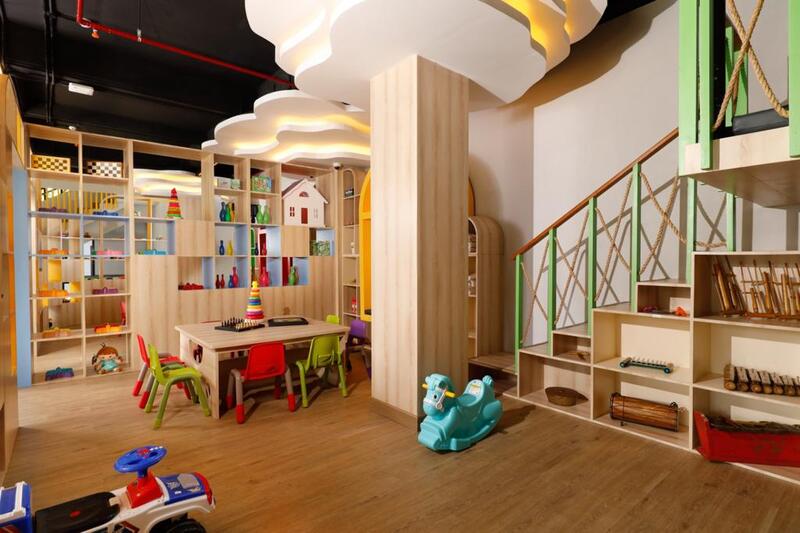 The Kids Club will be split into different age categories with the younger kids on the ground floor where games, education, and cultural activities will be the theme and the upstairs which provided older kids with board games, movies, video games, billiards, foosball and a cool place to chill teenager-style away from the parents! To keep the kids engaged and entertained the team at Bali Dynasty Resort has carefully created a schedule that changes daily with many educational and cultural activities, which allow children to learn while having fun at the same time. 'KupuKupu' Kids Club also offers exciting outdoor activities including Water Pillow Fight, High-Splash Contest, Watermelon Eating Contest, and many more! These activities promote our philosophy to 'Make Friends for Life'!
The new Kids Club at Bali Dynasty Resort is not just about keeping children entertained; it is also about ensuring their safety. Our Kids Club is supervised by a team of experienced and qualified staff who are trained to keep children both safe and engaged. The team is dedicated to providing a fun and educational experience for kids, while also ensuring their safety at all times.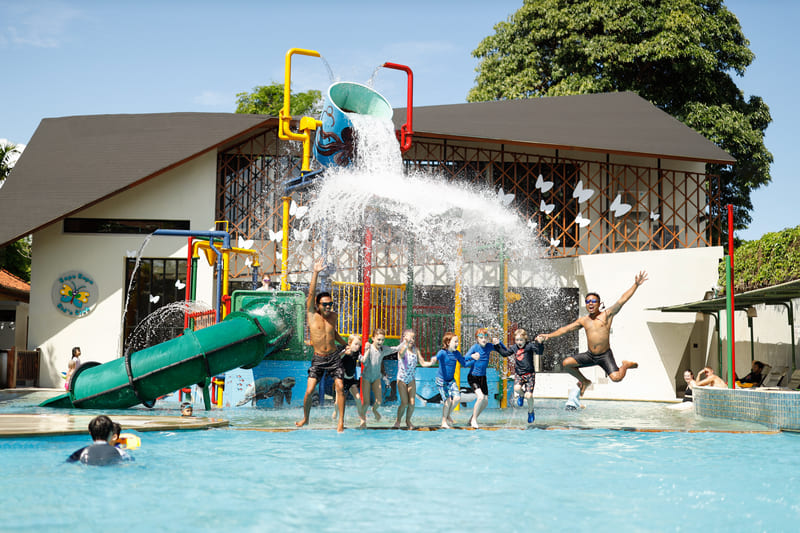 The Kids club is located in the Kid's area of the resort which also includes the Kids Water Fun Zone with its 54m giant caterpillar waterslide, and mini waterpark where the kids are sure to have hours of fun. Along with a kids' playground area with swings, a climbing frame, a seesaw, slides, and a trampoline. The resort also provides a babysitting service for parents who want to enjoy a night out without the kids.
"An array of accommodations, including 17 Family Garden Rooms that are ideal for families seeking a tropical getaway are also set to welcoming guests this April!"
­­­If you're planning your next Bali holiday, you'll want to take a closer look at Bali Dynasty Resort's amazing room options. Whether you're travelling with your partner or with the whole family, they've got you covered with a range of room types that cater to every need.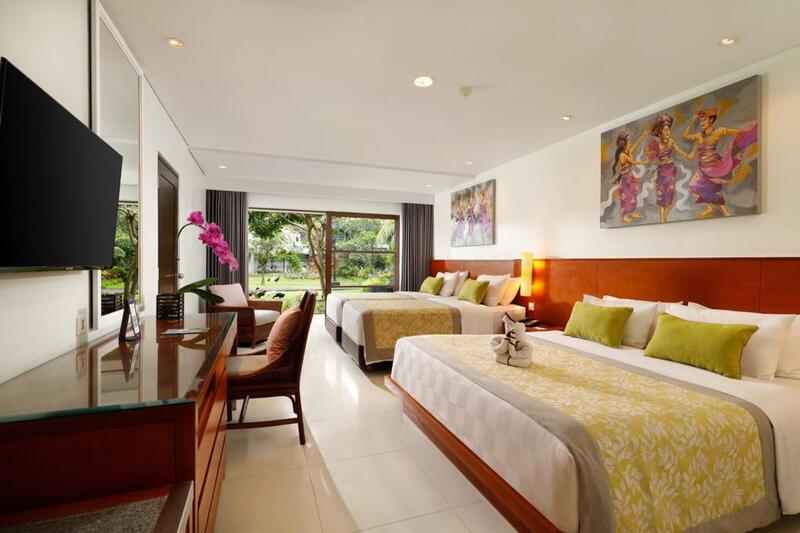 For couples, the Deluxe rooms are the perfect choice. With a cosy, chilled vibe and plenty of space to relax, these rooms are ideal for a romantic getaway. Families of three will love the extra bed option, while families of four can choose the Deluxe Terrace for two adults and two kids up to 12 years old, which offers one king bed and sofa trundle bed.
But that's not all – Bali Dynasty Resort has recently added a brand new room category to its offerings: the Family Garden View. These spacious rooms can accommodate up to four adults with no age restrictions, featuring one king bed and two single beds in a 42 square metres room area not including the ground floor terrace. It's perfect for families who want a little extra room, to spread out and relax.
For families of five, Bali Dynasty Resort's family rooms are a huge hit. These rooms are designed to make your stay as comfortable as possible, with bunk beds for three, a king-size bed, in-room partitions with curtains separating the two areas for privacy, and two TVs for both the parents and kids to enjoy without disturbing one another. And even for groups of up to six, their interconnecting rooms are the way to go. These two deluxe rooms are side by side and have the guaranteed connecting door, with an extra bed in each room and two bathrooms to share.
And let's not forget about the location – Bali Dynasty Resort is situated right in the heart of Kuta Bali, with plenty of nearby attractions to explore. There are two shopping malls, the famous Waterbom Park, local art markets, and the newly revamped esplanade walk that goes all the way up to Legian and beyond. And with their Kids Water Fun Zone, free kids club, and adults-only lazy pool area, there's something for everyone to enjoy.
So if you're looking for a Bali holiday that ticks all the boxes, look no further than Bali Dynasty Resort. With its range of room types and amazing location, it's the perfect resort for your next getaway. Book now and get ready to create some unforgettable memories!
 "A non-stop entertainment with high technology featuring virtual reality has recently opened at the beginning of May this year!"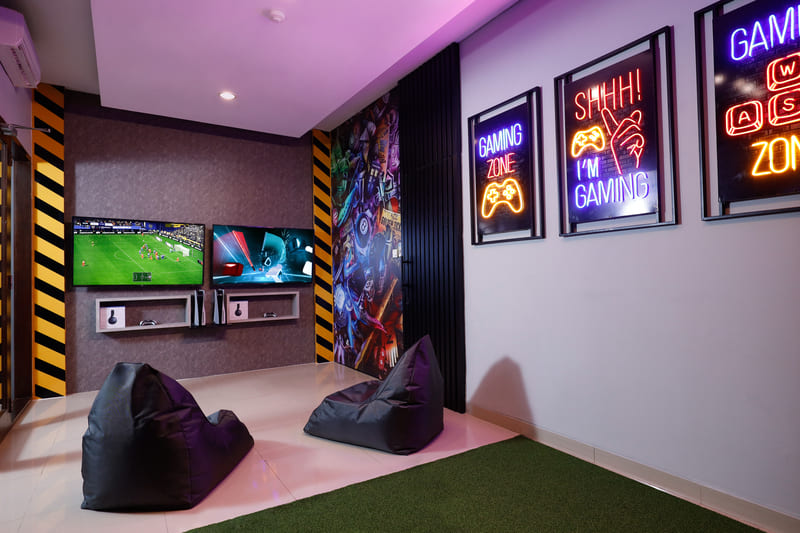 The resort has recently opened a new game room that is equipped with the latest technology games featuring virtual reality games, play stations, and other hi-tech games, making it a must-visit for families looking for a fun and exciting holiday experience while staying at the resort.
The game room is located behind the lobby and is designed to cater for teenagers and even adults. With a variety of games available, including virtual reality games that offer an immersive and interactive experience, the game room promises to provide hours of fun and entertainment for guests of all ages.
With its exceptional service and amenities, Bali Dynasty Resort promises an unforgettable holiday experience for families. These newly upgraded facilities at the Bali Dynasty Resort are just another reason to consider this resort for your next family vacation.