Most visitors won't associate the nightlife of Kuta with family friendliness, but Bali Dynasty Resort serves as a private oasis for foreign parents to settle in.
As the father of an 11-month-old baby, I'm usually pretty apprehensive about leaving my house in
Surabaya for any reason other than solo business travel, a much-needed trip to the local gym, or an
ambitious evening of strolling in the mall just a few kilometres down the street. Holidays and leisure trips to Bali, I assumed, would be out of the question until my daughter turned at least three or four.
With this in mind, I was less than bullish on a family trip to Kuta, Bali's busiest urban area known for its
booming nightclubs and the shenanigans of early 20-something travellers. Yet, to my surprise, Bali
Dynasty Resort served as a bona fide family-friendly lily pad; one where I could hang my hat, knowing
that the venue had every accommodation I could ask for as a new parent.
My wife and I – along with the baby and nanny – fit right in upon arrival at the resort. As we were escorted to our family garden room after check-in, I saw kids running gleefully – some with painted faces – around every corner. Parents walked slower, stress-free, with sunnies on and beers in cosies, flip-flops flapping along with the sounds of social laughter. I thought to myself: Ah okay, so this is how it's done. Bali Dynasty Resort is a beachside resort in South Kuta, which has made a name for itself among the expat crowd as an integrated venue for family-friendly fun. While youngsters will aim to visit Bali in as a nimble-backpacker- villa dweller, slower-moving families coming to Bali Dynasty Resort are at the opposite end of the spectrum; they're likely not wanting to leave the resort at all – and the staff understands.
The property offers six restaurants, five bars, three swimming pools (including a kids' pool with its own fun zone and an adults-only pool), an Ashoka spa, an exercise room, a beach club, a kids club, a playground, a teens club, a plethora of meeting facilities and a complimentary hospitality lounge for early arrivals and late departures.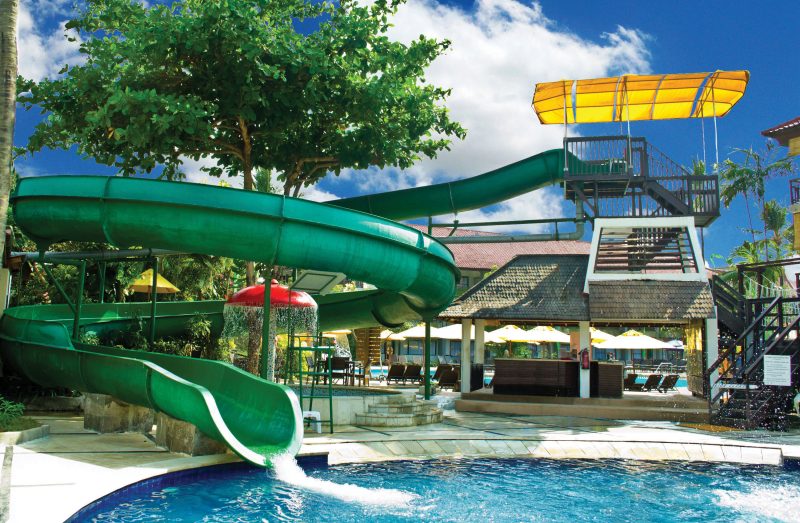 The layout allows for a subtle, yet effective division between the couples' market and the family market. Couples can enjoy the resort's famous Gracie Kelly's Irish pub and relax at the adults-only Lazy Pool, while kids enjoy a 56-metre waterslide flowing into their own pool and a complimentary visit to the Enchanted Garden Kids' Club. A variety of rooms cater to the family market, sleeping up to five people.
The resort is located ten minutes away by car from the airport, on the South Kuta Beach strip. It is within walking distance of multiple shopping centres, malls, and art markets as well as Waterbom Park and a bunch of restaurants and entertainment venues.
My nervousness about whether our room could accommodate us properly melted away when we entered the family garden room. The room was divided into two sections, with a sliding glass door and thick drapes that could be lowered down for added privacy.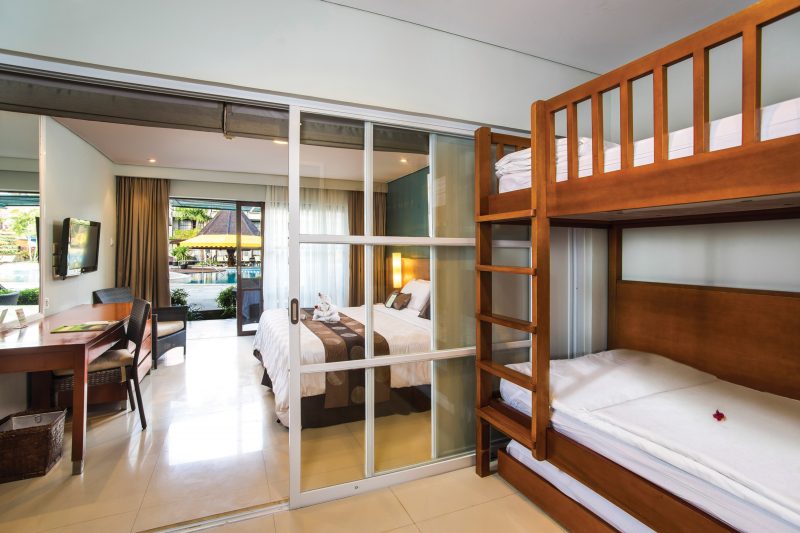 This allowed for several things to happen. First, the nanny and baby were able to get some rest using a safe, low-to-the-ground trundle bed in a spacious room that could immediately be darkened. Second, my wife and I were able to open a bottle of cabernet, joke a bit, and carry on with a bit of noise on the patio facing the garden (gamelan music in the background). It was our anniversary, so we were keen on whatever small wins we could get that night. Luckily, the room's setup made this easy.
Our favourite part of our two-night stay at Bali Dynasty Resort was the breakfast buffet. They had it all, with international cuisines ranging from hearty American-style pancakes, waffles and French toast to European dishes such as healthy yoghurt and granola options; a vast omelette selection, rice and noodle-based dishes for Asian palates and anything else you desire. Parents could rest assured poolside with a cocktail, knowing that their kids were well-fed before being allowed to run off, make friends and burn energy in the supervised clubhouse and swimming areas.
The buffet dinner at the resort's H20 Restaurant is popular amongst Bali Dynasty Resort guests, but it's also open to non-guests. The cost is Rp. 225,000/person nett and worth it. Each evening the dinner adopts a different theme, presenting specialized cuisine from different parts of the world, accompanied by live entertainment. Kids aged 12 years and under eat free from the buffet when accompanied by the same number of paying adults, making it a great value for families.
The only possible downside is that you'll need to book a table in advance, as H20 will surely fill up each night. This same thing could be said about the resort in general, as it can at times feel a bit chaotic with nannies and little ones always scurrying about. But, indeed, that's what comes with the territory of having a family. And when it comes to parking yours in one secure location on the Island of the Gods, this resort is the best choice.
Overall, my wife and I had a fantastic stay at the resort in South Kuta – a phrase that I thought would never leave my lips as a fledgeling parent travelling with an infant. We managed to get some great photos with the baby, and I even took some time by myself to hang out at the swim-up bar, drink cold beer and catch up on the news.
For expat families seeking an all-in-one holiday experience without the headaches of Bali traffic, or even just working professionals who want to set up shop in one spot during a chilled-out weekend visit to Bali, South Kuta's Bali Dynasty Resort is a great place to settle in for a while.