Wondrous. Other worldly. Wow, what a whale of a time. Welcome to W Hotel, Seminyak, Bali, a place where wishes come true.
This immense 8-hectare resort must have been no mean feat to develop and it is one of those places that make you say, "Human beings are pretty smart, really." What a wonderful world.
The entrance into this playground is dramatic with a capital 'D' – a giant W greets you before a long drive in between a water feature on either side, then through gardens which lead to the main building face and an impressive lobby. The main building itself makes me think of a modern coliseum, but instead of overlooking gladiators and wild animals, balconies on the beach side overlook the WET pool, inspired by the form of rice fields and spanning over 1,790 sq. metres where guests lounge, sip cocktails and enjoy life by the waves crashing on Seminyak beach. What more could you want? Wait, it gets better.
Service with a capital W is what you get here – it is second to none. Staff are extremely professional and speak perfect English, and we even spoke to one of the pool boys who sounded like he had been educated at an International school. Our porter asked us how we were and called us by our first names. Inside the lift, lights fade in and out, which throws you the first time but becomes a cool little feature the rest of the time. The corridors are all open to the wind and slightly barren, but it does add to the grandeur of the place. When the friendly porter escorted us into our room, he turned the Bose surround sound system on and Empire of the Sun welcomed us on the stereo. If this isn't enough to tell you this is a hip place, I don't know what is.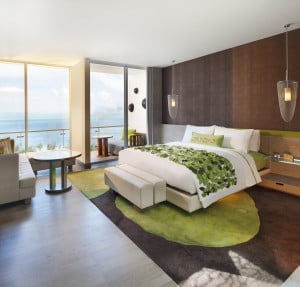 Even the names of the rooms are wow at W. Ours was the Spectacular Ocean View Retreat on the 3rd floor with a view of the ocean and the W gardens below. The retreat is large, with an aquatic green theme, simulating Bali's surrounding seascape – the white cotton bedcover is hand stitched with leaves, hanging beaded side lamps resemble fishing nets and headboards are made of synthetic leather embossed in green stingray skin. Even though the retreat is very modern, there is a vintage feel in the green sofa and retro carpet. Everything is thought of. The room includes his and hers wardrobes, an extra beauty mirror, three-pin wall sockets, a snack basket which includes a one-use underwater camera and goggles, make-up remover, face wash, Earl Grey and English Breakfast tea and non-instant coffee (I was beside myself!).
There is no door to the bathroom area, made up of toilet with see-through glass, his and hers aquatic green sinks and an open-top wet room, separated only by a glass panel, with large slate bathtub and standing shower, so if you're shy or staying with someone unfamiliar, it may be awkward. There are, however, sliding panels cleverly tucked away that can separate the bedroom from the bathroom area should you require privacy.
After checking out the retreat, we threw our bikinis on and hit the pool. Pool boys greet you with, "Hi, how are you?" and offer to carry our towels for us, finding us the perfect spot to lounge. They cater to our every whim, keeping us entertained along the way. From our little spot, I notice that W is not just a hotel, it is a tourist attraction. Every person that comes onto the top deck from the lobby poses for a photograph and I do mean every single person! As the sun begins to set, the DJ at Woobar spins progressive house and the lights are lit, creating a whole new atmosphere. Pool boys place electric candles at each table and kiss pillows.