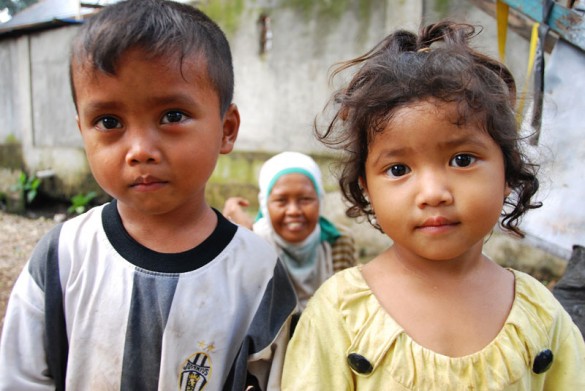 I don't know about others, but for me one of the joys of living in Indonesia is its people. Not the unthinking drivers who don't know basic road etiquette or the coiffured Ibus who trip round the high end malls but the folks who you come into contact with as individuals.
Yes there are good beaches and mountain ranges to enjoy but getting anywhere is so time consuming and such a chore, like many others I end up thinking it's just not worth the effort. Anyway, there is so much fun to be had on the doorstep.
Soap operas here tend to follow the same tired old mantra of white skinned, rich people getting themselves involved in no end of drama, usually with a piano or drum kit as accompaniment. Real life proves to be much more fun and, best of all, lacks the fake eyelashes.
Take one of my wife's drivers. She's had many but this one stood out for his ability to invent a fantasy world that even the top shelf magazines would have shunned. I was being picked up at the airport one time and he certainly looked in a bad mood. First impressions were confirmed as we sailed past our exit and on merrily into Jakarta. I had a go at him but that was nothing compared to the ear bashing my wife gave him.
He quit. He never told us, he told the maid who over the years has become almost a matriarch in our little unit by dint of having survived us so long. He had left some things with us and so our maid went round to where he lived – a place my wife had helped find for him after he had been kicked out of his previous place for bringing too many ladies home for the night. When she reached his house she found he has done a midnight bunk and no one knew where he had gone. She sat and talked with the local residents and it was then we got to find out about our former driver's fevered imagination.
In his own words he had slept with our maid, my son's nanny and my wife. A full house!
His was mostly a world of fantasy. Another driver had lived the dream! He had a wife in Sukabumi, complete with children and moved to the big city and soon fell for the charms of another, divorced the first and settled down with number two. Number one would occasionally come round asking where her no good old man had gone; she wasn't aware she had been divorced!
The driver soon tired of number two and after a polite pause of a few days decided the time was ripe to find number three. He started hanging out near some of the local factories and sure enough, he hit pay dirt, moving in with a worker who owned her own property. He was onto number three in less than three years and that did not include the flings he had with nannies and maids who worked locally. And still number one would come round once in a while looking for him!
It's not just drivers of course who have their bit of fun. Maids and nannies are keen on fluttering their eyelashes at any building labourer or satpam (security guard) who smiles their way. We had one nanny who had spent time in Saudi Arabia and certainly considered herself to be a pious individual. She kept her head covered all day, inside and out, and went around her business in an efficient enough manner. She had been forced into a marriage when she was younger by her parents, but she had never been keen on the relationship and eventually got a divorce, leaving the poor guy in East Java while she came to the Smoke. She told my wife her first husband was gay and they had never consummated the marriage and now she had a new fiancé, but that didn't stop her having an affair with another one of our short-lived drivers before getting a job at a local supermarket and falling off our radar.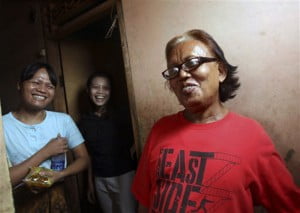 Others haven't even bothered trying to be pious. There are a gaggle of maids and nannies on our estate who gather together in the cool evening air to gossip and play with their mobile phones, while at the same time making sure the local lads get an eyeful as they dress themselves up in their shortest, tightest skirts or skinniest jeans. Some of the off duty satpams, labourers and grass cutters gather at the same place and admire the view while the young children, whose recreation time this is supposed to be, are left to run around under their own steam.
The park is more like a dating agency than a children's recreation ground!
Then there is the nanny of them all – the Alpha nanny. Bigger, older and wiser, she holds the younger ones in her thrall as she meets them at the school gates. She has the latest (ish) phone, her clothes are more stylish and of course she earns more money. And boy, she likes to tell the other naïve country bumpkins how much she earns.
The younger ones look up to her, they see her as worldly wise – she has been there, done that and is the Lionel Messi of nannies. And they believe her. They lap up her words, go back and tell their employers how much they feel they should be earning, then find themselves out of a job. Meanwhile Alpha nanny gets a new breed to titillate.
In a city of 12 million people there will of course be 12 millions stories waiting to be told. But you can't help thinking the TV stations are telling the wrong ones because for sure, the real life stories on the street prove truth is stranger than fiction.