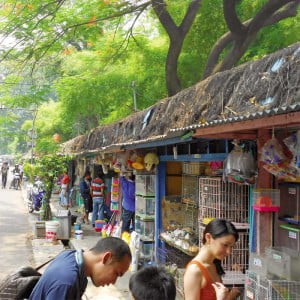 The first thing that hits you is the smell of guava. It's Jalan Barito, in Kebayoran Baru, the famous South Jakarta street renowned for its access to some of Indonesia's most exotic pets. The guava is a favourite snack of the bats that hang stuck-still in their cages as Kopajas and ojek drivers zoom by.
Parrots from Papua, monkeys from Medan, sugar gliders from the Spice Islands, cuscus from the Moluccas; if it has claws and a tail, you can unfortunately find it for sale on Jalan Barito.
But the street isn't just home to an exotic array of pets. More domestic creatures – cats, cuddly rabbits, snakes, turtles, iguanas and puppies are all for sale along this road.
"When the Harry Potter movies came out the baby owls were very popular," says Iman, who preferred not to be photographed and asked that we not use his real name. "But the sugar gliders are normally the most popular pet we sell to little kids and families."
Gliders, native to Australia and Papua New Guinea, are the nocturnal, squirrel-like creatures with endearing little faces and prehensile tails.
Families stroll along Jalan Barito in search of the perfect pet, while bird collectors pop in and out of their favourite shops eyeing cages, ferreting for the perfect feathered friend to add to their fledgling menagerie.
But if you're looking for something a little less pedestrian, duck your head into a few of the backrooms and poke around and ask if anyone has any ayam cemani, the mystical black chickens for sale.
"They have black meat and black bones," says Iman. "People say they have magical powers."
A quick search later on Google confirms Iman's assumptions, and reveals that breeders around the world often refer to the all black chicken, reputed for their shimmering black feathers, as the "Lamborghini of Poultry."
Iman dismisses the rumour that eager buyers could purchase something like a baby orangutan or slow loris. "That's illegal. There's nothing like that around here," he says. "Maybe 20 or 30 years ago, but these days nothing like that is available here. We try to avoid illegal wildlife trade. We don't want to do anything illegal that might get us in trouble."
Whether or not all the animals for sale along Jalan Barito should be sold on the open market is a discussion for a later time. But the argument remains that if there was no demand there would be no supply. So, as long as mums and dads make their way to the South Jakarta street in search of the perfect pet, monkeys will be caged up alongside baby owls and cuscus, leaving us wondering whether the illegal animal trade will ever end.