Lombok Eco Development formed the NGO Keep Lombok Clean as a way of thanking Lombok for its warm hospitality and smiles, working with different local communities to improve their standards of living and their environment.
Lombok Eco Development is a company interested in improving the way we all live by offering sustainable natural alternatives in the way to develop land and real estate. This dedicated company also works with different Lombok communities in order to improve their standards of living and their environment by organising plastic and litter pickup events with local children, expats and travellers through their organisation Keep Lombok Clean (KLC). They promote and install recycling and compost systems for local businesses and residents, and work with local NGOs in matters of education and environmental issues.
KLC is a programme designed to decrease waste incineration and landfills and replace it with repurposing, reusing and recycling.
Currently they are working on preparing, setting up, and implementing Lombok's first communal recycling system, starting in Kuta, Lombok. This is one of the most important steps in steering Lombok towards an eco destination. Supporting a group of local workers in strategic locations in southern Lombok, recyclable materials are sorted and shipped to re-processing plants. As tourism grows in Lombok it is important to set up similar municipal recycling programmes early on to adjust to the influx of expats, locals and tourists. The KLC bins are used for recycling plastic, paper/cardboard, aluminium and most metals. Glass may be returned to suppliers for a small refund. LED is happy to collect all used batteries, which are stored and shipped to a proper destination when full.
Another important aspect of LED is composting – something we all should be doing. LED offers private consultations and training for residents and businesses looking to start their own composting programme. They will also accept organic waste to add to their own. Restaurants in particular go through a lot of organic waste and composting is the perfect solution to keep that waste away from landfills and rehabilitate and nourish the soil to create a richer, greener area surrounding one's home or business. It is easy and fun – a good marketing tool for the hospitality industry and, best of all, it is great for the environment!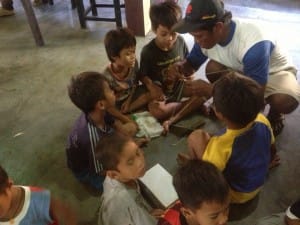 Keep Lombok Clean also puts on events to promote awareness and involve the community, especially the children, of the importance of keeping our planet clean. The last event involved 60 children along with volunteers, all keen to be involved in the project. First, everyone took part in creating 'Make Kuta a Cleaner Place' collection boxes out of bamboo. The boxes looked great and when the children were informed with more detail as to the concept of these boxes, they all clapped and cheered. They were helped to understand thanks to local Sasak translators, Ellen and Yuli, who were equally enthusiastic. The group then went for a walk around Kuta village and beach to pick up rubbish and plastic from the streets of Kuta with the chant 'pick up plastic, it's fantastic!' The children dragged large rice sacks through the streets, some competing with each other on who would fill their bags first. Local shopkeepers and families also helped out and asked questions about the campaign. Some people recognised the children from previous collections and were very positive and supportive. All the bags were filled and collated at the beach at the end of the day and will be processed by the local government. It is another fantastic event, which helps support and educate the local community and the children, who are our future.
Keep Lombok Clean continues to promote proper growth through sustainable and caring action. They would like to thank all the enthusiastic, wonderful people who are the base of change within the community and who are giving so much inspiration to help Kuta grow sustainably with sanitary awareness.
Contact- [email protected]
+62 [0]817713708
Jl. Raya Kita ke Mawun Pujut, Lombok Tengah, NTB 83573