Sad, but true. The only time you hear of Sumatra in the news is when there is a natural disaster, deforestation, fanatics in Aceh caning people, or the haze heading east over the Straits of Melaka one more time. With tale after tale of woe it would probably surprise many of us that the world's sixth largest island does in fact have some good news to tell.
Take for example the work of Kalaweit. An 'etho-passion' association, Kalaweit was founded in 1997 and two years later signed an agreement with the Ministry of Forestry to rehabilitate gibbons held captive by the local population or poachers, educate, inform and raise the awareness of local populations with regard to environmental protection, and protect the tropical forests.
The eight-hectare Supayang Gibbon Conservation Centre is a two-hour drive from Padang in West Sumatra and is home to gibbons and siamangs that had been kept illegally as pets. Adjoining the centre is the Supayang Reserve, hectares of gibbons, siamangs, bears, pangolins, tapirs and big cats including clouded leopards and even a rare tiger. A camera trap blog (kalaweitcameratrap.blogspot.com) has a selection of shots from the hidden camera including snakes, boars and leopard cats.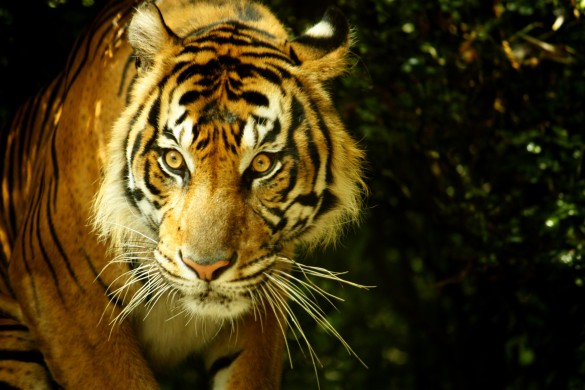 In fact social media plays an important role in Kalaweit's work, with active Twitter, Instagram and YouTube accounts, as well as an app spreading the word of their conservation efforts, in Kalimantan and Sumatra. The more traditional media hasn't been forgotten, however; MetroTV is filming Wildlife Rescue, a show that is aired every week.
Aurélien Brulé has been with the project since the early days and is now the public face for the work they do. Better known as Chanee Kalaweit, he is the man you see battling the deer, snakes and generally roaming the jungle in search of animals to save. Australia had the late Steve Irwin, Indonesia has Chanee.
While Kalaweit is focused on conservation, another Sumatran-based enterprise looks to ecotourism to keep the remaining biodiversity for future generations. Based in the Kerinci Seblat National Park, Wild Sumatra Adventures believes
"ecotourism can help safeguard the still untouched forests deep within the park."
With few job opportunities for people in the nature reserve, it is understandable if they seek less environmentally friendly methods to put rice on the dinner table. Wild Sumatra hopes to tap into the unrivalled local knowledge and use that experience to help show and explain the beauty of the park to guests.
The Kerinci area has something for everyone. From the eponymous 3,805 metre mountain – an eight hour climb that offers spectacular sunrises – bird-watching and even the occasional tiger for the enthusiastic nature lover, to the second highest tea plantation in the world, caves and lakes the national park can bring you up close and personal to an Indonesia far removed from the factory outlets of Bandung or the busy narrow streets of Kuta. The still vista of an early morning panorama looking across the rice fields towards the mountains has changed little over the years, a reminder of a less hectic Indonesia.
Wild Sumatra was set up by Luke Makin and Joshua Kegg, a couple of Americans with a love of the great outdoors. However, and in keeping with the company's mission, the guides are all local people. Pak Subandi, for example, has been showing visitors around the national park for more than 20 years from his base in Kersik Tuo where he operates a small guesthouse.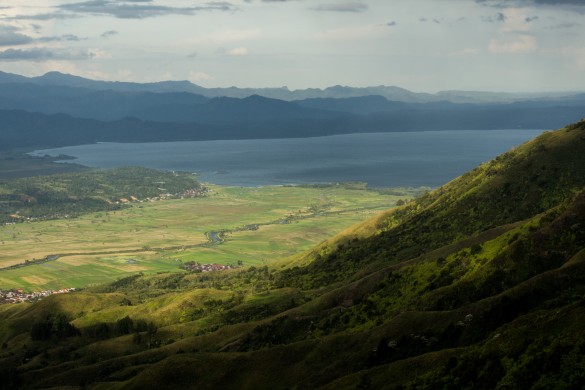 Another guide with a passion is 'Zacky' Zaid. He enjoys trekking to the many lakes that dot the park and in his spare time teams up with fellow members of Pecinta Alam, a local nature appreciation group, to pick up some of the rubbish that has been left behind by other less thoughtful visitors.
Enterprises like Kalaweit and Wild Sumatra attract the headlines and, in this social media age, the likes, with their efforts and their emphasis on working with local communities, and it is with local people that conservation efforts stand and fall. West Sumatra is a conservative part of the country where Islam plays a major role in the lives of people living in the countryside. A project by the Darwin Initiative and the Durrell Institute of Conservation and Ecology worked with local religious leaders to raise awareness of how forest management was linked to good religious practise.
The project, which featured input from the likes of Fauna & Flora International (FFI), Islamic Foundation for Ecology and Environmental Sciences, the British Council and Conservation International, provided training for religious leaders and teachers and brought immediate results. Before the project began there was little awareness of how an ecosystem worked, with just 50 percent saying they understood. After training that figure rose to 92 percent. At the same time awareness of Islamic systems for natural resource management rose from zero to 100 percent!
For example, Hima translates as an 'inviolate zone' and includes a forest area where the cutting of trees is forbidden and land managed for the welfare of a community. Meanwhile the concept of Ihya Al-Mawat, the revival of dead or unused land, was brought to life by the opening of a community-run field school and nursery.
As Fauna and Flora International say on their official website, "Engaging religious leaders in sustainable natural resource management approaches that are explicitly based on their religious principles, the project was both culturally appropriate and replicable across most of Indonesia."
It's not only charity that begins at home. Conservation does and three very different approaches are utilising local wisdom to ensure one of Indonesia's attractions, the flora and fauna, can be protected and enjoyed for future generations. Isn't that worthy of a story?