How ironic it is to know that the disposable, non-degradable plastic products, such as rain ponchos, straws and cutlery, which we usually use for only around 30 minutes, have the potential to pollute the environment for centuries?
PT Nirwana Alam Hijau, the Bali-based social enterprise behind Biowear and Avani products, is playing its part to fight back against the ever-consuming plastic trash epidemic on the island by providing a one-stop-shop for eco-friendly ponchos and hospitality needs, from shopping bags to food and beverage packaging. All of Biowear and Avani's products have been certified as biodegradable, in that they disintegrate as they are consumed by living organisms.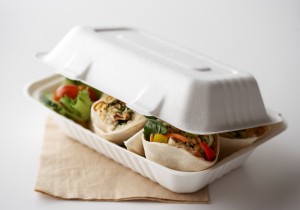 Additionally, 80 percent of the products have been certified as compostable, which means that they turn back into organic materials as they decay. With around 400 local and international clients, it seems that both the island and the world are taking notice of the company's message. After all, why buy a product that will pollute the earth for tens or even hundreds of years when there are alternatives that biodegrade in around 200 days.
The best ideas are born at the least likely moments. In this case, the idea for Biowear was sparked one rainy day by passing motorcyclists. "One night after a round of beers with a friend – who today is the company's co-founder and director of business development – we were sitting outside a bar and watching the traffic," says Kevin Kumala, the acting CEO of PT Nirwana Alam Hijau. "Each motorcyclist wore a massive plastic raincoat. This made us wonder, 'where do these ugly, toxic rain ponchos end up?' The next day, we went to one of the landfills and were amazed by the number of discarded plastic raincoats. So the light bulb went off, and not long after, in mid-2014, we came out with our first product: the biodegradable rain poncho."
Things progressed from there. After the monsoon season ended in March of 2015, Kumala realized that the company underestimated the seasonal nature of their product.
"We originally thought that our export market would be strong enough to cover our overheads. This did not happen," he says. "Sticking to our core belief of replacing disposable plastic products, Avani began to focus on biodegradable tableware. By doing this, we were able to start serving the hotel, restaurant and café industry. Since then, Biowear, the brand of our eco-poncho, has become only one of the products that Avani is offering as a whole."
Over time, straws became the company's most popular product in terms of the quantity sold. Kevin says that this is definitely a good thing. "Imagine this, out of a population of 255 million people in Indonesia, and taking into account the fact that the length of a plastic straw is 20 centimetres and an average Indonesian consumes one plastic straw per day,
we are talking about 5,000 kilometres of plastic material in length being discarded every day. This is approximately equivalent to the distance between Bali and Sydney."
One of Avani's more recent inventions, the cassava starch bag might spell the beginning of the end of the ubiquitous plastic bag, one of the main culprits of global plastic land and water pollution. Interestingly, the eco-friendly bags dissolve in hot water and, according to Avani, are completely safe to drink in liquid form. They are also safe for insect and animal consumption when they end up in landfills.
Currently, around 90 percent of Avani's 400 clients are expat-owned businesses. Kumala says that most Indonesian-owned businesses are not aware that Avani exists, as over the past few years the startup has been focused on product development rather than marketing.
Kumala says many businesses are extremely focused on their bottom line and are unwilling to pay extra for sustainable product alternatives. "Luckily, this is becoming less of an issue, as our end customers are placing an increased amount of pressure on the establishments that have yet to 'convert.' At the end of the day, word-of-mouth marketing is the most effective type."
With more and more media exposure and an increased focus on marketing channels, Biowear and Avani's products are increasingly more accepted as a solution to the plastic epidemic, both in Bali and overseas.
"Timing is everything. More and more nations are banning plastic bags and disposable plastic products right when we have started gaining additional media exposure," Kumala says.
"Actually, we are at a tipping point where the number of our international customers is slowly beginning to outnumber our customers on the island."
While Biowear and Avani are gaining increased international recognition, Kumala says that the company's current focus is on increasing its presence in Indonesia. PT Nirwana Alam Hijau is currently in the process of setting up a downstream company that will deal with the creative distribution of Biowear and Avani products across the archipelago by raising public awareness via digital content.
Meanwhile, the company is also working with a handful of non-profit organizations such as Bye Bye Plastic Bags, World Wildlife Fund and Indonesia Diet Kantong Plastik to raise awareness about the dangers of plastic waste, as well as the Ministry of Environment and Forestry to create a roadmap for a cleaner and greener Indonesia. The company is also in the process of tapping into a network of local influencers to spread its message across the nation.
Biowear Ponchos can be found at BSO, some Pepito Markets, Surfer Girl, Drifter Surf Shop, Yoga Barn, Bali Buda and Earth Café. Avani's products can be found at Alila Hotels, Potato Head, W Bali, The Trans Hotel, Betelnut Cafe, Merah Putih, KZU, Watercress, Scratch, Sea Circus, Sisterfields ad Biku.
Next time you are out for a meal at a restaurant or your favourite café, why not help the cause and ask if they use Avani.