Canggu Square, Canggu Plaza and AMore Villas are the new kids on the block which have all been built within the last three years and form a complex of ten businesses catering largely to the tourist and rapidly growing expat community.
The Canggu Plaza complex is 100 m from the eight-year-old, but already well-known Canggu Club and Canggu Community School. It has ambitions to be the best combination of community school and family country club in the whole of Indonesia, boasting two gyms, three pools, a large sports field and indoor tennis courts with its own restaurant and bar. No need to make long trips in the car to get the kids to school and you to work. No, here nearly half the kids live local and are brought to school around 8:15 am on the back of a motorbike, with some cycling and even walking, with many of their parents running their businesses from the luxury of their own spacious tropical villas nearby. The Canggu Plaza complex celebrates its first anniversary this week.
Of the ten businesses currently located here, the first to open was the Canggu Deli, a chic corner shop that sells a bit of everything – from pasta to pistachio nuts, with a wide selection of cheeses, hams, sausages and other produce sourced from Australia and Europe. The first restaurants built here, which sit alongside the Canggu Deli, was Pizza and Panini and The Loop, the latter specializes in great steaks, housed in a spacious open-air complex with bench seats and couches, also serving a wide selection of Italian dishes and local and Australian wines. Free Wi-Fi attracts some from breakfast time through to eleven at night when they close.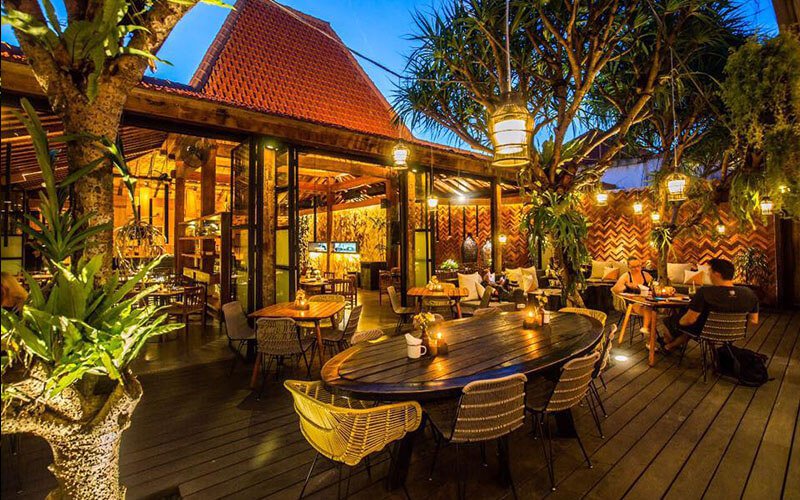 About two years ago, the AMore Villas were completed on the opposite side of the road. It is a small high-end hotel with four separate large villas catering to families, couples and newlyweds looking for a luxury villa experience with each villa having four large bedrooms with large ensuites, self-catering kitchen and large TV lounge and dining area with prices starting from $300 – 400 per night. With six to eight people in a villa, this is really great value. A number of local expats have used the AMore as a place of refuge after recent storms left their own homes flooded or otherwise damaged. Each villa's grounds are landscaped, with a large pool, Bali Benong and sun loungers for guests to grab some rays at different times of the day. The beauty spa specializes in Balinese massage, facials and reflexology and offers 13 different types of treatments. You also get villa membership to the Canggu Club's excellent sports facilities for the duration of your stay. Unlike timeshare establishments, its staff are certified industry trained and proactively serve their guests needs. The new manager, Elizabeth Travers, has been targeting more discerning customers who have mainly been from her homeland of Australia, but increasingly from other parts of Asia such as Malaysia, Singapore, Hong Kong, Taiwan and mainland China.
The Canggu Plaza complex is the really new kid on this particular block. It also caters for local families and tourists with the owners offering three types of restaurants all within a village square style open piazza setting which is safe for kids to meet and greet their friends and play within. There are big comfy settees and loungers outside and shade provided by overhanging trees, roofs and awnings in a Mediterranean style alfresco setting.
The Trattoria Pizzaria offers a range of anti pastas and large, family-sized pizzas all cooked on the spot. Service is good, with the waiters and waitresses all being young and enthusiastic to help and serve you. This is the most popular of the restaurants and often kids will bump into their friends from school having dinner after a busy day of school and after sports, dance or other activities.
More upmarket is the Brazilian Bosa Nova, with its day-long open salad bar helping to take away the hunger pains while you wait for your main course to be cooked. As with the other restaurants, there are specials of the day displayed on blackboards or maybe you want a la carte with a bottle of wine served chilled.
Snuggled in between these two restaurants is Esthetic, a massage and beauty parlour, with well-trained masseurs, hairstylists and beauticians to pamper the ladies. Somewhere for women to relax and pamper themselves in a quiet and peaceful atmosphere before picking up the kids from school. This business is run by the wife of one of the owners of the three restaurants, so you can say that Canggu Plaza is a real family affair.
Rather surprisingly, the third restaurant is a small Japanese-style sushi bar serving chilled seafood on rice or sashimi tuna and mahi-mahi reef fish and marlin steaks on the menu tonight with sake to wash it all down. Rated by a recently retired Dutch sushi restauranteur who moved to Canggu in December 2012 as a good feed and reasonable value for money. Though he did say that raising prices after nine months was probably a mistake – as it is better keeping prices more reasonable and going for greater volume – which, according to him, will give better returns in the long-run.
Rounding out the square is Asian Prospects, a real estate company which specializes in selling and leasing land to property developers and individuals. They focus their business not on Bali but on the string of islands which run between Lombok in the West and Timor Leste in the East known as West and East Nusantara. By way of example, they sell beach-side plots of land in a new development in southeast Lombok for as little as US$ 25,000 per are (10m x10m).
So, in short, a rather eclectic collection of businesses in a tiny area on the west coast of Bali. So on your next trip to the island, check out Canggu. You will be surprised by what you find here.