An eerie undercover video posted on January 28th that shows coral reefs being illegally bombed for catching fish off the Mentawai island of Siberut has sparked a massive movement that led to important Indonesian government support on the issue.
This two minute YouTube video spread like wildfire via networks of the surfing community, showing several outlaw fishermen tossing large amounts of homemade ammonium nitrate bombs from their boat into the water that sink, explode and stun any nearby fish or sea life so they are easy to catch. This reef bombing, also known as Blast Fishing, is against the law in Indonesia and around the world.
Unfortunately, reef bombing continues as a widespread clandestine operation used to quickly gather fish to sell dead or alive to domestic and international markets. Reports from witnesses on Siberut where the video was shot say there have been 31 straight days of reef bombing with roughly 2,250 bombs exploded in just that one region. A second video by this concerned group has surfaced showing dead fish, some with eyes blown out from the explosions that wash up following the reef bombing just offshore.
In light of creating a source of illegal income, there are some dreadful repercussions to bombing the reefs. Estimates are at 5-10 years for small parts of the reef to grow back, but if bombing is allowed to continue repeatedly in one place it can totally wipe out a coral reef garden with no chance of regenerating, meaning no more home or food for fish and other sea life. Many fish that die in blasts are not even collected and simply sink to the sea bottom. It is also hazardous to those handling the homemade explosives, which have been known to detonate prematurely in one's hand.
Once a reef ecosystem is wiped out this also kills whatever income fishermen in the area might have once made, as well as the many tourism services operating around fish and coral reef. Reports indicate that those in charge of such businesses use big boats to communicate between fishermen and carry the fish so the bombers don't have to leave an area. These boats move from one bombing site to the next usually because they have exhausted the resources from the last reef.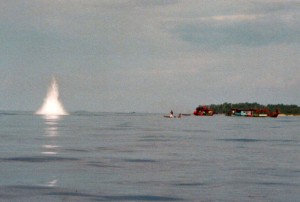 Dialogue from the short video clip says that the police, navy and coast guard stations, local tourism and government representative offices and more were all contacted upon witnessing the January bombings, but nobody did anything about it. Since being uploaded, the video has created enormous chatter and an online petition through www.change.org was launched along with the video that quickly reached 4,500 signatures. Surfing champion Kelly Slater and business mogul Richard Branson were amongst the supporters of the cause within 48 hours of the video posting. This petition against the Mentawai Blast Fishing was then presented to Mr. Syahril Abdurrahman, head of Security for Marine Fisheries.
Five days after the video was uploaded and the petition sent in, a meeting was requested between the petitioners and the Indonesian Director Generals of Fisheries, Fisheries Security and Marine Resources in Jakarta. Two days later the groups were sitting together under one roof discussing the issue, quite a record-breaker as far as getting government officials to quickly schedule a meeting and show up. This was a sensitive topic that could potentially lead to an embargo on Indonesian fish, so of course, the occasion was quite serious.
In the meeting the Mentawai Fisheries admitted failure and inability to police such illegal practices largely due to inadequate equipment and resources. It had not always been that way; in 2005 an armed Mentwai Police unit had ambushed five Fish Blasting boats, capturing one of them. Since that single successful operation, new programs were set in place to stop further Fish Blasting, but they have been underfunded and given little attention while the illegal fishing has continued over the last few years.
Another issue was that what operational resources the government did supply to such projects had just been reduced from 150 to 115 days per year in 2013. The whole meeting agreed that government dedication to preventing such activities was inadequate in Western Indonesia compared to the eastern half where world-class diving sites such as Wakatobi and Raja Ampat have had more defence from such damaging practices.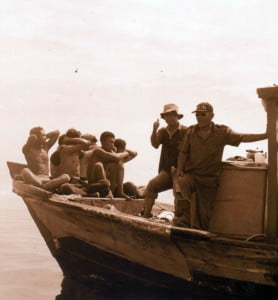 As the meeting ended the group had agreed on several positive programs. The biggest momentum came from the Director-General of Security for Marine Fisheries who pledged to not just end the Fish Blasting but to also turn the waters off the southwestern side of Siberut Island, where the bombing had been filmed, into a government-funded and patrolled Marine Park and Sanctuary by the year's end. Until this Marine Park is created the group agreed to allocate more resources such as boats and petrol to the cause. They will also track down and stop involved illegal industries that supply the ammonium nitrate for bombs and also stores selling fish from Fish Blasting.
Pushing forward environmental and ecological plans are not easy anywhere in the world. Indonesia is no exception and has its share of bureaucratic issues making support difficult. The best way for anyone to help out is to sign the petition at the link below and help spread the word, especially to Government officials if possible, in order to bring such dark fishing practices to light.
For the petition click:
https://www.change.org/petitions/stop-bombing-the-mentawai-reefs
For the first video "Mentawai Madness" click:
http://www.youtube.com/watch?v=_81OhkhFXUc
The second video is here:
http://www.youtube.com/watch?v=ljFFLcCevaM