Coffee is the most widely used natural drug on the planet and its popularity shows no signs of abating.
It was apparently the Dutch who first introduced coffee drinking to Indonesia, but in some parts of the country, coffee has been used in religious rituals for centuries. Indonesia is now the third largest coffee producer in the world, with islands including Java, Sumatra and Sulawesi providing ideal climates to grow some of the world's finest beans.
Despite coffee plantations covering approximately 1.3 million hectares of the archipelago, until recently it was surprisingly hard to find independent cafes that celebrated the heritage and flavours of Indonesian coffee. In cities like Jakarta, international brands such as Starbucks and Coffee Bean seemed to prevail on every corner. Ironically, most local coffee served in these multinational chains will have been shipped overseas, processed, and then shipped back to Indonesia.
Lately, however, boutique cafes serving specialist coffees from both Indonesia and further afield have begun popping up across Jakarta. The 'third wave' movement is also becoming increasingly popular in Indonesia; a global drive that aims to elevate coffee to a culinary art with a level of complexity and appreciation similar to wine. Its terroir — the soil, temperatures and altitudes where it grows — and flavour — from sweet to umami — are all taken into consideration with everyone from the grower to the cafe owner, working together to produce a superior, artisanal bean. So, for those looking for somewhere a bit more unique to laze with a latte or meet for a macchiato then read on, as Indonesia Expat spills the beans on some of the best coffee shops Jakarta has to offer.
ANTIPODEAN CAFE
Hero Kemang complex, Kemang Selatan 1 and CITOS Lifestyle mall, Jl. TB Simatupang, South Jakarta.
As its name suggests, this coffee shop originated in Australia and now, as well as one branch in Sydney, it also has two outlets in Jakarta and Kuala Lumpur. The back wall of the Kemang branch is an artistic shrine to the array of speciality coffee beans it stocks, all made by Merdeka Coffee. This micro-roasting company was established in 2001 after the owners felt that their customers in Jakarta were missing out on the best bean in the world – their own!
A recent visit after a sleepless night, certainly sorted me out for the day ahead with their latte providing the perfect balance of smooth, creaminess. Antipodean also serves a delicious range of salads (a rare find in Jakarta) and all-day breakfasts. Or for those who like their coffee accompanied by something a little sweeter, be sure to try their homemade cakes – calories and caffeine, what more could you want?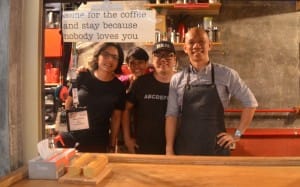 A BUNCH OF CAFFEINE DEALERS (ABCD)
Jalan Cisanggiri 2, Pasar Santa, Level 2, Jakarta Selatan, 12170
Tucked away behind the market stalls in Pasar Santa, it seems hard to imagine you are about to stumble across Jakarta's most innovative coffee shop. This pop-up kiosk was started by coffee consultant Hendri Kurniawan back in June 2014. As the first World Barista Championship judge from ASEAN, he built up a collection of blends from across the world, which he was keen to share. During my visit, I met with fellow founder Ve Handojo, a scriptwwriter by day and expert barista come the weekend. He explained that everyone worked there for free, united by the aim of having fun and bringing a unique coffee experience, not cafe experience, to the caffeine lovers of Jakarta. Although, with flowers arranged in gin bottles, crates to sit on and old sate fans available to use as personal air conditioning- it's certainly the latter too!
A Bunch of Caffeine Dealers, or ABCD, is only open when Kurniawan has a coffee he thinks is good enough to share, so it's worth checking their Instagram account before paying them a visit. I tried 'Summer Blend' a bold, punchy blend of beans from Panama and Kenya, roasted in the Philippines, whilst my partner in caffeine tried a blend of El Salvador and Rwandan beans roasted in Bangkok. You pay what you think the coffee is worth but with smiling staff, passionate about bringing you some of the world's best coffee, I defy anyone not to leave a generous donation in the appreciation jar!
COMMON GROUNDS
Citywalk Mall, Jl. KH Mas Mansyur
Aston Utan, owner and barista of the highly acclaimed Pandava Coffee, recently opened Common Grounds in Citywalk mall. Although proud of the Indonesian heritage of coffee producing, he uses beans from across the world to make his signature blends. The current house blend consists of a mix of Aceh, Toraja and Ethiopian Yirgacheffe beans, meaning you won't get a cup of coffee like it anywhere in the world. And the chic interior, which has been designed to look like a subway station, is also something you can't currently experience in Indonesia either!
As well as an eclectic array of coffees, they also have a delicious food menu consisting of brunch staples, such as truffled scrambled eggs with Norwegian smoked salmon and a selection of mueslis. And with one of their baristas, Iwan Setiawan, winning the Indonesia Latte Art Championship earlier this year, don't be surprised to find some art atop your coffee, too!
BLÜMCHEN
Fairground Plaza. SCBD lot 14.Jl. Jendral Sudirman Kav 52-53
Owner, Lee So Wang, a Korean native, moved to Jakarta in 1980s to work as a lawyer. On arrival, he quickly developed a passion for the richness and quality of Indonesian coffee, but as the capital of a nation that produces more than 10% of the world's coffee, it surprised him how difficult it was to find a good quality local brew. He decided to combine his business acumen with his passion for Indonesian coffee to open Blümchen cafe in 2008. Blümchen means 'flower' in German and he hoped that Indonesians' pride in their coffee would bloom just as a flower does.
The interior is inspired by European coffee culture and the romance of the coffee experience, with antiques from the owner's travels adorning the walls. But don't let that distract you from choosing one of the 30 different coffees available, all made with beans sourced from across the archipelago and roasted on the premises twice a week.
ONE FIFTEENTH COFFEE
Jl. Gandaria 1 No. 63, Jakarta Selatan
In a world of complex marketing campaigns, One Fifteenth has a simple, yet no less effective mission statement – "to bring the community the best possible coffee experience". The coffee shop takes this aim seriously and has employed three champion baristas from the Indonesia Barista Championship and the food menu was devised with the help of Indonesia MasterChef judge, Arnold Poernomo.
As soon as I entered the cafe, I got the impression One Fifteenth was going to be somewhere a little bit special and luckily, I wasn't wrong. On meeting the owner, Lia Gunawan, she explained how she was inspired by the coffee culture in Melbourne but wanted to do something a little closer to home. And this is clearly something that stayed with her throughout – Lia's architect sister designed the light, simplistic interior; the trendy, yet comfortable wooden furniture is from her family's factory and the eggs are from her aunt's farm. The coffee is provided by Morph Coffee, a small-batch, third-wave coffee roaster based in Indonesia who strive to provide a diverse range of coffees that tell a story and most importantly, the owners like to drink!
In the two years since opening, One Fifteenth has quickly become a magnet for coffee devotees and experts. However, even if you're not a coffee connoisseur, a visit still comes highly recommended if only to try their deliciously inventive menu. The B&E roll is a heady combination of pork bacon, fried eggs, caramelised onions and jalapeno pesto served in a brioche bun, and the naughtiness of their homemade churros can be cunningly offset against one of their fresh fruit smoothies (or so I told myself!).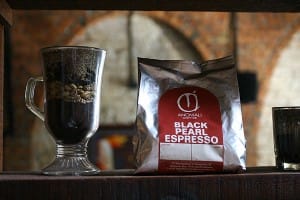 ANOMALI
Jl. Senopati Raya; Jalan Kemang Raya; Setiabudi One, Jl. Rasuna Said; Gedung Plaza Indonesia Extension (EX Plaza)
Caffeine is regularly credited with increasing levels of productivity and if the phenomenal success of Anomali is anything to go by, then this is certainly true! Anomali was started seven years ago by two friends with a love of all things caffeinated and now has four outlets in Jakarta and a further two in Bali.
Anomali pride themselves on only serving premium Indonesian coffee and the highly trained baristas roast the single origin beans in-house, which adds a freshness to the coffee that you just don't find in many other cafes. If you like your coffee with a kick then beans from the Sumatran regions of Aceh and Mandailing won't disappoint with their smoky aromas. Alternatively, if you prefer it fresh and fruity try the medium-bodied beans from Flores.
All the cafes have an industrial feel with exposed brickwork, metal beams and rustic tables with earthy, muted tones reminiscent of a perfect cup of coffee. The decor may be eye-catching but it's also practical, with tables suitable for business meetings and comfortable sofas ideal for a long catch-up with friends.
TANAMERA
Thamrin City Office Park AA 07; The Peak Apartment Sudirman
Tanamera opened in January 2104 after the Indonesian owner, Dini Aryani Criddle, travelled extensively abroad, and wondered why although her country's beans were readily available in cafes overseas, they were a rare commodity in the coffee shops of Indonesia. From this, the idea for Tanamera was born – a speciality coffee shop that shines the spotlight on local beans.
The signature blend is called 'Tiga Dara', which literally translates as three virgins! Luckily, the virgins in question are the fresh beans sourced from three different regions, Papua, Flores and Aceh. They are then roasted on the premises using a US-built Diedrich coffee roaster, which is hard to miss, despite being tucked behind a glass wall, and provides a good reminder of how seriously the Tanamera crew take their coffee. The menu also includes some innovative offerings, including a beetroot latte and a Guinness cake, which shows that their passion and expertise extends beyond a good brew.