Authorities have arrested nine suspects believed to have been involved in May 24 twin suicide bombing in Kampung Melayu, East Jakarta, which killed five including the bombers.
Preliminary investigations found two confirmed suspects May 30 in Cipayung, East Jakarta, but counterterror unit Densus 88 confirmed on Thursday, June 22, that at least 41 others have been detained in relation to the incident. The latest update from authorities reveals nine suspects in the case.
The two suicide bombers — Ichwan Nurul and Ahmad Sukri — had been identified within 24 hours of last month's attack, using the Indonesian Automatic Fingerprint Identification System.
"The suspects for Kampung Melayu bombing are Jajang Ikin Sodikin, Waris Suyitno, Asep Sofyan, Rohim, Agus Suryana, Heri Sundana, Kiki Muhammad Iqbal, Muslih Afifi and Wachidun Triyono," Head of the Public Relations Division Insp. Gen. Setyo Wasisto said on Thursday, June 22.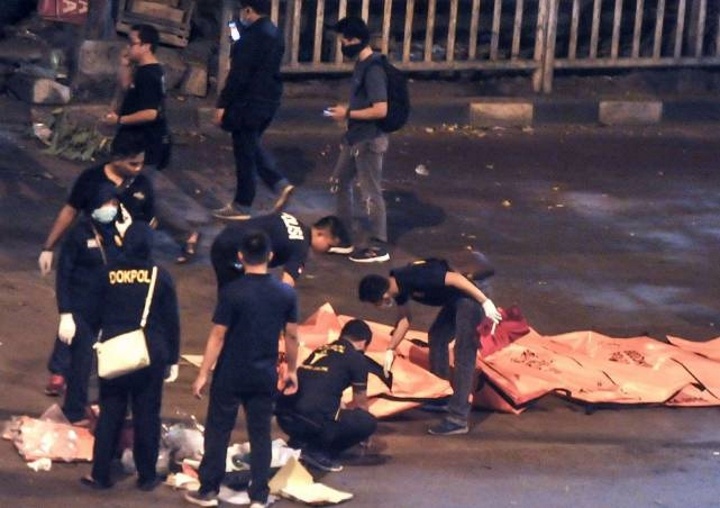 Sodikin and Suyitno are believed to have known about the plans to bomb the East Jakarta bus terminal and are sympathisers of terror group Islamic State. Iqbal had given a motivational speech on May 19 encouraging terror acts and Sundana is reportedly his protege sharing the same views. Afifi and Iqbal had led a prayer for Nurul and Sukri May 19, along with Triyono who gave a sermon to the two suicide bombers.
Police have also apprehended several suspects in separate terror cases. Seven suspected terrorists have been added to a search list, while 15 others were arrested for alleged involvement in terror plots during Ramadan.
Five others were detained by police for funding the departure of other would-be terrorists to fight alongside ISIS in Syria and the southern Philippines.
Image credits: Tribunnews, Viva