Meet Shankari, also known as 'Shankari the Alchemist', who put Balian, a village on the west coast of Bali, on the map through a mix of creativity, spirituality, and hard work.
Tell us about your early life and how you came to Bali.
My Australian family thought I had lost my mind when I moved with my four children to Bali in April 1989! There was no internet, let alone Facebook or email. This was a wild, crazy, extremely brave thing to do, but when the God force is there, you can only say yes!
August 1988 was the Harmonic Convergence; an astronomical alignment, providing an energetic catalyst that sent many across the planet to pursue their true destinies. In Sydney as a single parent I worked non-stop to survive, as an artist, a waitress, and a ceramics teacher. I attended the University of New South Wales for a while, but my passion was creativity, so I left to have my first son and explore the world.
I am empowered through my children. I have never been sorry I had so many and I celebrate their diversity and their genius. Today I have eleven grandchildren in four countries – abundance indeed! During the '70s I had a son and then I gave birth to the twins, followed by another son and suddenly was the mother of four. Studying around the children, I became first a silversmith and then a sculptural ceramist winning many local prizes for my art and design.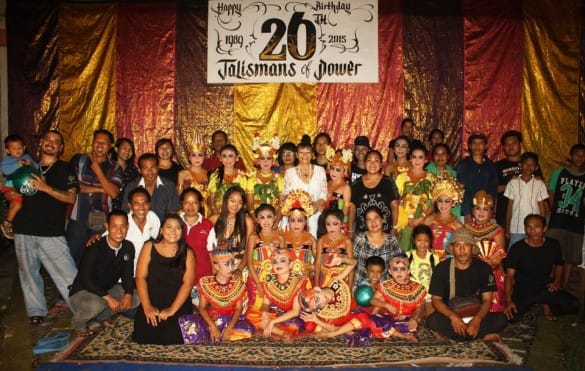 What were the early years like being a single mum? 
The first years were very difficult living in Bali. There was hardly any infrastructure; erratic electricity supply, no phone connection, no schools, and the language barrier. Quitting was not an option – I was committed.
I must have eventually passed all the tests because I was 'discovered' by a Beverly Hills Interior Designer, Tony Duquettein, in October 1992. I was his new assistant and my life and my family's lives changed forever. He designed 'Bagdad by the Bay', a costume ball for royalty at the Museum of the Legion of Honor in San Francisco. I designed and managed the jewel-coloured, three-tiered umbrellas and the costumes for the doormen and the porters, snake charmers and jugglers! Life was getting interesting!
How did your life change upon marrying your husband from Balian?
In 1993 after a brief courtship, I married my Balinese husband, Dewa. The ceremonies lasted three days! I loved everything about him! Suddenly I had someone at my back; I became far more focused and powerful in my designing and my writing. Love always makes us stronger!
Besides your unique designs, what makes your jewellery line stand out from others?
I have a strange skill that sets my work as a designer apart from others. I can hear the sound of colour, which is called 'synesthesia'. I create songs of power for the wearer through their colour which describes their note or vibration. Stones carry vibrational memory which can be harnessed and directed through intent. Today, the wife of the Prime Minister of Japan wears my Lapis Lazuli pendant design to strengthen and protect her from negative energy. My clients include supermodel Rachel Hunter, rock star LaToya Jackson, Hilary Duff and Patti LaBelle.
What inspired you to create Sacred River Retreat?
In 1995 I fell pregnant and I thought I had been cursed with black magic. One afternoon I went for a walk across the bridge, I sat down in the shade and drifted off into a dialogue with the spirits of the land. "Look between your feet," they said, and so I did, and there between my feet was a large fruit called Sirsak (Soursop). "Eat it all," the voice instructed, which I did with some trepidation. Sour and strange at first, it actually tasted like heaven. It was the perfect solution to my digestive chaos and I was so happy I could cry.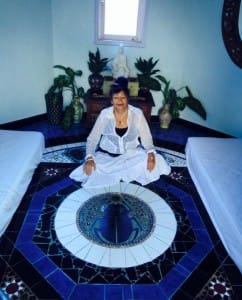 Finally, resting under a jack fruit tree I heard them say, "As you have received healing here, so will many others." I was instructed by the spirit of the land to build one of the first yoga centres in Bali. They kept saying, "This place will be outside time and space." They nominated the place and the purpose then they organized funding. My husband and I were simply their human servants. The work and money it attracted helped build the village and the people into a powerful force on the west coast of Bali.
You began life in Balian in a simple home and built it up over the years. What other arts do you support? 
The palace in Balian started in 1997 and was funded by the sale of my home in Palm Beach, Australia. Today I am proud to say that I sponsor a foundation for dance, where 64 children in the sanggar or school are studying traditional and modern Balinese dance.
How do dance and the arts enlighten us?  
I believe in the power of art in all forms, as a healing force upon the Earth. When I watch the children dance I cannot help but cry with joy. They are so precious, so innocent and so talented. When you dance you forget yourself and fall into the arms of cosmic flow.
Like all art forms, dance has the power to heal by resting the mind and engaging the spirit. 
Tell me some of the most important practices you have taught others.
I believe in good health, so everyone who worked with us committed to start at 8am, and for the first hour their only job was to practice yoga, meditate, share grievances and centre themselves. When they went out into the workday they were balanced and fully prepared for their job. This is how you prepare to create life as a sacred journey. 
Is there anything in your life that you would still like to do?
There are so many things. I want to write a book about the Crocodile Temple in Lallang Linggah. I would like to inspire a creative arts school here in Indonesia and online. I would like to teach about jewellery making, gemstones, sacred geometry, mosaics, silk painting, music, dance, costume design and theatre. Anyone interested in joining is welcome!
I am excited for the future. I am blessed to have shared my life with the people of Indonesia. I love them deeply; their smiles and their humour fill me up with joy. It is the place on Earth where I feel most comfortable. I believe simply in the little things. With love and care for each other, we can heal the world and inspire the future.
Thank you, Shankari! To get in touch, email [email protected] or visit www.shankaribaliretreat.com