Gary Joy is originally from Bournemouth, a seaside town on the south coast of England. In January, he founded Let's Move Indonesia (LMI), an online property portal which focuses on the user's needs. Currently LMI are running a successful referrals system, which claims to be "the easiest money you will ever make".  
Gary, how did your Indonesia journey begin?
My journey to Indonesia started one fateful evening when I was working at an investment company late at night. I caught my reflection in the window and I knew I hated what I was doing with my life. I quit my job the next day and joined an international school in the UK which then transferred me to Indonesia. I have not looked back since!
When was LMI founded and for what reason?
LMI was officially launched in January 2016, although it had been something I had wanted to do for a while. In 2013 I tried to find an apartment in Jakarta; I used all the available websites and agencies, and simply put, they didn't offer a good enough service. Information was not updated, the website functionalities didn't work, the service was average at best and I wasted a lot of time and energy. Flash forward to 2015 and once again I couldn't find a reliable website. I knew then that someone had to change it, so I founded LMI with the objective of providing the most complete property portal.
What makes LMI different?
We are quickly becoming the trendsetters of the property market and offer many firsts to Indonesia, all aimed at making our users' lives easier. Our main business is real estate – both new developments and secondary homes in Jakarta – but we are expanding our range and reach rapidly.
We have also become the home of serviced offices and can help our users find office space throughout Indonesia.
When designing and creating LMI we listened to what our users wanted, and studied the most successful real estate websites in the world. We are proud to have created the most interactive and professional property website in Indonesia.
What are you responsible for at LMI?
I meet all the new developments, serviced office managers and affiliate partners we have in place. I valuate properties, manage the website, clean the office, write articles, manage the social media; you name it, no job is too big or too small. I believe in leading by example and hope I can encourage others around me to take pride and ownership in everything they do.
You pride yourself on being an Indonesian company. Why do you think this is important in your industry?
In a country where local businesses have traditionally been taken advantage of by international companies, our aim is to promote Indonesian business and provide professional standards. We appreciate the power of local expertise and we work closely with Indonesian companies offering a range of services. LMI has sought out the best relocation, financial, legal, removal and construction companies for our users, so they do not have to waste their time searching for advice.
If any of our users want free, no obligation advice about anything property related, we can refer you to some of the most reliable and professional companies in Indonesia.
How does one become an agent of LMI?
To become an agent of LMI you need to be proactive, enthusiastic, likeable and professional. We provide extensive training with all agents to ensure professional standards. To join us, one would need to send their CV and cover letter to [email protected].
How do you ensure the agents you use are legitimate?
All the property on our website is promoted and sold by our own agents and affiliate partners. We also introduced a first to Indonesia property websites, by allowing our users to rate the performance of our agents to ensure all agents were giving professional service.
Your company offers free property-related advice. What are the main questions that you get asked?
One of the most common questions we receive is about land and development. Lots of Indonesians have land they want to develop, but do not know how. We work with some local companies who help people evaluate their land and build something new.
Can you walk us through your referrals scheme and how it could benefit the general public?
It is very simple. If you refer a property to us and we are successful at listing and selling or renting it, we will pay you a 10 percent commission from any agent's fee we receive. It is quite literally the easiest money you will ever make. This strategy has been very successful for everyone involved.
Do you have any advice for anyone thinking about getting on the property ladder here in Indonesia?
Do your research! Indonesians tend to get their mortgage financing from their bank or a developer. Ask around, check other banks and make sure you are getting the best rate available. LMI hopes to have an in-house finance team before the end of 2016, whereby we will offer free advice on all financial products. Watch this space.
Where is your 'property of the week' currently?
Currently our property of the week is a stunning penthouse in the Verde development in Kuningan. It really is a fantastic property. Everyone at out office wants to live there!
What three words would you use to describe the property industry in Indonesia right now?
Exciting, experimental and intriguing.
Do you think the property bubble could burst?
Having been a sub-prime mortgage advisor in the UK in 2008, I have already worked and lived through a property burst. Of course, things will change in Indonesia, they cannot continue exactly as they are, but for those who play the game smart there will always be opportunities. My advice would be to never over commit yourself and you should be relatively safe.
What about in Bali – will prices continue to rise?
The prices cannot continue to rise as rapidly as they have in recent years. I predict numbers will steadily increase, but not at the phenomenal rate they have been.
What would you like to see improve in terms of the property industry in Indonesia?
I think more emphasis should be placed on property developers to make sure the surrounding areas are sufficient to handle their new developments. More often than not, new builds are created with little consideration for how this will affect traffic and the local environment.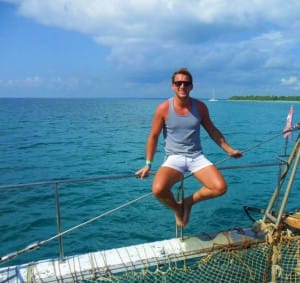 Do you see yourself staying in Indonesia for the long term?
I do; although my ultimate dream would be to move to Bali so I can be closer to the sea.
What important life lessons have you learned from your time as an Indonesian expat?
Patience was never a virtue I possessed. I used to think things could only work my way or not at all. Living in Indonesia and seeing the resourcefulness of the Indonesian people has really opened my eyes about how to do things differently.
Our website really is testament to that statement and this is evident in our products and services which we offer.
Thank you, Gary. To get in touch, email [email protected] or call +62 (021) 8063 1916.