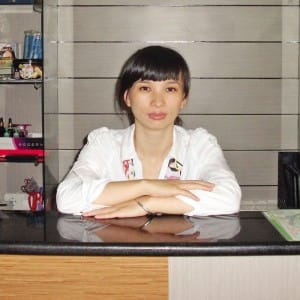 Meet WenFei, a mainland Chinese woman who manages a massage, spa and beauty salon in Jakarta's Chinatown district of Glodok.
Tell us about growing up in China.
My parents are farmers from Hunan province. They raised chickens, cows, pigs and fish, and grew vegetables. I have two older sisters, one older brother and one younger sister.
Four sisters in one family? That's unusual in 'one-child' China.
I was born in 1982, the same year that the government introduced the One-Child Policy, but rural families could still have two children. It was rare for a family to have five children, especially four girls, because it was difficult to feed that many children. My parents were not wealthy, but they loved us and they made sure we all had enough to eat.
My father worked mostly as a poultry farmer. My oldest sister helped him after school every day. Prices were higher in the city. So each week my mother would set out with a load of chickens and eggs, and hitch-hike long distances to the city and back. Her hard work helped to feed the family and paid for my older sisters' education.
My sisters and I had to feed the pigs and cows three times a day. This meant we had to cut and carry a lot of heavy fodder and straw. It was hard work for little girls. I used to fall down a lot. But it was a happy time and a simple life.
Did you attend school?
School was expensive if you had five children. But my father valued the importance of education, because when he was only eight years old, he had to quit school and go to work, even though he was smart. He was determined that his own children would have more education. When my second sister was 13 years old, she left school and went to work. Her salary was small because she was a child. By the time she was 16, she was working three different jobs a day. All of her wages paid for me and my younger sister to go to school. The family worked hard and made many sacrifices, so we could have opportunities. That's how life was back then. Family unity and resilience are very important in China.
How long have you been in Jakarta and what are you doing here?
I have been here for three years. I used to run a beauty clinic here. Now I am managing my older sister's massage parlour. It's at the back of the Mediterania apartments on Jalan Gajah Mada. You have to let me promote the business! It's called Refleksi Yuan Salon. Yuan has many meanings in Chinese, but in this case it means 'fate' or 'destiny'.
Jakarta has many massage and health salons. Why is this one popular?
We are not a typical massage parlour. Our staff have many years of experience in traditional Chinese massage and health treatments. Our services and hygiene are excellent. Customers keep coming back, even during the floods.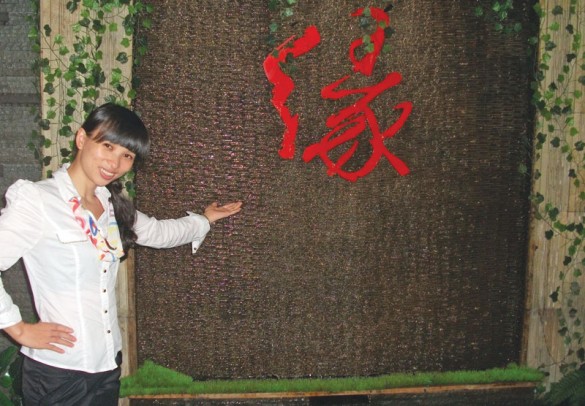 What sort of treatments do you offer?
Chinese traditional massage, spa treatments, reflexology, aromatherapy, lymphatic detoxification and cupping. We do not offer miracle cures. We are not a hospital. If a person comes with a specific disease or severe pain, we advise them to visit a doctor or a hospital and get an x-ray. What we do provide is relief from stress and fatigue, healing and relaxation. If the body is exhausted or abused, our treatments can remove stress and rejuvenate the body, making people feel better. We assist with detoxification of any harmful chemicals that have entered the liver or kidneys. We also provide beauty treatments. Lots of women come to us to make their skin young, beautiful, soft and smooth.
Massage parlours in Glodok have a reputation for sex. What about this one?
Definitely not! There's no naughty business. That's forbidden. About half of our clients are women.
How much do treatments cost?
From Rp.100,000 to Rp.180,000 per hour for a massage. The top cost for a full spa treatment with traditional Chinese herbal oils and remedies is Rp.500,000.
What's the point of a spa?
With the Chinese herbal oils, a spa can help detoxify the body, improve digestion, assist the recovery of new mothers, prevent gynaecological diseases, improve sleep, soothe itching and counter skin diseases. Spas even enhance the immune system. A person leaves a spa with a feeling of great well-being.
Who are you customers?
Most of our customers are Chinese and then Indonesians. We have some Western customers and some Arabs too. We've even had the occasional African. We are happy to serve anyone. We open at 1pm and close by 2am.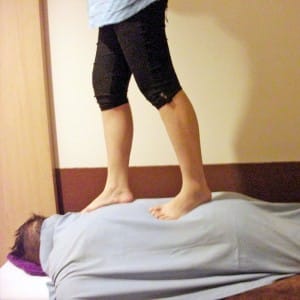 How will you celebrate Chinese New Year in Jakarta?
On New Year's Eve, we will finish work early at about 7pm or 8pm. Then we have a huge banquet of delicacies. There will also be lots of beer, wine and spirits. After we finish banqueting, maybe we will get some cars and get driven to a tourist site. It's good to drive after midnight because there is no traffic. Then in the morning, we can enjoy some sightseeing. We all work hard, almost every day of the year, so it is important for the staff to have a group outing and play together. It is a special holiday for us and a fun celebration, even though we are sad we cannot be in China with our families. In the past, we have celebrated with trips to Ancol and Bandung.
You don't use the word Imlek, do you?
We say "xin nian kuai le" – which means "Happy New Year". Or we say "xin nian hao", which is the same thing. "Gong xi fa cai" means "wishing a prosperous New Year". Children say "bai nian" to their elders, as a New Year visiting greeting.
What are some of the customs?
The day before New Year, we clean the house. It is bad luck to sweep the floor on New Year's Day. It is also bad luck if you get a haircut, break a dish or have a shower. We try to wear new clothes, something red, for good luck. We give angpao (red envelopes of cash) to children. Fathers should give angpao to children on New Year's Eve. Other relatives give angpao on New Year's Day.
Do you see Indonesians getting into the spirit of Chinese New Year?
The security guards here like to collect angpao. And so do children from the kampung. It's polite for us to give out angpao. It's not huge amounts of money, just Rp.5,000 or Rp.10,000 per envelope. When local children here ask for angpao, they say "gong xi fa cai" with their hand outstretched, which is actually rude. You are supposed to say it with one hand clasped around the other and make a small bow, then wait to receive angpao.
What do you like best about Jakarta?
The weather is always warm. China is very cold right now. Also, in China there is a lot of pressure, everyone is always busy. I like the pressure of China, but Jakarta is much more relaxed.
Meet WenFei in person at Refleksi Yuan Salon at Apartemen Mediterania Jl Gajah Mada, West Jakarta. Open from 1pm to 2am.