Meet Minni Vangsgaard – the former Danish-turned-Balinese Platinum Course Director who has had 8,000 dives around Bali.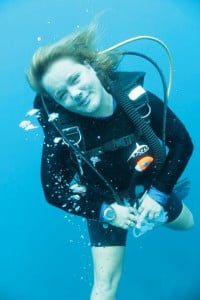 How many years have you been in Bali?
I've been here seventeen years now. I came on holiday in the first case. I had just a normal 2-week holiday, did a lot of diving and then went back home and as always on the plane on the way home you're talking about your next holiday and I wanted to come back.
In Denmark I actually had a flower and event shop and I figured it might be difficult to make a living off selling flowers out here. When we came out, that was one of the only options you were allowed to do as a foreigner whereas now it's more easy with the work permits, but at that time you had to do something that nobody else could so teaching English with the diving was a good opening.
When you moved to Bali, how long was it before you opened your dive shop?
It took one year to get all the paperwork and licenses done and we built Crystal Divers up from the bottom, which was hard. Bureaucracy was slightly different then, but we just took the time and I'm happy because everything was done right from the beginning. Now, 17 years down the road we've seen a lot of places collapse so it was definitely worth it for us to stay successful.
You changed nationalities to Indonesian I'm told – tell us about this.
Yes, I am actually Indonesian. At that time when I changed, you had to be a shareholder for five years or be married to a local, and I fit into both categories. I had to let go of my Danish citizenship to do that – I still go home for holidays but I have to apply and pay for a visa!
You must meet people from all over the world at your dive shop – where are divers generally from these days?
We do, and that's the nice thing. It's not a specific market – we have a lot of Europeans, but a lot of Asians are now coming in and we're actually getting a Chinese instructor next on the team.
Is Crystal Divers the biggest dive shop in Bali?
Well, we're basically in the three top dive schools here which basically means we have a rating that nobody else has, we have a CDC (Career Development Centre) which means we educate instructors, together with all the normal diving certifications of course. We're the one that's been here the longest which is good! When we came out here there was only one other foreigner running a dive centre at the time.
And now there are so many – how do you differentiate between a good dive operator and a not so good one?
Oh yes, there are around 300 in Bali. You don't have to be PADI to be legal. There are SSI and NAUI centres, but PADI is the majority. There are also some that don't belong to an organisation which doesn't make it illegal so to speak, it just means that if something goes wrong or you don't feel you're getting the right education, there's no way you can complain. That's the kind of security you get with the organisations.
Are there a lot of diving-related accidents in Bali?
There are quite a lot, but you don't hear about them. It's a little bit difficult because you want people to know about them to avoid getting themselves into those situations, but you also don't want to have a bad reputation in Indonesia, which is easy to get. We're very strict on the training here and in seventeen years, touch wood, we haven't had any accidents and have a 100% safety record which is very important for us. With more and more divers and more and more shops that open, there's obviously more of a chance of a fatality, which at the moment in Bali is around three to five a year.
So what would your safety advice be for a diver?
Stick to certified operators and don't do stupid things. When you become a certified diver, you sign a form that says you have to be responsible for yourself – so do just that!
Where are Crystal Divers' top dive spots in Bali?
Our top places are Nusa Penida and Tulamben. We also use Candidasa a lot, which is for more experienced divers because of conditions such as the current coming in from Lombok Strait. It's not like it's dangerous, dangerous, but you do need to know what you're doing that's for sure.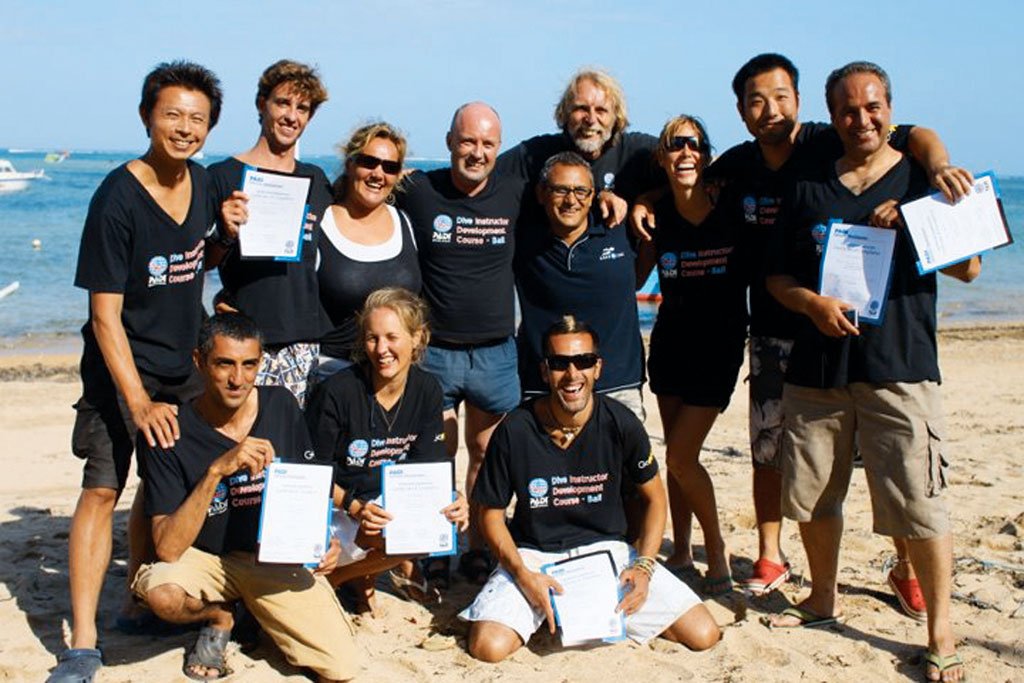 So what's your favourite dive spot in Bali?
Mine is Candidasa. There's a good chance to see sun fish, but the reason why I love it so much is because it's very unpredictable – there are a lot of beautiful dive sites here but in Candidasa you never know what will happen. I have 8,000 dives around Bali – just wait, when you pass your first hundred then it goes fast! We use Candidasa as shark point because you have a good chance of seeing sharks there, also turtles, nice corals and the current. There are also some spots where you'll meet hundreds of a certain fish and that's what I find amazing.
Wow, 8,000 dives is impressive! Are you still counting each dive and filling in your dive log?
Oh yes, always. Never stop doing that because I think that's the fun part of it also.
With so many people discovering diving, do you ever worry about the damage divers can do to the environment?
The two main concerns are safety, specifically because in Bali the number of divers has increased a lot. In the high season I'm pre-booked three weeks up front and I have ten instructors. Then all the mid-range schools are fully booked and then that opens up the market for standing on the corner with two sets of equipment and saying, "I'll teach you diving".
Coral-wise and things, compared to a lot of other places we're very well-off in Bali because most people respect it and their understanding in general is really good. I'd say it's not really the dive community that makes the hazard in the oceans, it's the building, illegal fishing, etc. Less than 1% of damage is caused by divers worldwide.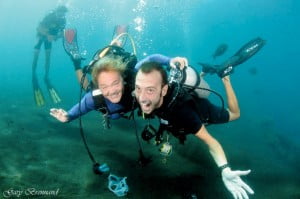 How else do you try and educate people about environmental issues?
Last Friday we had Worldwide Ocean Day and we had 200 kids on the beach collecting garbage and a big party in the evening where we collected money and raised $10,127 for Project Aware and that's a world record! It's important to start with the children because they are the future.
Congratulations! So what's the youngest age to start diving?
At eight years old you can start diving, but you can only do open water at age ten. The theory can be harder for the younger kids, but the diving itself is much easier because kids have no fear, they just do it.
What does your title of Platinum Course Director mean?
A Platinum Course Director is someone who teaches instructors to become instructors, and that's the highest level you can get. Worldwide we're put into the groups of Platinum, Gold and Silver, Platinum being the highest. There are 54 Platinum Directors in the world and five are women – I'm one out of five!
What does Platinum mean?
It means that we train more than 100 instructors a year ourselves. I still occasionally teach discover scuba, open water, advanced or rescue courses to keep in touch, but my main thing is teaching instructors. I have 11 instructor courses a year, which take 28 days each so you can do the math and see that there aren't enough days left! On this course they learn how to do presentations, how to teach, and how to give psychologically correct feedback to the students. The instructor course is more about developing yourself as a teacher.
So people are in good hands with you then!
Yes, they should be. I haven't lost anyone yet! I was bitten by a trigger fish once which was painful, but that's the scariest experience I've had. But one out of 8,000 dives aren't bad odds!
Thank you Minni! For more information about diving around Bali, contact [email protected]