Meet Thomas Mayrhofer, an Austrian hospitality industry professional with 30-year experience and a devotee of golf.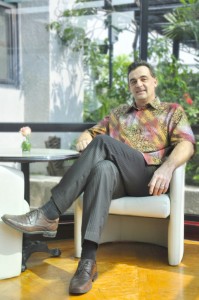 Where are you from and when did you move to Indonesia?
I am from Salzburg, Austria. However, I have not lived abroad for many years. For the past 3.5 years I have worked in Jakarta which is my first experience to live in Indonesia. Prior to Jakarta, I was based in Bangkok, Thailand.
How do you like Jakarta?
While Jakarta may take a little longer to become familiar with than some other cities, I think it is an amazing city and has a lot to offer for both expatriates and visitors. Naturally, traffic is far worse than my hometown, however I love Indonesian hospitality, the sincerity and smiles all Indonesians seem to be born with. I suppose the greatest difference with my hometown is that Jakarta only offers two seasons while my hometown enjoys four. I miss skiing, but I certainly do not miss shovelling snow from my driveway!
On your leisure time, what do you do in Jakarta?
Golf, golf and more golf! Oh, did I forget to mention golf? As soon as I arrived in Jakarta I committed one day to golf. Jakarta offers a wonderful variety of golf courses and I am still amazed how all of these courses continue to fill up every weekend. Aside from golf, I am also active in the business community of Jakarta and attend many chamber networking functions where my wife Jade happily joins my side.
Which is your favourite golf course in Indonesia and why?
It is not fair to say that I have a favourite golf course as there are some truly world-class golf courses in Indonesia. During late 2012 and early 2013 I had the opportunity to assist our sister property in Bali during the transition of two General Managers; it gave me the opportunity to oversee Pan Pacific Nirwana Bali Resort which includes one of Indonesia's greatest golf courses at Nirwana Bali. This was truly an enjoyment and a privilege. Currently, I am a member at Emeralda golf course, but I also enjoy playing great courses such as Royale Jakarta, Jagorawi and Rainbow Hills.
Have you ever competed in golf tournaments?
As an active golfer I compete in many golf tournaments and play in both serious and charity tournaments. Last year I was invited to join the Jakarta European Ryder Cup tournament at Cengkareng Golf Course which I would consider to be one of the highlights of my golfing.
As General Manager of Sari Pan Pacific hotel in Jakarta, what constitutes the bulk of your job?
I split my core workload into three separate areas. The first area is that a hotel cannot run without the full support of a team. In this role I need to inspire my immediate team and lead by strong example. A happy team that can depend on their leader will be the best team to provide great guest service. Next is our guests; making an emotional connection with our guests is the best way to achieve long-term relationships, which in turn results in loyal guests that will support us for years to come. As General Manager I have to show my team the commitment to our guests and I have to demonstrate that I always have time to meet and greet our guests. Finally, to build a strong and trusting relationship with our owning company so they trust in the financial support we ask from them.
Is your background in hospitality?
I am nearing almost 30 years in hospitality and can honestly say that hospitality is my life. My parents immigrated to Canada when I was 16 years old and as such my studies happened in Canada. In 2008, I graduated with an MBA from University of Guelph, the only university that offers a hospitality-oriented MBA.
What was your professional journey like to come to this position now?
I started in the kitchen and in 1989 I left Canada to become the Executive Chef at New World Hotel in Xian, China. After six months, I transferred to Beijing with the same company where I spent another 18 months. Taking advantage of many educational opportunities offered by my employers, I steadily advanced my career and moved out of the kitchen. My first opportunity as General Manager came in 2005 in Vancouver, Canada. In 2009, I joined Pan Pacific Hotel Group as Vice President of Restaurants, Bars & Events based in Singapore. One of my passions remains to build strong relationships and connecting teams, which is harder to achieve in a corporate role where travel combined with short visits is required. As a result, I asked to return to the property level and this is how I ended up at Sari Pan Pacific Hotel.
What are some challenges that hoteliers today face in Indonesia?
We are experiencing strong growth which puts a burden on our human capital. It seems to be harder to fill some key roles with qualified and experienced personnel as some of our associates pursue their dreams. Strong leadership combined with 'real' development for our associates are critical at such times. Aside from this, Indonesian tourism continues to outgrow GDP which essentially means this is a great time to be in the hotel business in Indonesia.
Do you participate in any organizations or societies in Jakarta?
I am very active in many social events and I believe if you are active you also have to give back, which means volunteering some of your time on various boards. Recently, I have been elected as Vice Chairman of Jakarta International Hotel Association which represents some 50 Hotels within Jakarta. I am also a board member of SKAL Jakarta where my position is International Public Relations Director.
What motivates you?
I love people and that is why the hospitality industry is a perfect fit. Of course, I would not be as successful with my career without the continued support from my wife and our two boys to motivate both of us. As far as passion is concerned, I do have to say that Jakarta has certainly cemented golf as one of my great passions and I shall never forget the wonderful golf courses I have been privileged to play at and the many great people I have met there.
In five years or so, what kind of Jakarta would you like to see?
It's hard not to include improved traffic here, but five years may not be sufficient time to fix the city's infrastructure. I also hope that Jakarta will be able to improve on overall cleanliness. I am very disappointed each time I see a river in Jakarta as most river banks are littered with far too much refuse. Each person in Jakarta must do their best to educate and lead by example as in many cities' rivers are truly treasured and often become a local tourist attraction. Rivers are so important to our ecosystem and generally can recover quickly, however they can only recover when everyone participates. This is a small personal wish of mine.