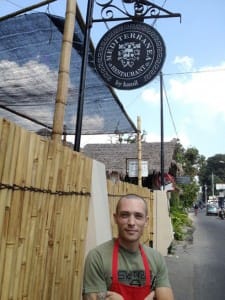 Meet Camille Massard Combe (aka Chef Kamil). Camille is the proud owner and chef of Mediterranea, a traditional French and Mediterranean restaurant in Jogjakarta, Central Java.
Bonjour, Camille. Firstly, please tell us how you adopted the Indonesian name Kamil?
There's a simple explanation for this. When I arrived, I realized that people started to write my name in this way and I found it quite fancy and local, so I adopted the name ever since!
Where are you originally from?
I'm from France bien sûr madame. But both of my parents' families were originally from the North of Italy. I was born and grew up in Paris. I stayed for three years in the southwest of France, working as a chef as well.
You came to Indonesia in 2008. What was the reason for this visit and why have you stayed ever since?
At first I came to visit a friend for a holiday and I really liked the place. Then I decided to try my luck with a small restaurant, which has been quite successful, so I decided to stay.
What is it about life in Jogjakarta that you love so much? How does it compare to Bali or Jakarta, for example?
I like that it is a human-sized city, with a kind of village feeling, despite fast changes that have happened over the last five years. Jogjakarta is known as a big city but I still like it. Bali and Jakarta are definitely too packed for me.
What would you say would be the best day out in Jogjakarta, for someone who has never been before? And where would be the best place, in your opinion, for breakfast, lunch then dinner?
Of course you have to visit the main attractions like Borobudur temple and Prambanan temple, and so on. Also visit the southeast coast where they have beautiful white sand beaches. Finish up by climbing Mount Merapi, one of the most active volcanoes in the country. For breakfast, I would say have it in my kitchen with my wife and I, for lunch definitely enjoy it in my restaurant, and for dinner as well! I work 15 hours a day, six out of seven days a week, so you are most likely to find me there. There are plenty of other nice restaurants in south Jogjakarta as well.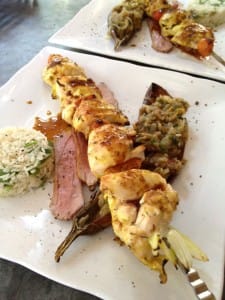 You opened a now well-known eatery in Jogjakarta called Mediterranea Restaurant, serving traditional French and Mediterranean cuisine. How did you go about starting this venture?
After a few experiences, I wanted a large space with my own decorations. I tried to upgrade this place regularly and apparently the people like it. The restaurant is a full concept; food has to be very good but the cosiness is also important. I like that my customers take their time to eat, so they need also a nice place to enjoy the food and their surroundings.
What is the most popular dish on your menu? Have you had to make any of your recipes more Indonesian to better suit the local palate?
Mushroom risotto with duck breast on the grill is the most popular, I would say. I stick to the French traditional taste and I really enjoy that my Indonesian customers have discovered new flavours from my restaurant. It's a part of my job.
Why did you choose Jalan Tirtodipuran for your venue's location?
I fell in love with the post colonial house that the restaurant is in. Jalan Tirtodipuran is also one of the nicest and most quaint streets in Jogjakarta where you can find some antique shops and famous batik factories.
What challenges have you faced training local staff to cook French food?
It's a daily challenge. I have to make my staff excited to cook using French techniques to prepare the meals. I also have to introduce them to new flavours and tastes. It's not always easy to make them embrace a new culinary culture but it's a very interesting challenge for me and I enjoy it.
Where do you get your produce from? Is it locally sourced?
I really try to use local products as much as I can. It's a real issue for me. I feel extremely concerned about this matter, but of course, for example, olive oil is imported. I only use imported products when I cannot find it here. In the future, I really would like to grow some organic vegetables and use them daily in my restaurant. This will happen soon.
What are your future plans? Any plans to expand?
I have many plans in my mind, but I will keep it in the box for now.
Do you see Jogjakarta being your home for the foreseeable future?
Yes, for sure. I have one kid and the second one is on the way so we won't be moving anywhere. I still feel that Jogjakarta is a nice family-friendly place to live.
Where is your favourite place in Indonesia?
This is a difficult one, but I would say the majestic volcanoes around Java.
And finally, what is your favourite Indonesian expression?
Nanti dulu, which means 'later on'!
To meet Chef Kamil, visit Mediterranea Restaurant, Jalan Tirtodipuran no 24A, Jogjakarta.
Phone: +62 274 371052