Sisters and founders of Bye Bye Plastic Bags, a campaign to ban plastic bags in Bali, share how they are implementing their movement in Bali and beyond.
You were both born and raised in Bali; at what age did you start your project to ban plastic bags on the island?
Melati: I was 12 and Isabel was ten years old.
What made you decide to start this bold initiative at such young ages?
Isabel: The idea actually started one day with a lesson in causes at the Green School, where we learned about the positive changes created by leaders and individuals such as Mahatma Gandhi and Princess Diana. We learned how the small gestures of one person can turn into huge global social and economic movements.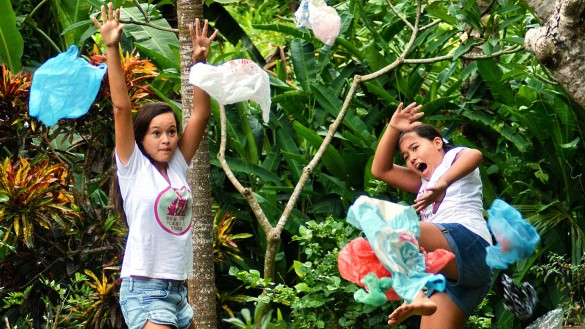 Melati: We decided we did not want to wait until we got diplomas and went to university. We thought right now is the time to do something, as kids. We studied all the issues Bali is facing and chose garbage because that is what most impacted our daily lives. As we would play in the rice fields or walk on the beach we saw plastic bags clogging the gutters and piling up in the rivers, and on the side of the road. We saw this as a realistic problem we could tackle.
How did you get started?
Isabel: We realized through our research that this is not just a problem in Bali but throughout the entire world. We saw how other places had tackled this issue and knew we could do this also!
Melati: With plastic bags the change comes through the power of the consumers. If we can get everyone to say no, they will not be handed out.
Isabel: We were invited by our teacher Kayti Denham to kick our initiative off at the Global Issues Network (GIN) conference here in Bali. After that we were invited to schools to do presentations and followed this up by attending festivals and markets to raise awareness of our endeavour.
Tell me about your village pilot programme here in Bali.
Melati: We realized early on that education is an integral part of creating the change we want to achieve. We went to the local village of Pererenan and created a programme that can be implemented in other villages and communities. The amount of plastic has been decreased by 60 percent already!
Isabel: Pererenan is a small village in southwest Bali with 800 families. We go every weekend to increase awareness among the local Balinese who are ready for change and welcome it. They are traditionally all about connecting with nature and recognizing its role in their lives. Farming and ceremonies revolve around the phases of nature. However, they were never educated that plastic was bad, that it was toxic and affected their health negatively, especially when it was burned. When they were taught the truth about plastic they naturally began changing their behaviours.
What are some other ways you have been bringing awareness of your initiative to young people?
Isabel: We focus on youth and have created a 25-page book by young people for young people to understand the importance of action now and how they can be an important part of changing their environment and making a better future. It is in Bahasa Indonesia and we are working with the government to make it a part of the curriculum in schools.
Melati: On a global scale, we have reached 10,000 students in seven countries in three languages through our talks, seminars, and conferences! But we still were unable to get an audience with the governor of Bali, whom we wanted very much to get on board with our no more plastic bags initiative.
Is this what led to your petition?
Melati: Yes, we thought if we got a million signatures we could get the governor to pass a law. We went to petition sites and decided to go with Avaaz. It was the best decision because we got 6,000 signatures within an hour and Avaaz has been a great supporter of ours.
Isabel: We also went to the airport where we got 1,000 signatures in an hour and a half.
How did you finally reach the governor?
Isabel: After one and a half years of efforts to get to the governor and being told he was unavailable, we were invited to India for our first international talk at INK Talk. Our parents took us to Mahatma Gandhi's house, now a museum. He is one of the people we were inspired by. As our parents waited outside we went through the house to learn about his story and how he accomplished things.
Melati: We learned how he always did things in a non-violent manner through hunger strikes and peaceful marches. So we went back to our parents and said, "Mum, Dad! We are going on a hunger strike!" This did not go over well with our friends, family or our teachers! So we met with a nutritionist and came up with a good alternative. We would go on a hunger strike from sunrise to sunset. By day two there was a lot of attention and media coverage and it was pretty successful because we got a call from the governor's office with the message that although he was off island he would love to meet with us!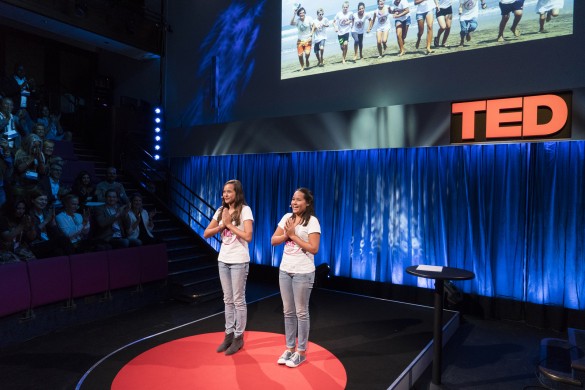 Isabel: On the third day we went to the governor's office and met the governor in a private room. He said he was very proud of his Indonesian girls and that we had his full support to reach the goal of making Bali free of plastic bags by the year 2018.
Melati: This was a huge step for us because we are now in direct contact with the Environmental Department of the Government. We exchange weekly updates and maintain a great relation with the government, sharing the same vision of a plastic bag-free Bali. Our persistence paid off and now we are taken seriously. After this we went to London for a TED Talk where our talk on youth empowerment had over one million views.
Melati and Isabel, you are now 15 and 13 years old, where do you see yourselves in the future personally?
Melati: Continue on the path of youth empowerment by expanding it through a strong worldwide network.
Isabel: I love the stage and all the performing arts! I see doing theatre for noble causes.
What is your vision for Bali in the years to come?
Melati and Isabel: Seeing Bali reconnect in a stronger way to its traditional ways and have a higher consciousness concerning environmental issues.
Thank you, Melati and Isabel! For more information, visit www.byebyeplasticbags.org