Ciao Roberto Puccini! The very passionate Italian kitchen designer who believes banks are thieves with licenses.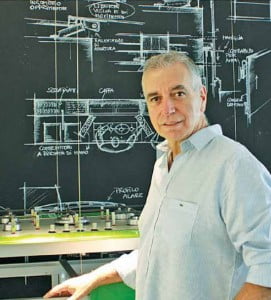 Roberto, that's a very Italian name. Where in Italy are you from?
I'm from Pisa, you know of it? I got tired of holding up the leaning tower so I moved to Asia!
Impressive. When did you move to the better hemisphere?

April 27th, 1994 I arrived in Changi Airport, Singapore.
You remember the exact date. It must've been a life changing moment?
For sure. I was only going to stay for 11 months, but was so impressed with Singapore and decided to change my life. The language barrier was an issue – Chinese and English are hard to learn, but I learned them in the shipyards.
So now you design Italian-made kitchens. What makes your kitchens better than the rest?
Our kitchens are 100% Italian, bespoke and made from recycled glass and aluminium. Our recycling motto is dematerialisation, recyclability, reduction of toxic emissions and long product life. We are the first in Asia with completely recycled top quality kitchens which are all made in Italy and sent here.
Why did you feel the need to open a store here in Jakarta?

When I was living in Singapore I had several rich customers from Indonesia who would always say, "Wow!" to everything even though it was all artificial. I decided to come and see what Jakarta was like and bought myself a plane ticket. My friends all said, "It's dangerous! Don't go there!" but I didn't listen. I visited competitors and as it turned out, there were no Italian kitchen products here so I decided to set up shop.
Your showroom is amazing, but why did you choose Kemang?
Thank you! We haven't had an official opening yet, signs haven't arrived and as you can see the floors aren't finished. Hopefully we'll officially open in October. Location is number one for us and we looked for over one year in Sudirman, Pacific Place, everywhere. I don't like shopping centres as they're too commercialised with too many restrictions. We will start to have cooking classes here soon which we wouldn't be able to do when we wanted in a mall.
These kitchens are super sleek – like something out of a Bond film. What's the concept for your showroom?
We try to create something exclusive that nobody has seen before and in order to attract people you have to display well. This showroom is double storey, with plenty of car parking space and upstairs we have 360 degree glass windows. We keep the place simple, with not much furniture and not messy. We want people who pass to feel attracted to come inside.
What are one of the obstacles you face doing business in Indonesia?

It's very hard to find people who really want to invest and develop, not just in furniture, but in the staff also. For us, service is so important from the beginning to the end. Our staff have a minimum of ten years experience and even our fitting manager is Italian. But I guess this sets us apart from the rest which is a good thing!
Contact Roberto at VALCUCINE in Kemang at [email protected] and visit his showroom on Kemang Raya No. 17.