Meet Bob Holland. The avid Aussie Hasher and Deputy Director at AIPEG.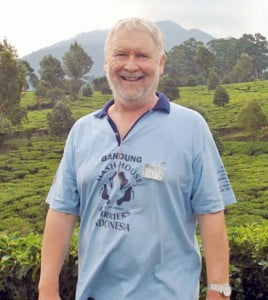 You have been the Deputy Director at the Australia Indonesia Partnership for Economic Governance (AIPEG) for the last three years. Can you tell us a little bit about what you do?
Firstly I should point out that my contract with AIPEG finishes shortly and whilst it will be sad to move on, I am looking forward to the prospect of a new adventure, whatever that might be. My reflections on the past three years are very positive about what we have been able to achieve, and similarly for AIPEG's future with further assistance being provided in areas of finance sector stability, trade, tax and public financial management. From a higher-level perspective, AIPEG is only one of many AusAID projects working throughout Indonesia, all with a focus on contributing to poverty reduction. In this regard I am one of many Australians and other foreign consultants who are privileged to work with our Indonesian colleagues in undertaking the Indonesian Government's ambitious reform program, with encouraging progress being made in many areas including AIPEG's contribution to the economic governance sector.
Where do you see the relationship between Australia and Indonesia going in the future?
There is no doubt that Australia and Indonesia's future destiny is closely linked by our close geographic location and increasingly an energetic approach to work together as a stabilizing influence in the region. Apart from the obvious benefits of closer trade and security ties, there is still much to learn culturally about each other, particularly from the Australian side where most Australians' impressions of Indonesia are limited to what they have experienced in Bali. On the other hand lots of Indonesian students have visited Australia over a long period, impacting on many who now work in senior positions in government and industry. Looking forward I see the relationship broadening with significant collaboration growing in the services, mining and agriculture sectors. Furthermore I am encouraged by the new Australian initiative to focus on the region through its 'Asian Century' initiative, part of which is to encourage more Australians to learn Indonesian and participate in more studies at Indonesian universities.
You split your time between Jakarta and Bandung. When did you first make the move to Indonesia?
I first came to Indonesia in 1982 to work on the Indonesia Australia Geological Mapping Project. This was a fantastic job, where, apart from my administrative support role in Bandung, I managed project logistics for six years in setting up field camps for surveys in remote locations of Kalimantan. Having come back to Indonesia in 2007, and working in Jakarta since, I am amazed at what seems to be lower levels of pollution, despite many more cars and motor bikes on the road. Whatever the reason – perhaps it's all the newer cars and buses with lower/cleaner exhaust emissions – I'm glad to see the end of days when after spending an hour in Jakarta's humidity you were covered with grimy black soot.
From your point of view, as someone who visits Bandung regularly can you give us some insider tips?
The best time to visit Bandung is during the week when traffic is less congested. If weekends are the only option, then I'd suggest avoiding long weekends as these are extremely busy. If travelling from Jakarta, I suggest an early morning start using the toll road and when returning, avoid the late afternoon or early evening. The dry season (between April and September) is probably the best time to visit Bandung, but don't be put off by the rainy season; it does offer a lush green countryside, and if bathing in any of the hot springs, the heavy rain offers a magical sensation and relief from the steaming hot water. The Gracia Hot Springs Resort, whilst comparatively more expensive than others at Ciater, is the most beautiful and well managed, with a good standard accommodation available.
Concerning the shopping, there is no doubt that some bargains can be found, but I would not visit Bandung for just the factory outlets. Apart from the fantastic restaurants, there are so many other attractions around – don't miss Kampung Daun if you get the chance, or many other good dining and family fun things to do in Cisarua.
If interested in the heritage of Bandung, I suggest you join Pak Amor on the Bandung City Tour on Saturday mornings which provides a rich cultural history of early Bandung, starting from where the city was first founded, opposite the Savoy Homann Hotel in Jalan Asia Afrika. Other attractions include the street market at Punclut at the top of Ciumbuleuit, or visit the secluded waterfall at Curug Cibareubeuy near Ciater, or my favourite place to take visitors, Marabaya Falls, where you can follow the river down through the gorge to the Juanda Forrest Park at Dago Pakar.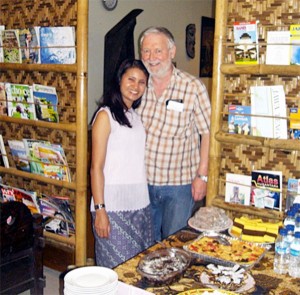 We understand your wife has a small business in Bandung called the Bamboo Shack. Can you tell us a little about it, how did it start?
The concept of the Bamboo Shack was one of those ideas that came up when talking with my wife, Riga, and friends over a couple of drinks in early 2011. Living in Dago and because of the heavy traffic, it was becoming increasingly more difficult to travel down town to buy imported foodstuffs not readily available in the markets or mini-markets – items like soft cheese, selected meats, small goods, etc.
In October 2011 the Bamboo Shack opened for business near the Dago mini-bus terminal. Apart from the Mini-Market, there is an internet café, coffee lounge and small tourism information centre upstairs.  The Bamboo Shack customers include a mixture of expats, students, business people and local residents. In recent times it has increasingly become a regular meeting point and place to hang out for a cold beer or snack.
I've heard that you are also a Hasher. How did you first get involved and is it true that Hashers are a bunch of drinkers with a running problem?
I first became involved with the Bandung Hash in 1982. Working for the Geological Mapping Project at the time, our Project Manager insisted that all team members should participate in Hash on a Monday afternoon to keep fitness levels up for field survey work in Kalimantan. Not a bad excuse, but I soon found out that the drinking club with a running problem was not an exaggeration.
In a book I produced a few years back, 'History of the Bandung Hash House Harriers', I traced the group's history from when it started in 1974 with just a few expats gathering on Monday afternoons, to now where there are more than a dozen HHH clubs running (mostly walking) every day of the week. Recently I established another Hash group (BHHH+) with my friend Hendy, which gathers each Saturday afternoon at 3.30 for a run/walk around Bandung's surrounding hills, followed by customary refreshments. For those visiting Bandung on weekends and who wish to join the group, regular pickups from the Bamboo Shack can be arranged at 3pm.
Despite its bad reputation in some quarters, the Hash is a fantastic way to meet people from all walks of life and to unwind. One aspect I particularly like about the Hash, despite its sometimes odd rituals, is the laughter – for a regular dose of fun the Hash is hard to beat.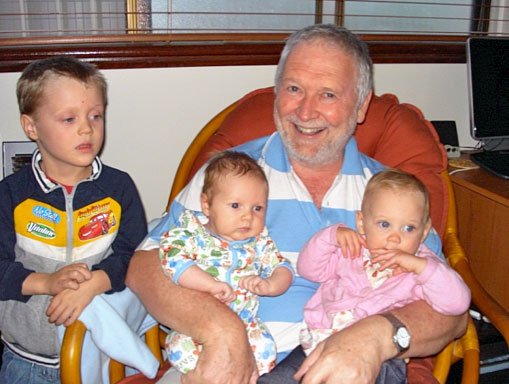 Do you have any sage advice for young expats who have just moved to Indonesia?
My advice would be to let the waves crash over you and enjoy the wonderful adventures to be had in Indonesia. Living in Jakarta and other cities can offer you all sorts of entertainment, but I would encourage as many folks as possible to travel outside the cities and experience all the natural wonders and fantastic cultural attractions that Indonesia has to offer; whether it be travelling to the world's best surfing locations on Nias, exploring fresh water caves on the south coast of Java, climbing majestic volcanoes, or some of the many attractions around Bandung, don't hesitate – just do it. Having travelled to many parts of the world, I don't think you will find a more fascinating country to discover, and the most welcoming and friendliest people on earth – the Indonesians.