Modern dining is taken to the next level as two fabulous restaurants are combined in one expansive space to transport diners into another realm of good eats. This unique concept is rooted in the family-style dining tradition and with two distinct menus to choose from, everyone is happy and gets exactly what they want at Up in Smoke.
Have you ever had one of those moments where you've been making decisions all day long, then someone—usually a significant other—asks you to make one more and it tips you over the edge? Most of you know what I'm talking about. "What do you want for dinner?" More arguments arise from this query than most couples care to admit. I've always wondered whether these six words were put on this Earth as my Mount Everest—and since I'm the "restaurant expert" in the household, it is usually unavoidable.
Recently, my spouse and I have been playing with our charcoal smoker at home making all sorts of goodies such as hot-smoked salmon, pork sausages and marinated Santa Maria tri-tip steak. Around the same time, we also heard rumblings of a new smokehouse in town, one that served the best-smoked meats in town. However, my daughter has been going through a Japanese food only phase, one which allows for little wiggle room anything outside of soba noodles, raw fish and seaweed (she possesses a strange palate for a preschooler, I know). Imagine our luck when we discovered the Japanese izakaya made famous in Bali—One Eyed Jack—shared the same dining space as Up in Smoke, the sensational new barbecue restaurant we had been keen on tasting.
In the United States and other Western countries, food emporiums are starting to gain traction in major cities. People are flocking to large, usually well-designed, social dining halls that support a small contingency of high-concept eateries. Thus, the concept of two restaurants sharing one space isn't all that strange especially if there is some element that ties both of them together. At Up in Smoke and One Eyed Jack, the fire seems to be the relative theme; two new duelling kitchens with distinct, custom-made, fire-breathing pits. The barbecue and smokers for Up in Smoke are massive, elaborate and dramatic (they take centre stage in the restaurant space) whilst the custom-made, yakitori grill from Japan in the bustling, laboratory-like kitchen of One Eyed Jack is efficient, diminutive and produces tiny licks of flames to perfectly roast juicy yakitori skewers. Both are open kitchens for optimal viewing pleasure and are about as similar as fraternal twins.
Up in Smoke flavours draw inspiration from Texas. Think dry rubs and seasonings for meats and then a glossy, mustard-based, barbecue sauce served as an accompaniment on the side. Texas barbecue relies heavily on wood to impart flavour and it is an instrumental piece of the overall seasoning when done right. The owners of Up in Smoke pride themselves on their extensive research over the years whilst perfecting the craft through a catering company and pop-ups. They found that the embers and smoke emitted from the wood of local rambutan trees impart the best flavours; this wood burns long enough to smoke the meat to the desired state. Although the blend of seasonings is mostly from the southern United States, the equipment is inspired by a mix of barbecue traditions in South America and North America. There are two gorgeous, fire-engine red smokers sitting next to what looks like an Argentinian-style pit with pulleys and moveable grates that are so common in this style of grilling. Wood burns bright and hot in back, and once it reaches optimal heat for cooking, it is moved back down into the cooking pit, where burgers, steaks, fish, chicken and vegetables all vie for attention.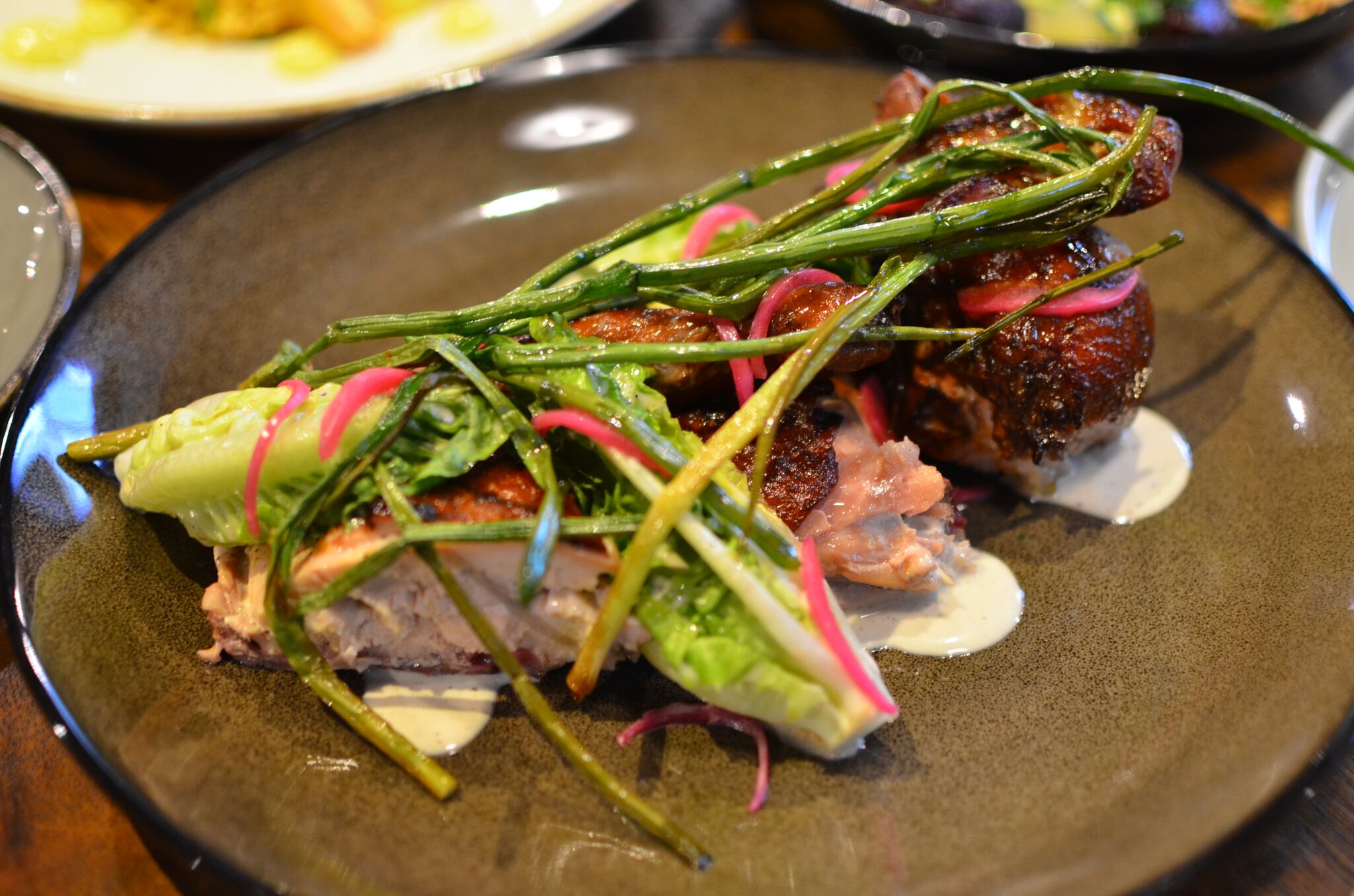 Another great aspect of Up in Smoke is the kitchen's dedication to the craft. The chefs are all versed in smoking and grilling, with some having spent decades fine-tuning their techniques. They are truly local artisans, sourcing wild Papuan boar to make one of the most interesting game-meat sausages I've tasted in Indonesia. Wild Papuan boar tastes less gamey than a goat but retains a mild taste of the lush forests where they roam. The concept of using wild boar was based on conservation issues surrounding leatherback turtle eggs, which are a favourite snack for these porcine predators and account for 15 percent of the total destruction of the nesting population. One might actually feel better about the world after eating that sausage. We also sampled the Smoked Chicken, marinated in a kicked-up spicy sauce that renders the chicken plump and beautifully balanced against the smokiness. My favourite was, of course, the brisket. It was juicy, packed with smoky goodness with enough fattiness and time in the smoker to really tenderize. It was as close to Texas brisket as you can get without being there. In fact, it reminded me of a trip to Austin one year, where I stood in a line that went around a block for a little bit of brisket. It was that good. For vegetarians, there is a magnificent roasted broccoli dish that will even convert those who don't care for it. It is a multi-sensory, multi-layered dish chock full of flavours and surprises, and although it was probably inspired by a broccoli slaw/salad from picnics in the American South, this version is vampy, modern and creative. We had little room for dessert but ended up finishing a deconstructed s'mores dish that was other-worldly.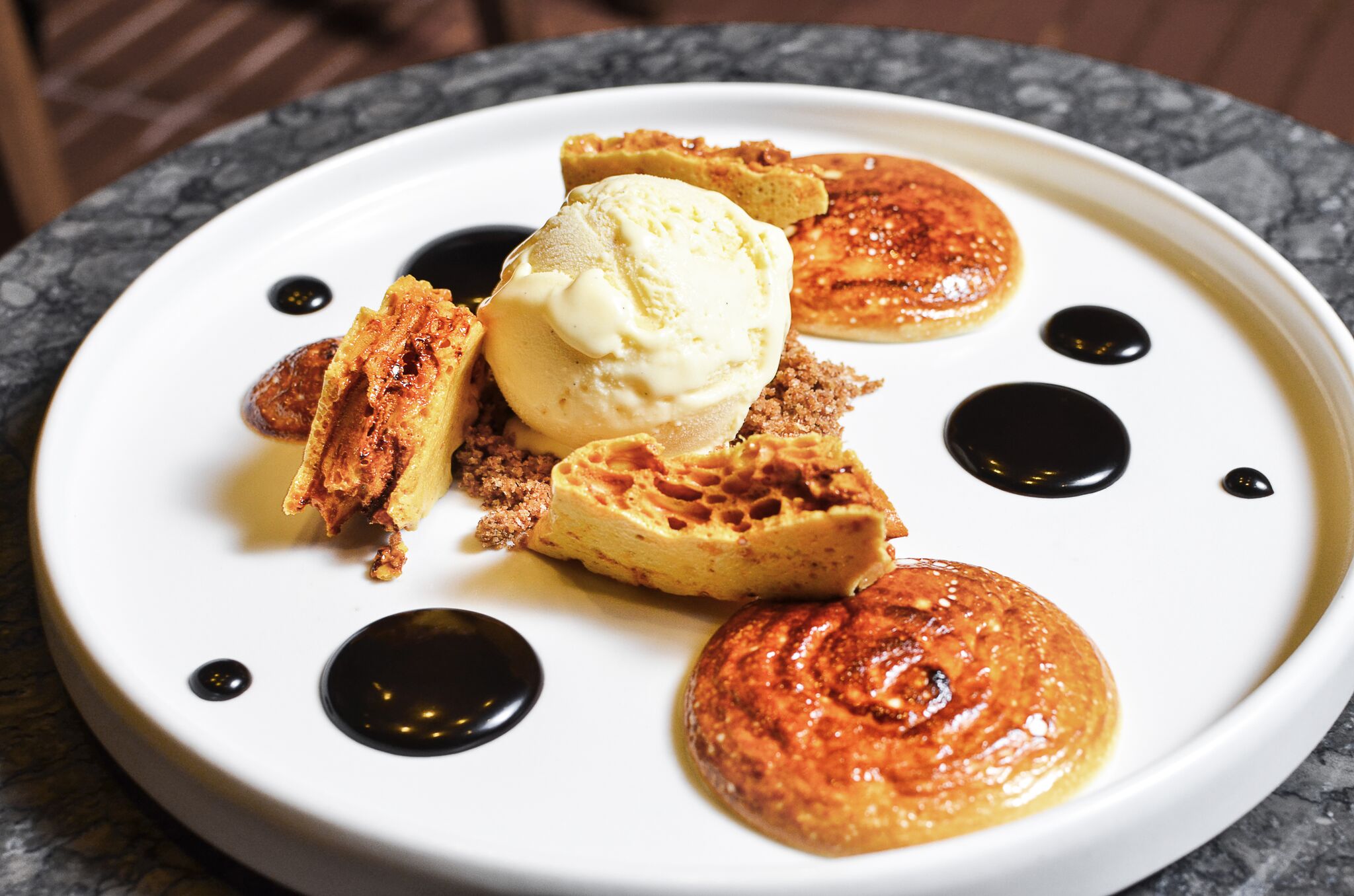 One Eyed Jack's menu also takes on a creative and modern feel, with Japanese-style tacos and bao, which are little Asian sandwiches or sliders. My daughter ate an entire plate of raw Hamachi Jalapeno along with a bowl of excellent soba noodles. The food can be tamed to less adventurous palates, and it served us well. The chicken yakitori we had was perfect, with a fantastic yuzu kosho sauce basted expertly on the skewer. My favourite dish from this menu was the rock shrimp tempura. This was a slightly modernized, pan-Asian twist on tempura; more like a glazed coating over the crispy tempura batter that elicited memories of a down-home, fried prawn with mayonnaise dressing. If anyone has lived in Asia for more than a few years, this dish usually becomes embedded in a list of favourites somewhere.
All in all, Up in Smoke and One Eyed Jack was a true foodie experience. Anyone who loves good barbecue from any culture needs to eat there. Now.
Up in Smoke and One Eyed Jack
RDTX Tower, Lobby Level, Jalan Prof. DR. Satrio KAV E-4, No. 6
Mega Kuningan, Jakarta 12940
Telephone: 021 5799 2371
Email: [email protected]