As I found myself on the enchanting Island of the Gods, Bali, I couldn't resist seeking out the ultimate seaside experience.
Bali is known for its numerous clubs and resorts by the sea, but recently, the island has become increasingly crowded, leaving visitors to jostle for a spot in popular places that may not fully meet their diverse needs. However, Bali always has a hidden gem to offer, and I stumbled upon one located in the island's southern Bukit Peninsula: Karma Kandara, a luxurious and exclusive retreat that caters to every desire of the heart. And so, I set out to experience a day at this captivating sanctuary located in Ungasan.
My day at Karma Kandara began with an essential visit to Di Mare, their exquisite fine dining restaurant situated atop the stunning cliffs of Uluwatu. As I strolled from the resort lobby to the restaurant, I couldn't help but marvel at the breathtaking sea view from the cliff's edge. At Di Mare, I chose the best seats by the edge, captivated by the view that seemed to stretch to infinity.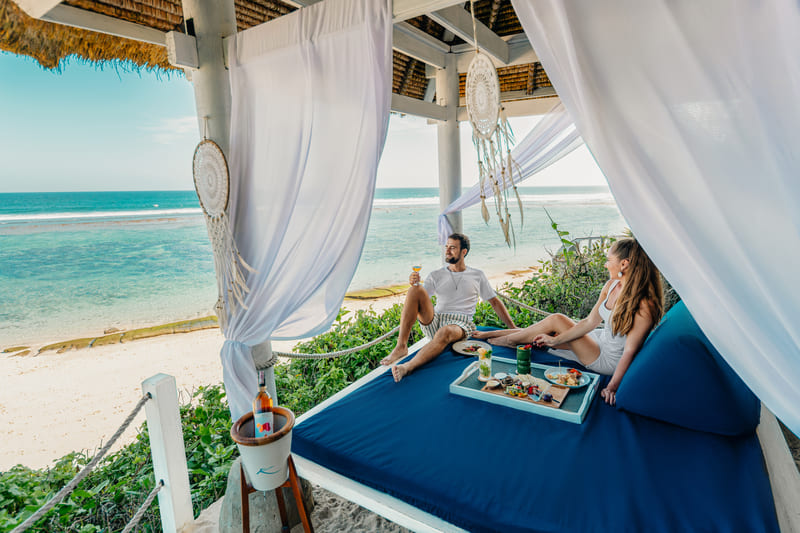 The high-end seasonal menu, meticulously curated by Chef Joseph Antonishek, featured Mediterranean cuisine with only the finest ingredients. Each selection in the array of dishes from the chef's recommendation was delicious, especially the Butterfish Aburi starter that left me in awe with its rich flavours and delicate balance of zest and sweetness which balanced perfectly with the soft texture of the butterfish
The Hokkaido Diver Scallop, the star of the main course, quickly became my personal favourite. Its velvety and creamy texture, infused with the delicate essence of ginger flower butter, was simply divine. The succulent scallop was in harmony with the chewy uni noodles, creating a delightful symphony of flavours on my palate. However, it was the Ayam Cemani Agnolotti that really left a lasting impression. Made with the rare Javanese Cemani black chicken breed, this pasta paired exquisitely with mascarpone and presented a unique and unforgettable culinary experience that I believe everyone should savour at least once in their lifetime.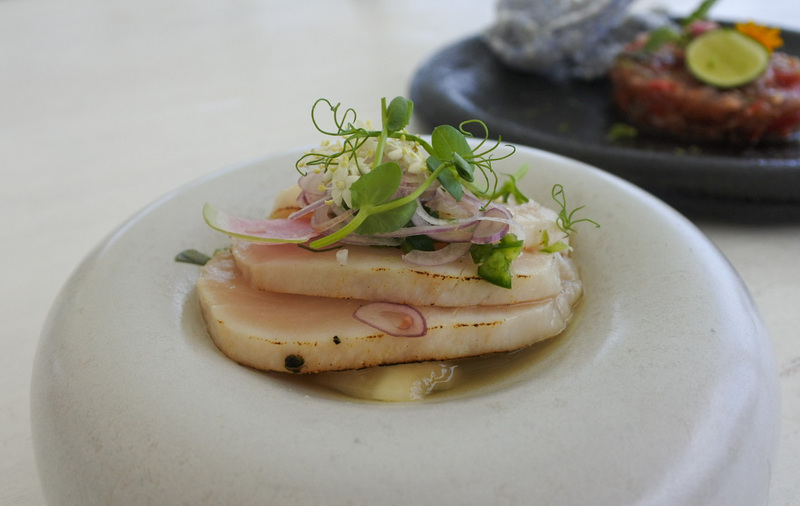 The grand finale came in the form of the Dragon Lady dessert, and it truly stole the show. A harmonious fusion of dragon fruit white chocolate cheesecake and the cooling delight of dragon fruit sorbet, this sweet indulgence was a perfect treat for a scorching summer day. Not only was the visual presentation a feast for the eyes, almost too beautifully presented to disturb, but the taste itself was simply divine. 
The day was far from over as there was still a world of exploration awaiting down at Karma Beach. What sets Karma Kandara apart from other beach destinations is its unique offering of not one, but three distinct beachfront experience spots. Each area boasts its own alluring menu and ambience, promising a varied and unforgettable experience. While hotel residents enjoy complimentary access to the beach, outside visitors are required to meet a minimum spend of Rp650,000 per person, with Rp450,000 redeemable for food and beverages, and Rp200,000 for use of the facilities. To reach the beach, you can descend a scenic inclinator lift, walk down the stairs, or if coming from outside Karma Kandara, a convenient van service is provided.
The first venue I encountered upon entering the beach was Le Club 22, a beachfront bar and dining concept situated by the foot of the limestone cliffs. With the promise of a sophisticated Italian-Mediterranean cuisine menu on the horizon, I knew I couldn't pass up the opportunity to try their refined bites and curated cocktails. Satiated from my earlier culinary delights, I opted for the Le Club 22 Bisque Avec Sa Rouille, a flavourful dish featuring local salted fish and Spanish chorizo, perfectly complemented by the delightful blend of tomato, fennel, rouille, and manchego cheese. Every bite was full of rich, savoury goodness, making it an ideal dish to share and enjoy with loved ones in this enchanting beachside setting.
Next, I ventured to Phoenix Bar, Karma Beach's own pop-up bar, where professional mixologists crafted signature cocktails. I chose the Karma Spritz, a drink perfect for sunset-watching with its beautiful gradient visuals resembling the colours of the setting sun. The smooth beats from the DJ created a lively mood for sunset, while live jazz music awaited those who preferred a different vibe after dark.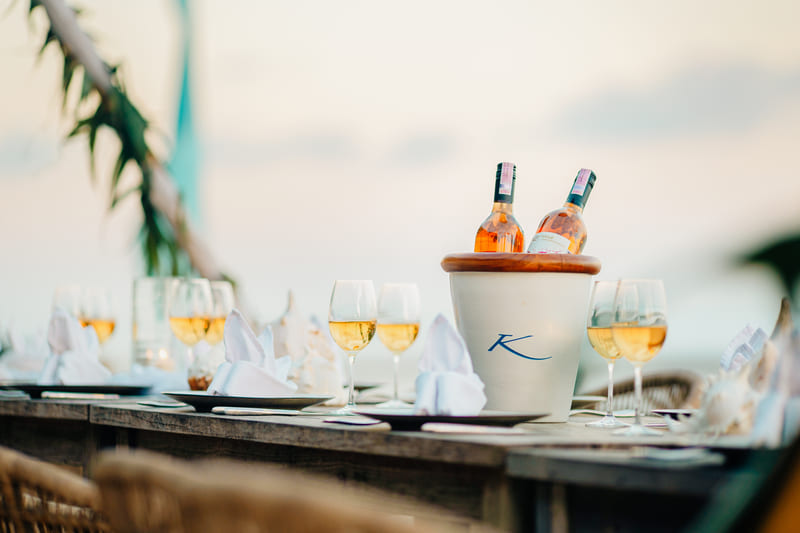 Finally, I arrived at Tiki Bar, a cosy beachside drinking spot inspired by traditional Balinese aesthetics. Expertly designed signature cocktails made from the highest quality local ingredients were served alongside BBQ options cooked in a handcrafted Komodo Kamado Grill. I couldn't resist trying the Zombie cocktail, a refreshing rum-based concoction with fresh lime juice, pineapple juice, passion fruit, aromatic bitter, and rosella syrup. It perfectly complemented the mesmerising view of the Indian Ocean.
As the day slipped away, I realised I had lost track of time, and darkness had fallen. The luxuries of Karma Kandara's secluded paradise had indeed spoiled me, and for a moment, I forgot that I didn't actually need to leave. My day at Karma Kandara was a journey of blissful indulgence, where every whim of my heart and palate was fulfilled, and I emerged renewed and grateful for the unforgettable experience I had at just one resort with everything I needed instead of dealing with some of the more overcrowded and overrated venues in touristy south Bali.
Karma Kandara