VISIT TELLAGANANG RICE TERRACES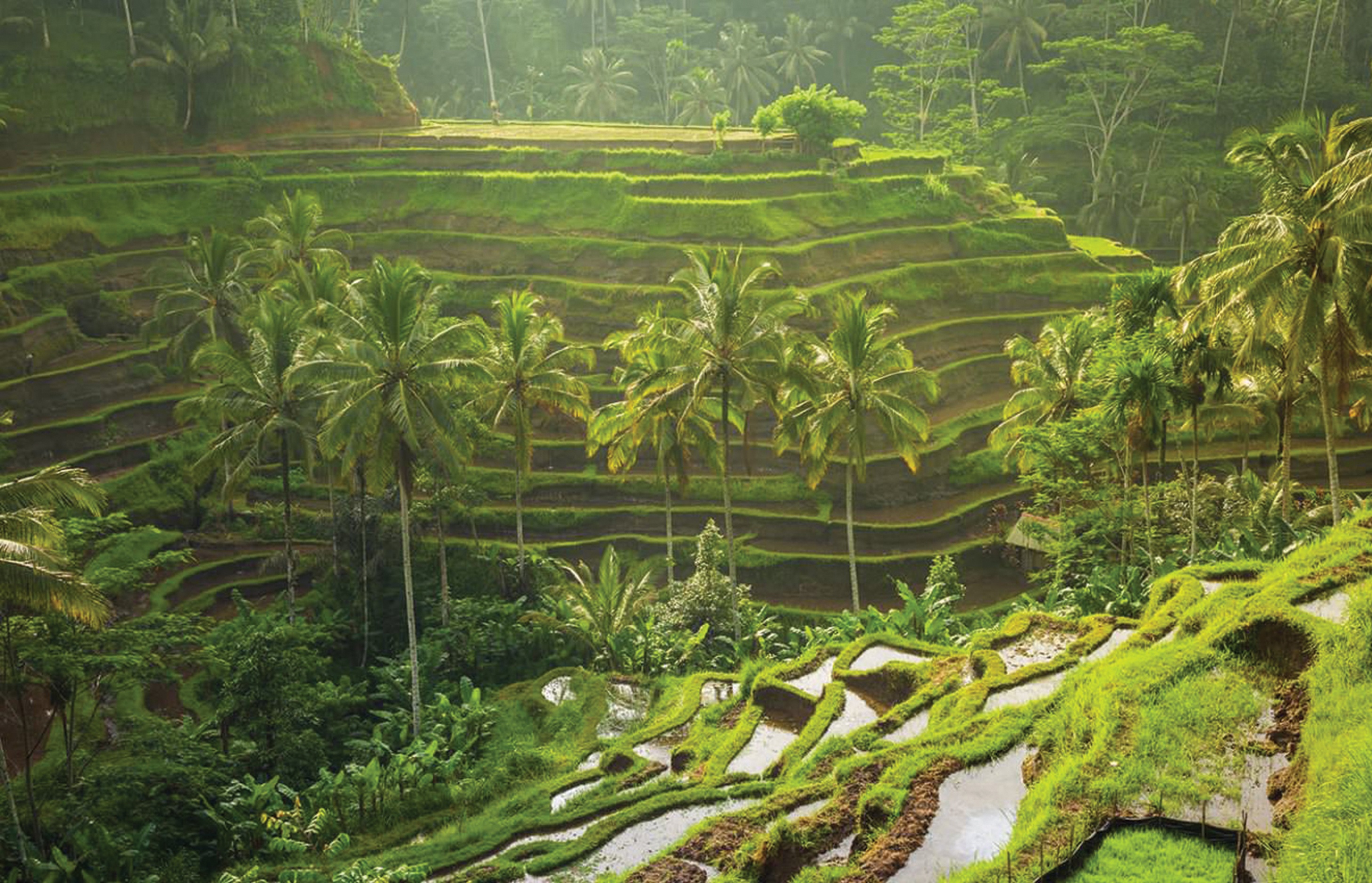 The Tellaganang rice paddies are the most Instagram-famous in Bali and they are a sight to behold, vivid green and speckled with the brightly coloured umbrellas of coconut sellers. At first this looks like too much of a walk for young children but let them lead the way and you'll have a fabulous time – our two, five and six-year-olds trekked down into the valley, up the other side and back with no problem. Our guide was super helpful and explained all about the rice farming logistics; he also knew all the best photo spots and was happy to take pictures of us. There are gelato cafes, custom clothes shops and the usual tourist paraphernalia available along the main street at the top, as well as restaurants with an epic view of the terraces. If you're going with kids ask them to spot:
A tiny waterfall
A bamboo swing
A wooden bridge
A plastic pot of cash notes
A green coconut
A palm tree
A tiny treehouse
VISIT TEGENUNGAN WATERFALL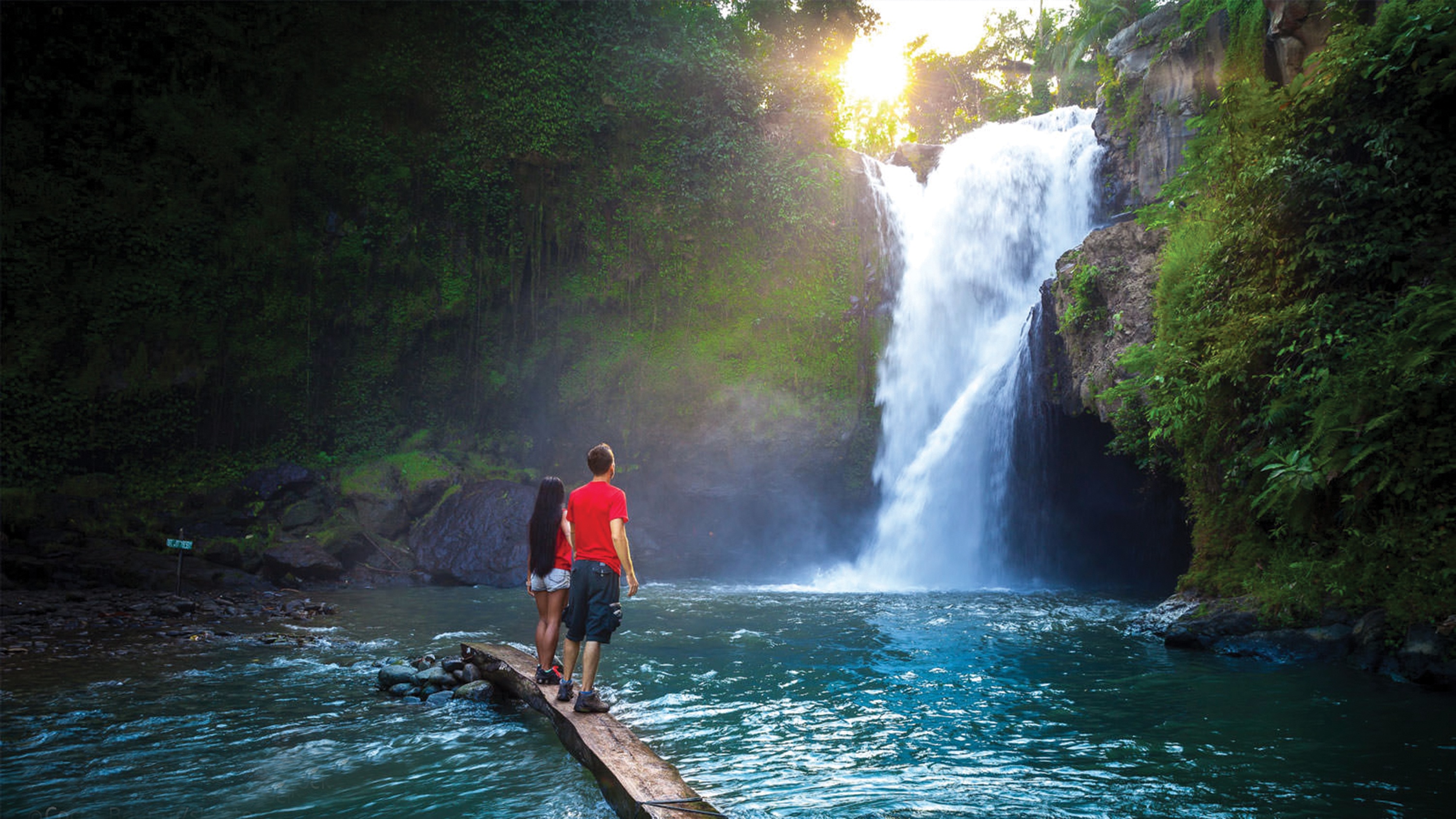 There are plenty of waterfalls to see, some hidden away and some in the busy tourist hubs. We visited Tegenungan near Ubud; our guide found us a vegan-friendly place to eat which had a treehouse and was right near the waterfall. He was really flexible about how long we spent there – we could have spent five minutes or five hours. Our kids loved swimming in the river at the bottom of the falls, swinging on the bamboo swing at the shoreline and creating stone masterpieces from the riverbed rocks. They loved seeing the religious rock structures dotted around the waterfall area and made their own, as well as digging in the sandy riverbed. Ask the kids to spot:
A water fountain
Religious stone structures
Colourful umbrellas
A wooden unicorn statue
A large wooden heart
A bamboo swing
Also see if the kids want to make their own stone structures, similar to the ones dotted around the waterfall.
A BOAT TRIP TO A LOCAL ISLAND, OR THE TOP SNORKELLING SPOTS WITH MANTA RAYS AND TURTLES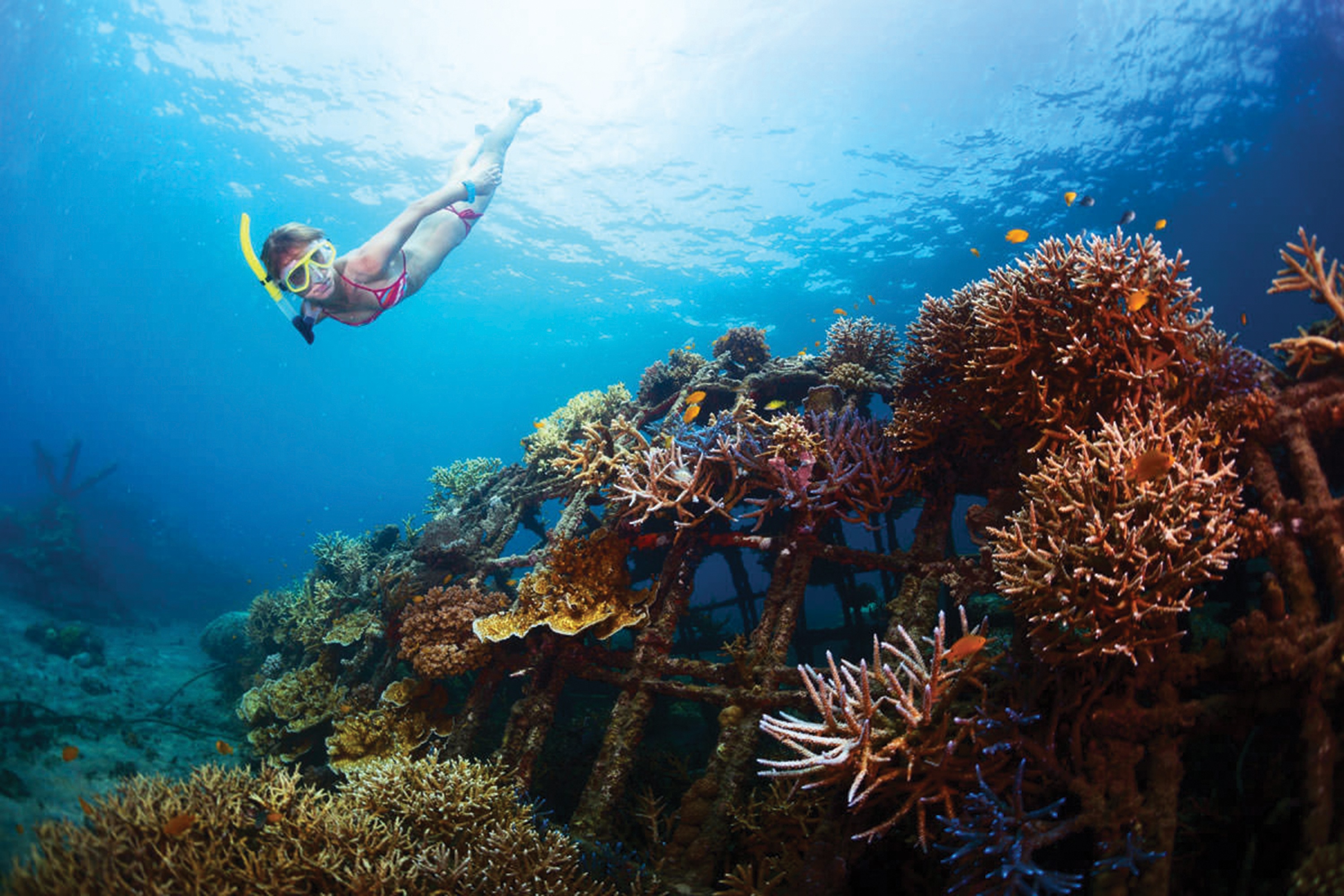 There are as many boat trips to choose from as there are grains of sand on Bali beaches. If your kids like snorkelling there are fantastic trips like Sanur to the paradise-like Nusa islands or Padangbai to the famous Blue Lagoon. Kids who aren't yet confident ocean swimmers can wear the floaty life vests and still get a glimpse of underwater life. The guide stays with you the whole time and was very accommodating when we asked to go to specific places; he also helped us find the cheapest warung! Some boat trips offer the chance to see the best viewpoints from some of Bali's neighbouring islands such as Angel Billabong and Crystal Bay on Nusa Penida. Ask the kids to spot:
A huge stone arch
A tiny island
Purple coral
Orange coral
A black, white and yellow fish
A rainbow-coloured parrotfish
Plastic. Seeing the amount of rubbish in the ocean and on the beach has opened up plenty of discussion about the environment and how the kids can be part of a more sustainable world.
BEACH-HOP WITH A CUSTOMISED DAY TOUR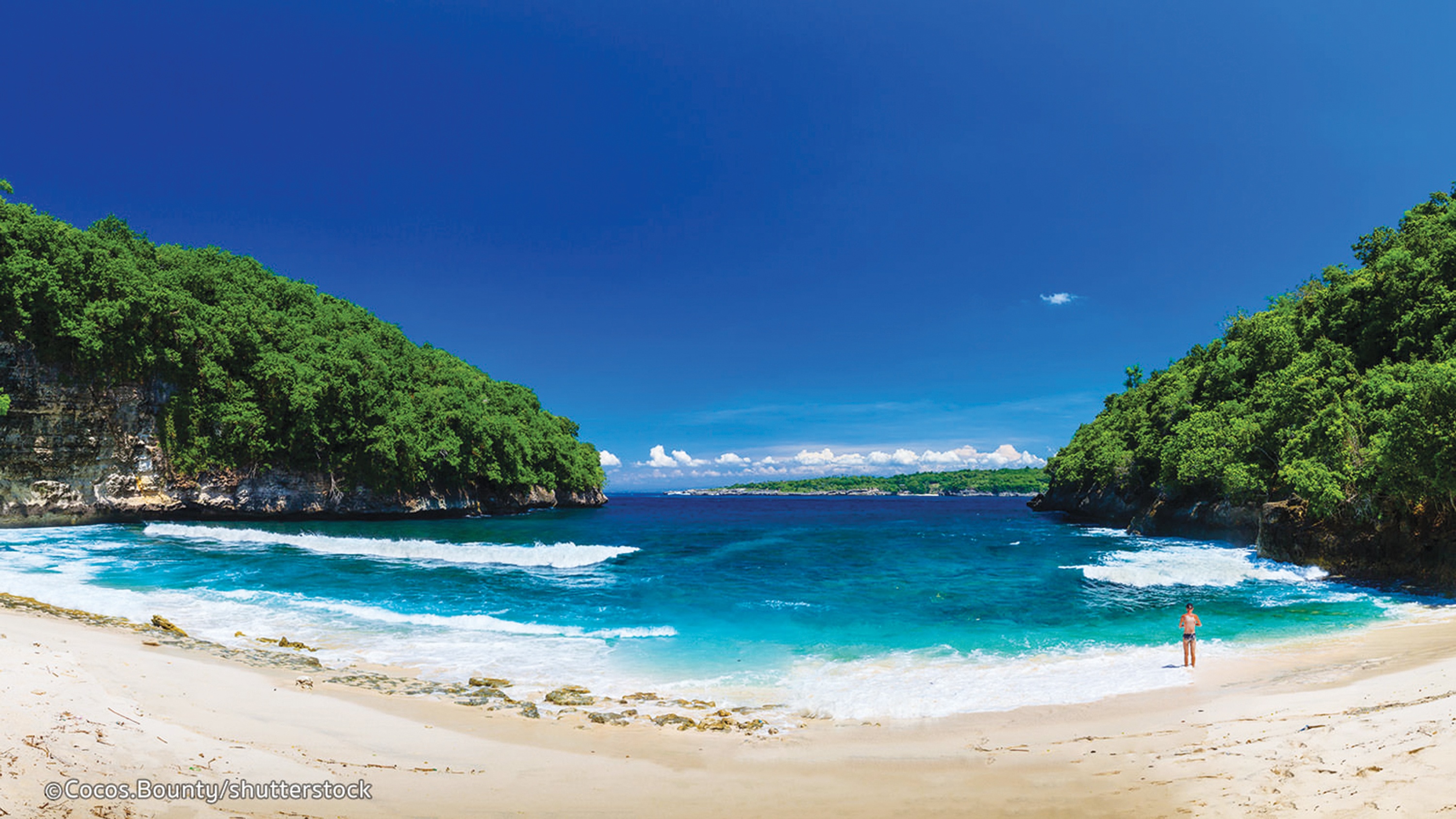 Bali has superb beaches and if you are staying in Sanur having beach days with the kids couldn't be easier. There are beach clubs all along the front that have their own kids' play areas with beach toys, swings and slides. Most of the restaurants have a shower and changing area to rinse off sandy little ones, and the prices, although obviously more expensive than local warung, are very manageable for the usual western visitors. The snorkelling off the beaches is good; kids can see plenty of fish, eels and sea snails. With a day tour your private driver will take you to the best beaches, wait for you and drive you along to the next one when you're done.
Get your kids involved in a beach clean-up. Grab a couple of large bags and collect the plastic bottles, cartons and other rubbish that accumulates at the tide line. Our kids loved doing this and it made the beach much nicer.
Make a sand boat
Get right up to the shoreline and dig pools with a channel to the ocean. Our kids loved sitting in them as they filled up with water.
Bury the kids' legs and make them mermaid tails or bury their arms and make them sand wings
Get the kids a beach-side Bali massage
A COOKERY CLASS ON AN ORGANIC FARM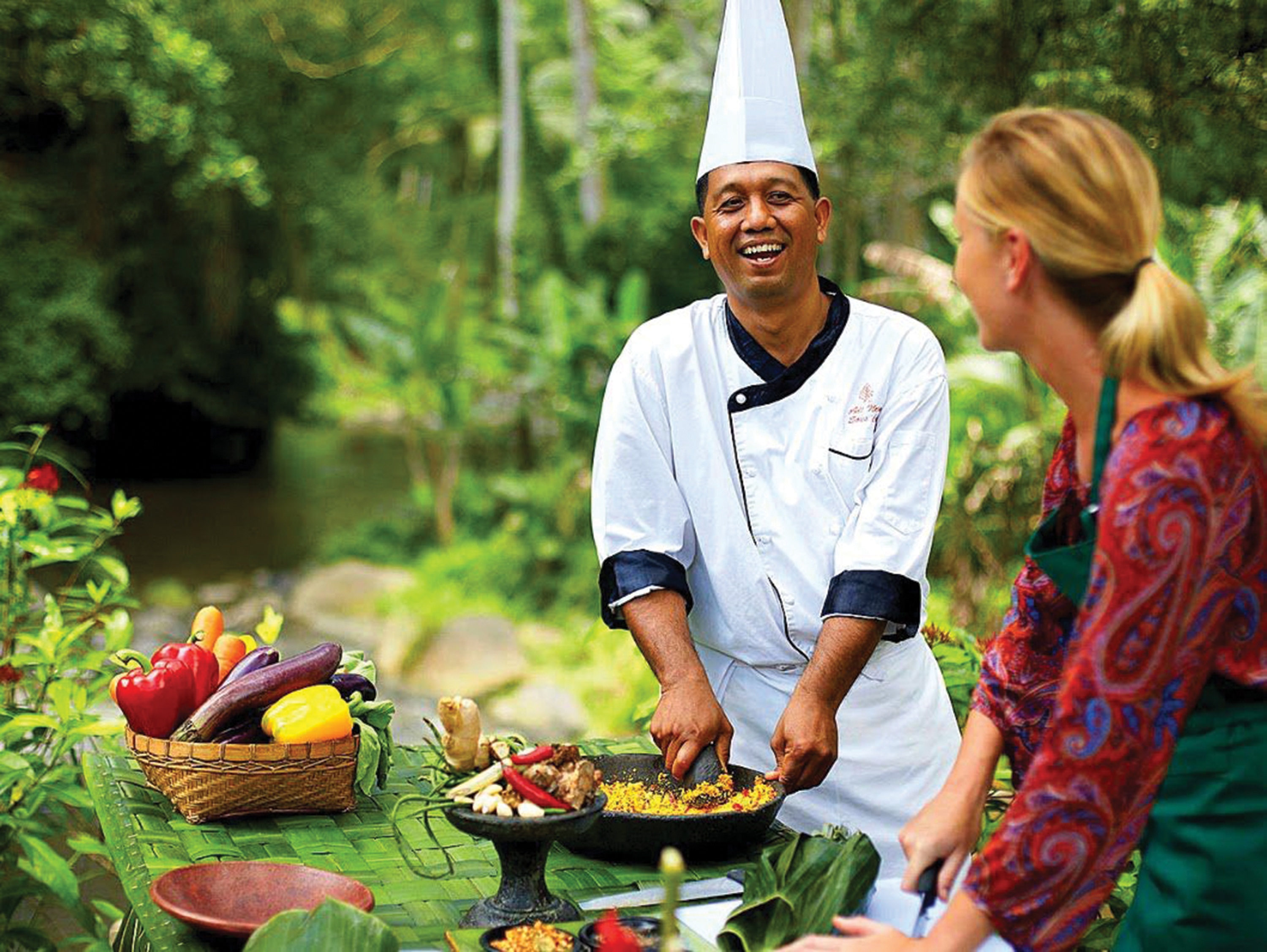 The food in Bali is incredible, we can't stress this enough. We are eating out paying around Rp20,000 for a gorgeous meal of rice, veggies, tofu and tempeh. We have made friends with a gorgeous local lady who is going to show us how to make a few traditional dishes, but if you don't know anyone then a cookery class is well worth paying for. Often, you'll be taken to a market to pick your ingredients fresh, before getting hands-on instruction. Kids often love getting involved and the pride on their faces when they present dishes they've made themselves is priceless.
All of these activities and more can be booked through GetYourGuide.com. They showed us around Bali and undoubtedly have a great selection of things to do in Bali with kids. We've used them several times and love the service. Using them means everything is included for the day so there are no hidden costs, and the guides are very professional and speak good English.
Read more of Hannah's adventures and tips on https://adventuretravelfamily.co.uk/