It is not easy to find great cooking classes to dig up more about traditional Balinese cuisine. Stephanie Brookes explores Village Plate, a community that links travellers who wish to learn how to cook traditional meals with a local Balinese host family.
I decided to seek out cooking classes in Ubud and was overwhelmed by the choices. Many restaurants offer cooking classes on-site and most hotels offer cooking as an in-house activity. But I was on the hunt for something different and lucky for me, I found out about Village Plate.
Village Plate is a community initiative, which links you (the traveller) up with a local Balinese host family. The idea is for you and your host family to share a traditional meal and cook together. I was after an authentic experience, so that sounded perfect. I knew it would open the door to finding out more about Balinese culture. Besides, I was intrigued to know just how those family compounds operated anyway.
Food brings people together and what could be a more authentic way of getting to know Bali than being invited to eat and mingle with the locals in their village?
So without a second thought, I booked online for the Village Plate market tour, cooking class and lunch option.
I was picked up at my hotel in Ubud and met my host Putu at the Ubud Market. I was excited about going fossicking for the ingredients of my pending lunch. It was 7 am and super busy at Ubud Market, which sells produce every day, opening very early at 3 am. It's all over by 8 am, and the market then turns into an art and tourist handicraft shopping exhibit.
My first food talk and explanation of all things weird and wonderful was at the jackfruit stand. Putu explained all the local produce to me and taught me how to discern the difference between the good, the bad and the ugly.
"Here, take a look at this jackfruit," Putu said handing me the rather large, spikey fruit. "This one is ripe, which means the flesh inside is very sweet. We eat this as it comes. It's delicious. However, take a look at this one." She handed me an unripe one and explained:
"This is also a good one, and we will use this for cooking as a vegetable. However, it must be unripe. We cook jackfruit in a curry sauce, very slowly, which allows for all the flavours of the spices and chili to soak in. The result transforms the meaty, fleshy chunks into a melt-in-your-mouth flavour, like nothing else. We are not making jackfruit curry today, but I will buy this one for tomorrow. I can give you the recipe if you like."
Together we picked out a ripe one and that was to become our appetizer with a fresh young coconut later.
We toured the spice section of the market, and I got a running commentary of all the Balinese spices and learned about the basic five – which we went ahead and bought: garlic, onion, ginger, galangal (sometimes called Siamese ginger) and kencur (Balinese ginger). It was fun to watch Putu haggling and bargaining over the price of certain items she deemed too high.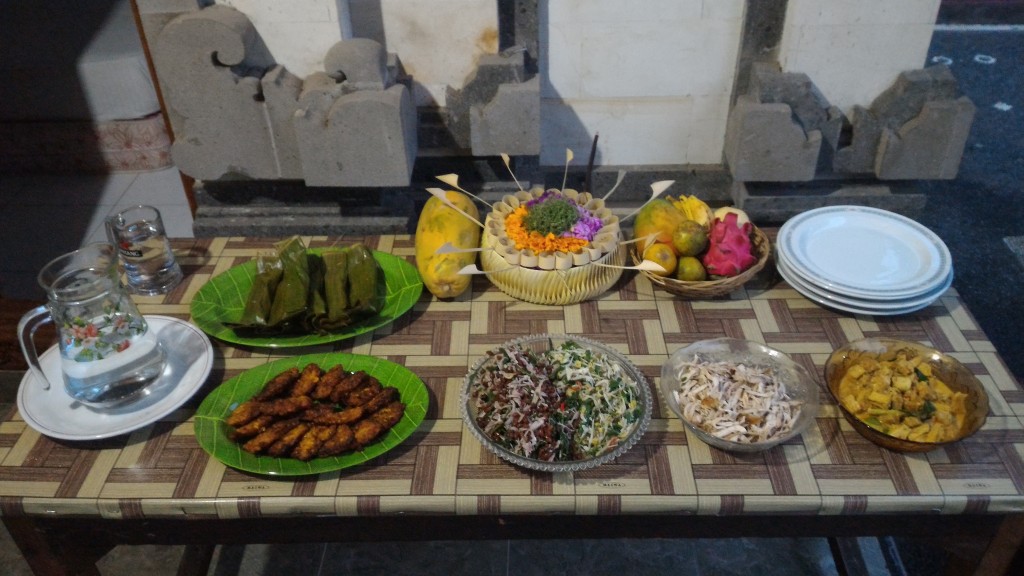 With a bundle of spinach, a pile of bean sprouts, ears of corn and loads of spices, we headed out. We had one more stop before arriving at Putu's village and dropped in at Pejeng Market. "This traditional market is much smaller and stays open till 2 pm," Putu explained. "Some items are priced better at this market. This is a good place to buy chicken, and their tempeh is excellent too. "
We arrived at Pejeng Kangin Village some ten minutes later. We entered the family compound via a little country lane, with a pretty green overhang of various trees, which Putu pointed out on the way – snake fruit, banana and trees with funny sounding names that had edible leaves.
I got to go through the split gate and walked into the world of a Balinese family. Putu gave me a tour, showing me the different parts of her family compound and explaining that the pavilion where we would have lunch was also used for different purposes.
"This family bale (pavilion) is used for weddings and tooth-filing ceremonies," Putu explained. "Also, baby ceremonies are held here. These take place at 12 days old, three months and again at one and a half years old.
"It is called a Bale Dangin, which means East in Balinese. That means it faces towards the mother temple, Besakih, on the sacred mountain, Mount Agung, which is Bali's tallest mountain. This bale is not for sleeping. It is not allowed."
Putu showed me through her family temple, too, explaining how every family compound must have a temple and every 210 days a big ceremony is conducted called an Odalan. Puppet masters are called in, as are gamelan players, and the temple is dressed in white and gold silk, representing purity and the Gods.
The next part was exciting – donning aprons and checking out Putu's knife selection. We had one duty to do before we got started. We lit the traditional earthenware fire together and Putu explained:
"This old kitchen fireplace is original and has been in our family for six generations. We use it every day. It is to cook the rice and vegetables and to steam the pepes, which we will make today. The other cooking takes place with a conventional gas cooker on the other side of the kitchen."
We proceeded to cook the rice the traditional way, with cassava. We created a dish called Nasi Sela, and when that was boiling away we got on with the fun part: washing, peeling, scraping, dicing and chopping our fresh market produce under the expert guidance of Putu and her husband Pasta, who joined us. We ground the spices with a stone mortar and pestle creating a marinade concoction for the chicken satay. This consisted of chili, garlic and lemongrass, which we picked from Putu's garden.
The tempeh manis was next, and over the gas stove, we fried tempeh in grandma's coconut oil (hand made), mixing coriander seeds and palm sugar along with the five basic spices.
Making pepes tuna was fun, as we went out in the garden and cut the banana leaves directly off the tree and when we mixed the spices together, Putu pointed out the kencur, and explained, "We believe kencur cures the flu. At three months we rub it on the baby's head, on the crown area, to protect them from the flu. "
The meal was delicious and an absolute banquet. As we were eating, Putu was busy writing out the recipes by hand. Before we said our goodbyes to the grandpa, uncles and aunties, and numerous children, we visited the organic garden and met the family cow.
I learned a whole lot more than cooking with Putu, and it really brought home to me that sharing this culinary experience in such an authentic way allows for a close connection with the local people.
After all, isn't that why we travel?  These are the moments we remember. They are the defining experiences that allow us to exchange across cultures and to learn from each other about our differences and similarities.
Need to know: Bring mosquito repellent. Rice fields often surround Balinese villages, which means stagnant water can sometimes hang around. For animal lovers, most villages keep pigs, cows, ducks, chickens, birds, cats and dogs.
The highlight:  Learning about the culture and having contact with a local village. I made two new friends, Putu and Pasta.
Try it again?  I would. If you have time, I would also recommend taking the four-hour market tour, cooking class and lunch. If you have limited time, just go for lunch or dinner.
How to book: Ubud Village Plate
Photos courtesy of Village Plate, Taksu Photo Gallery, Ubud & Cookly