I watched a documentary which said that gold and other metal elements in the universe were made of a dying star and I couldn't help but wonder; maybe it's not the shine and sparkle that we admire of gold, but maybe it's the rarity and the fact that gold won't be created again on this earth that makes us yearn for it.
For thousands of years, gold has witnessed stories of human civilizations. And just like the Incan or ancient Egyptian empires, gold has its own story in Bali. In the past, Balinese goldsmiths produced the most exquisite gold jewelleries for royalties, and the meticulous works still remain famous until now. Although recently silver has taken the crown, gold is still not forgotten. Open any door at jewellery workshops in Celuk and Mas, ask if they have gold jewelleries in the making, and they will surely nod and show you stunning gold jewelleries ready for export.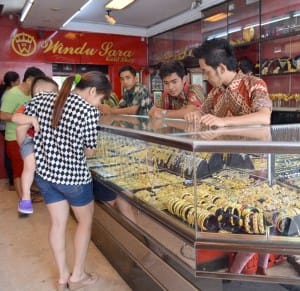 To shop with locals, Jalan Hasanuddin is perhaps the best place to go. I head to the centre of Denpasar during a cloudy day to start my day of gold. As soon as I get there, the gloom is replaced with the shine of gold from the jewellery stores along the road.
In this gold trade centre located not far from Pasar Badung, some ladies sitting in front of the gold shop greet and invite me to sell my gold. I explore some shops and learn of the varieties of gold jewellery sold in these shops; from earrings to bracelets, plain gold or with colourful gems, with prices starting from hundreds of thousands to hundreds of million Rupiah.
A shop called Windu Sara displays jewelleries of a traditional style, flowers and granulations upon beautiful filigree, usually worn by Balinese women for important ceremonies. It makes me realize that gold still plays an important role in Balinese culture.
For those who love a classical design, outlets in Seminyak may better suit your taste. Gorgeous jewelleries, each with beautiful gemstones, are displayed at Jemme Jewellery, which is located on Jalan Petitenget. Their classical design, which is said to last over generations, can become a love symbol or a perfect gift for someone special.
For even more unique jewellery, perhaps John Hardy's one-of-a-kind Cinta Collection is the right choice. Made by combining fine gold with rare sourced stones, this unique collection, created for the wife of the visionary founder, makes this jewellery series a symbol of eternal love and undying romance.
But in this modern time, jewellery is not the only ultimate love symbol for someone special; a plate of foie gras, covered with 24K gold dust will surely deliver the message. I tried it at Ju-Ma-Na, located at Banyan Tree Resort, Ungasan. This French duck liver layered with edible gold dust was transformed into stunning edible jewellery, which I thought too lovely to eat.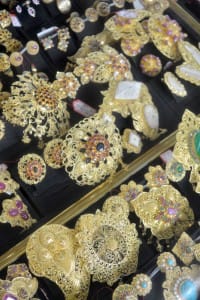 Gold is also good for beauty. Some beauticians believe that this precious metal can provide glow to create radiant skin, able to firm skin as well as aid cell recovery. Having regular gold beauty treatments is believed to improve skin quality, as gold can also act as an antioxidant and improve skin metabolism. It is no wonder the queen of ancient Egypt, Cleopatra, chose this precious metal to enhance her beauty.
I head to Gold Dust Beauty Lounge on Jalan Batu Bolong, Canggu, to experience a unique beauty treatment; a 24K gold leaf facial. In this chic treatment room, I enjoy a two-hour rejuvenating facial treatment where the therapist cleanses and gently massages my face, as well as shoulders, hands and feet, following the alluring rhythm of music that calms my inner peace and I am at bliss. With the mask covering my face, I can feel the gold layer firm my skin, nurturing me with its shine. Maybe it's true that gold can give confidence to those who wear it, explaining why it is the most precious thing of all.
Gold Dust Beauty Lounge has two types of gold facials; one is using pure 24K gold leaf, and the other is 24K Gold Collagen Facial using collagen, an anti-aging serum to maximize the absorption of the 24K gold mask nutrients. The good news is this 24K gold collagen mask can be bought and used at home. To complete my day, I am given a manicure-pedicure treatment, and to remind me of this special day, I choose gold colour for my nails.
Later that afternoon at Echo beach, I sip vodka mixed with gold flakes. I watch the sunset and think about the dying star. Maybe we have to experience many lifetimes before a new deposit of gold is formed on a new planet. Although we are now consuming the last gold deposit on earth, I learnt that we don't have to always adorn gold and possess it; it can always shine from within us.