Our expert epicure continues an undercover operation to bring you the truth about Jakarta's dining scene. No spoon is left unturned in the quest for honest, balanced reviews, from long-established favourites to the hottest new tables in town. 
I could make a daft pun about the infamous coffee at Olivier – and easily work that joke into yet another article – but our Clandestine Critic would like to discuss the finer points of the other beverages available; and would you believe there are many!
It was a busy Saturday night, well at least according to the security guard at the entrance, who waved away potential diners daring to enter without a reservation. Luckily for our group, we had booked in advance. Upon arrival, I noticed previous changes to the booking were not noted in the reservation log. The three languid hostesses were quite accommodating and genteel, if not a bit vacuous in repose and response. If one strayed too far from the standard welcome exchange, the improvisation proved difficult to manage. One simple question was answered with a resounding, "Huh?" Good thing we arrived ahead of our booking to sample some of the finery at the bar whilst they rearranged our table.
Obscured by a looming wall that served to separate the bakery from the main restaurant, one side of Olivier was impressively dapper, decked in 1920s-style décor that is popular around Jakarta's elite dining scene. Elegant details abound from cushy, private booths to the gilded bar stools. However, at the other end of the main dining room, there was an air of conservatory madness where an explosion of ferns hung from walls and ceiling. It was like two completely different spaces; a slightly incongruous split.
On this evening, there were many beautiful young patrons to detract from the potted décor – smoking cigarettes and sipping beverages, with the Vietnamese coffee being one of the most popular to adorn tables. The impressive sound system made conversation a bit challenging throughout the evening, and it pains me to admit our well-heeled group appreciated the intermittent smooth jazz songs that provided some aural respite.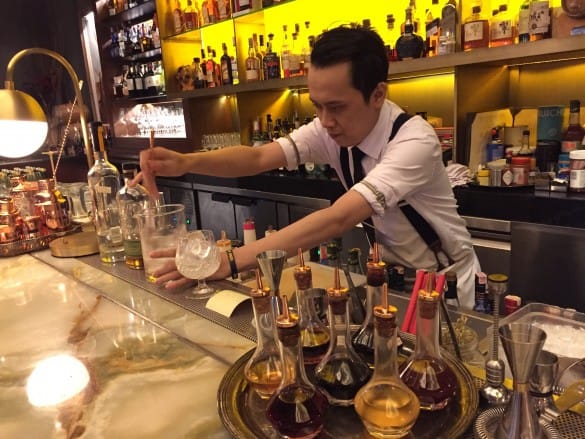 We were delightfully surprised by the cocktails and barmen who deftly swished, muddled and poured their creations into gorgeously detailed chalices. Olivier's signature cocktails were as good as any experienced in Jakarta. My predilection for the tart and refreshing led me to the Jade Gimlet, which was a charming combination of every flavour profile I enjoy: green apple, celery, lime and gin. The Sladzky was redolent of the same raspberry Lip Smacker I used to incessantly smear across my lips as a youth. Even now, I am unsure how to feel about a drink that tastes like flavoured lip balm, but I have to give credit to the skill of those who created this unique concoction. All in all, great success was had sampling the bar menu.
Expectations rode high for dinner. The menu was a schizophrenic mix of Italian, French, American, Vietnamese and modern Asian.
Unfortunately, this encyclopaedia of cuisines did little to satisfy our appetites. Service was adequate except for a few blunders – when presented with a 2-for-1 happy hour special, I would expect it to be for the correct days on which it was offered, and not rescinded after everyone had already ordered their drinks. To their credit, there were some 'Happy Hour' discounts taken off our cocktail orders at the end of the meal, but they were not the same as stated by our server, nor were we given notice of the discount. I am always a bit disappointed to encounter genuinely willing and friendly wait staff only to be let down by their lack of knowledge, training and awareness for a quality dining experience.
Everything that arrived was edible with some dishes unexceptional in details. The fish sauce in the nuoc cham that accompanied the Vietnamese Fresh Spring Rolls was overpowering – a little more fresh lime juice and palm sugar would do quite nicely for balance. No one desires a mouthful of plain fish sauce.
The 72-hour Brisket Wagyu Brisket seemed like a winner on paper – I envisioned juicy and tender sliced brisket. What I received, however, was a few thin slices of dry and stringy beef drenched in a pool of overwhelmingly vinegary BBQ sauce. The only redeemable part of the dish was the excellent potato wedges. Fried crisp, not greasy, with fluffy-interior potato goodness; I could have eaten an entire bowl of the Cajun-seasoned potatoes washed down with a couple of pints of lager, but this occasion did not call for such antics, unfortunately. In fact, if the only excitement generated on a plate of food is the fancy fries, then the kitchen has bigger issues with which to contend.
The Hainan-style Risotto has been a dish popular with food bloggers and diners, and although savoury, there was nothing about it that resembled a proper Hainan chicken rice plate. The only similarities were that both contained chicken and rice. The flavour of this dish was much more powerful, with the kitchen lending a heavier hand in aromatics and salt. Traditional Hainan chicken rice is all about the mellow chicken essence infused into fluffy rice, with succulent poached chicken and a top note of ginger from the dipping sauce. At Olivier, the chicken was pan-roasted with crisped exteriors, and the risotto was creamed with a very heavily seasoned chicken stock. Perhaps it would have better served this dish to be renamed something closer to its Franco-Italian roots or, better yet, stay true to the original dish and ease off on some of the seasoning and poach or confit the meat instead.
Despite the few missteps in the mains, two dishes of the evening made the grade: the Roasted Duck Breast with kecap manis and daikon pickles, and the Steak au Poivre. The duck breast was cooked beautifully medium-rare, and was accompanied with a heady sweet soy sauce. Say what you will about this ubiquitously sweet condiment, it does pair very well with a good piece of duck. The pickled daikon slices lifted the dish, and it provided a peek into what genius Olivier could do with modern Asian cuisine. In addition, the steak presented a strip of juicy sirloin with a delectable pepper-cream sauce; the lick-your-plate-clean variety.
The explosion of French pâtisseries and boulangeries in Jakarta over the past few years has raised the bar high for dessert. Our server arrived at the end of the meal with a sample of each available that evening. It would have been a nice service touch except that some of the explanations were limited by our ability to communicate in depth. What looked like a mango mousse was indeed just that. In these instances, a written menu with adequate description for each diner would have been better. The one dessert worth tasting is the Valrhona Chocolate Fondant, a bitter chocolate confection with cognac ice cream. Otherwise, forget about the desserts, ask for the drinks menu and order a nightcap.
Verdict? 3 out of 5 – Killer cocktails!
Olivier
Grand Indonesia Mall West Mall, Ground Floor, Jalan M.H. Thamrin No. 1, Jakarta 10310
+62 21 2358 1242
Cheque please! (For 2 people)
Drinks: Rp.260,000 (208,000 after happy hour discount)
Food: Rp.673,000
Service: 10%
PJK Restaurant Tax: 10%
Total: Rp.1,066,010