Our expert epicure continues an undercover operation to bring you the truth about Jakarta's dining scene. No spoon is left unturned in the quest for honest, balanced reviews, from long-established favourites to the hottest new tables in town.
This month, Tuscan temptress Gia.
Valentine's Day looms again, with the inevitability of a congenitally receding hairline. Whilst every pseudo-journo/blogger in the city panders to the day's commerciality by rehashing press releases about special 'romantic' menus, I – ever the anarchist – have chosen to fight the good fight for those who find themselves sans soulmate this year (no comment on my own situation. The Critic doesn't disclose). Instead of seeking a spot for dinner à deux, I went hunting for more fertile ground…something suitable for those doing a little hunting themselves.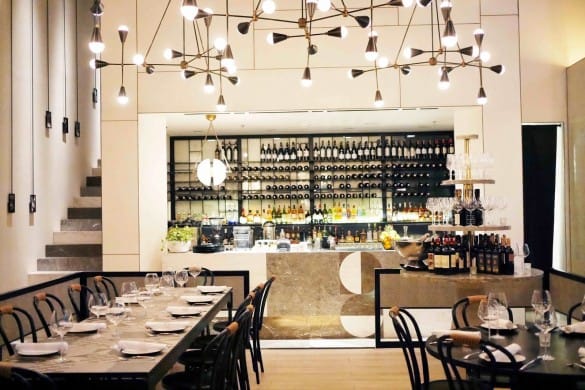 My mind went immediately to Gia. Opened a year ago in a random if grandiose office building, Gia's darkly sophisticated interiors could be perfect for an evening of food and flirting. Hoping to start things off in the right direction, I took them up on their offer of an aperitivo – a pre-dinner drink, usually strong and bitter, in order to whet your appetite. I desperately wanted them to get this authentic idea right, but sadly it arrived after the first of our courses, and thus slightly negated the point. Still, it was a good drink. I'm usually a sucker for a Negroni but was delighted to see its cousin on the menu, Lo Spritz Veneziano (Rp.115,000). An Aperol Spritz is Venice's signature aperitif: Aperol with Prosecco and a marinated olive. It was served beautifully, with a fancy, large single ice cube.
As I grappled with the existential crisis that is alcohol deprivation, Executive Chef Tommaso unexpectedly appeared to advise us on the menu. I give him top marks for that. Not all chefs – in fact, hardly any – bother to do this; either because they are not actually there, or because they don't value interaction with the customer. Chef Tommaso had some off-menu specials to tell us about. He spoke with passion and sincerity – clearly this is a kitchen that cooks from the heart.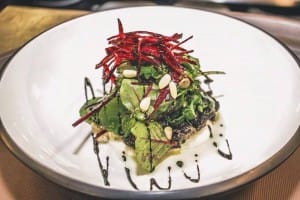 First, Portobello in Fonduta (Rp.125,000) was a meaty Portobello mushroom grilled with black truffle and parmesan 'fondue' – a rich, creamy sauce that contrasted well with the earthiness of the mushroom. Offsetting the sauce was a zingy mesclun salad with beetroot matchsticks and pumpkin seeds. The beetroot got a bit lost but the seeds were a nice touch, as was the fine aged balsamic vinegar drizzled over the top.
We sipped and supped, all the while watching the comings and goings of Jakarta's beautiful people out on the terrace. In the evening this outdoor space is preferable to the smaller indoor bar. It is lit up with twinkly lights, abuzz with cigarettes and cocktails. The crowd is a nice mix of well-heeled locals and expats.
Presently we were distracted by more food.
Pasta is the ultimate lovers' dish. Many a first date has hung in the balance of a successful pasta – this one would have done the job nicely: Scoglio (Rp.155,000), a seafood linguine featuring prawns, mussels and squid in a white wine, garlic and chilli sauce.
The chilli had a good kick, and was also candied on the side. The pasta was nicely al dente, but admittedly I was hoping for more generous pieces of seafood, even though the mussels were as sweet and fresh as any I've eaten here.
Triumph came in the form of Agnolotti Del Plin (Rp.190,000): braised beef ravioli in truffle butter with veal jus and fresh shaved black truffle. I am usually sceptical of quite so much truffle on a menu, but the one place I can forgive it is with pasta – it's a match made in heaven. The ravioli were a gorgeous deep golden colour, which Chef Tommaso later explained is because of the egg yolks in the homemade pasta. I expected to be bowled over by the truffle sauce, but it was the beef that did it: there was so much flavour packed into those little morsels, which had been braised with wine and lots of herbs like sage really coming through on the palate. Delicioso.
We shared a piatti secondi of Dentice Al Vapore (Rp.205,000), a steamed snapper fillet with – supposedly – a puttanesca sauce. Sadly though, this was a puttana without the high heels. The key ingredients were there: olives, tomato, capers, garlic…but they were given such a light touch – presumably for fear of overpowering a gently-flavoured, sweet fish like snapper – that they lacked the salty pungency of a classic lady-of-the-night sauce.
Desserts were intriguing. Overall the savoury dishes are fairly traditional – there is saltimbocca and osso bucco on the menu; nothing too out-of-the-box in the name of trendiness – and I really like that about Gia. They're not pretending to be nouveau for the sake of it. Except with the sweets.
There was Burrata Pannacotta (Rp.85,000), with cinnamon 'soil', black pepper and berry-beetroot jellies. The burrata itself was great, and the meringue pieces were not bad. But the strange addition of faddy 'soil' seemed out of character, and the little cubes of jelly seemed like a case of technique over taste.
So too with Crostatina Cioccolato (Rp.95,000). The pastry was good, and the dark, creamy chocolate filling was decently flavoured but had an odd gritty texture. The caramelised walnut on the top was successful, but I wondered why we needed the glazed popcorn (again, it seemed to be just for modernity's sake) and 'crispy honey' went slightly unnoticed. There was also another 'soil' – this time of chocolate brownies. What is soil, really? It's just crumbles of something that was once a larger piece. Perhaps I'm too old to be impressed by this? In any case, I would say stick to what Chef Tommaso does best: golden oldies like grandma's tiramisu, cooked with love.
All in all, Gia is a great choice for both couples and single-and-mingles. The atmosphere is urbanely grown-up, perfect for those looking to see-and-be-seen, but in a less obvious way than at Loewy et al. Linger at the bar for an aperitif, cast an eye around the room, and dive in to some of Jakarta's top Italian fare.
Verdict: Mamma Gia! 3.5 out of 5
GIA Jakarta
Sampoerna Strategic Square, South Tower Lobby, Jl. Jendral Sudirman No.Kav 45-46, Jakarta
+62 21 5795 3300 www.ismaya.com/gia