Hop into the Easter festivities filled with glitter, laughter, scrumptious dishes, and egg hunts in the tropics.
Another long weekend awaits this Easter. Whether you'll be spending it in Jakarta or decide to get away to Bali, you and your loved ones' holidays won't be short of fun, unforgettable activities! 
So, where should you celebrate Easter this year? We got you! 
KUTA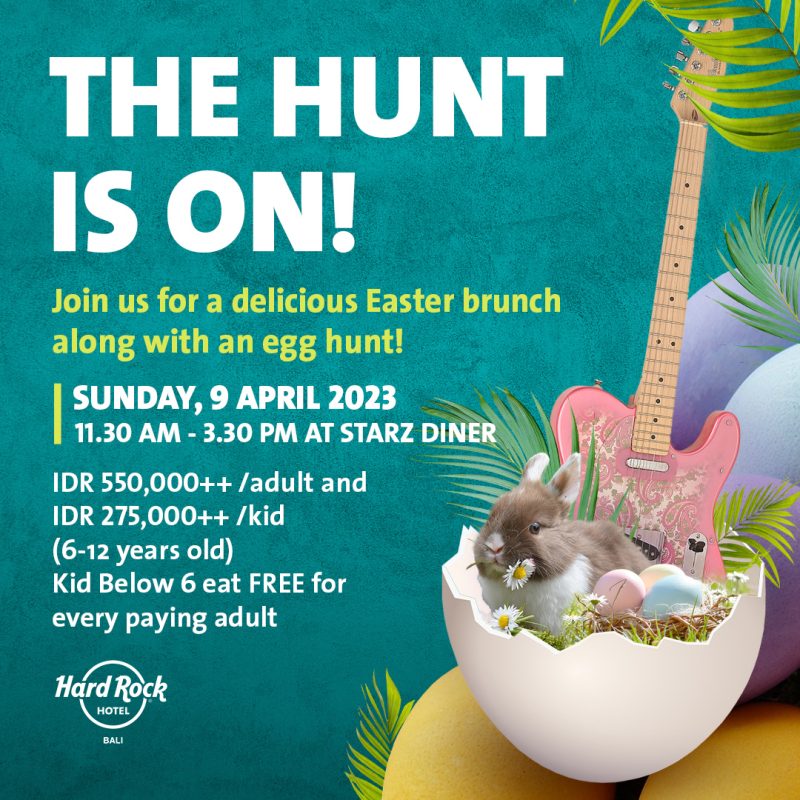 Hard Rock Hotel Bali
Come and join Hard Rock Hotel Bali for a delectable Easter brunch along with an egg hunt! Enjoy a widespread luncheon starting with a luscious selection of appetisers. The carving station consists of spiced rum bourbon beef rump and honey mustard glazed gammon ham, eggy beef macaroni and cheese, grilled gourmet pork sausages, garlic crumb mayo roasted chicken, lemon chicken gravy, mixed seafood paella, a selection of rolls, raisin and walnut loaf, wood-fired cheesy focaccia, mushroom cream soup scented with truffle oil, as well as nine selections of desserts from the deli including chocolate fondue and many more!
This Easter feast is priced at Rp550,000k++ per adult and Rp275,000++ per kid aged between 6-12 years old. Kids below 6 eat free with every paying adult.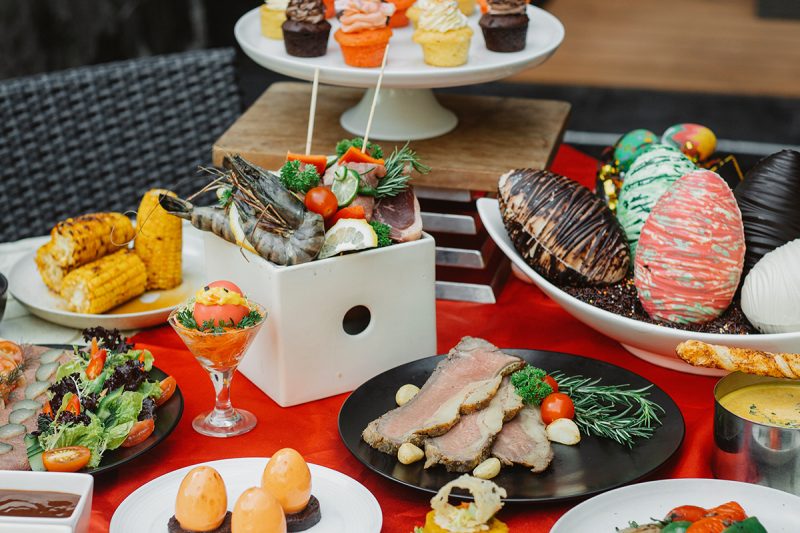 Pullman Bali Legian Beach
Easter is coming; all hoppin' and colourful in Pullman Bali Legian Beach!
Sunday will be packed full of kids' activities, such as Easter egg hunting, Easter egg colouring, making Easter crafts, and lots of other Easter-themed fun for the little ones – and yourself – to play. All of the Easter kids' activities are free of charge for in-house guests!
All of the fun will be completed by a pleasant and sumptuous Hoppin' Easter Buffet Dinner that serves a mouthwatering spread of dishes, from the iconic deviled egg, heartwarming beef consommé, slow roasted sirloin beef, potato gnocchi, seafood thermidor, an endless BBQ fiesta from land and sea, lots of desserts to satisfy your sweet tooth, and many more choices at the buffet table.
The Hoppin' Easter Buffet Dinner can be booked for Rp320,000++ per adult. Get 50 percent off for kids aged 6-11, priced at Rp160,000++ per kid.
SEMINYAK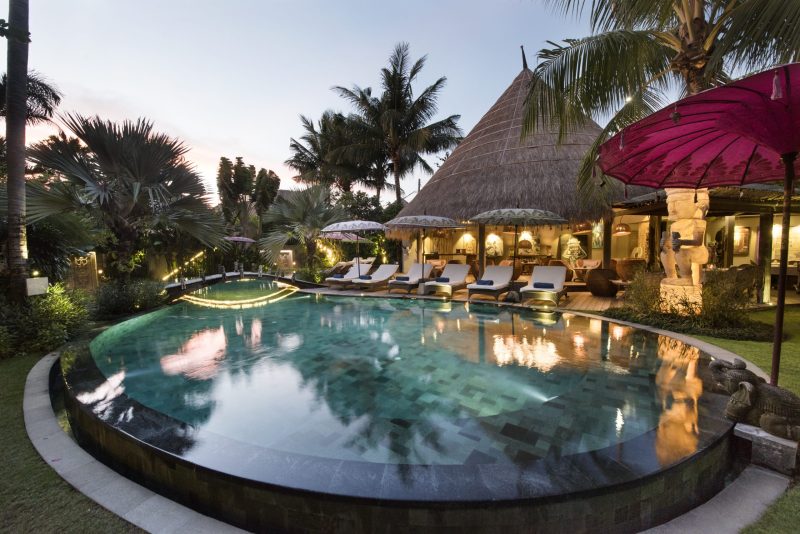 Blue Karma Dijiwa Seminyak
Celebrate Easter in style at Blue Karma Dijiwa Seminyak, the ultimate sanctuary for relaxation and indulgence. This Easter, an exquisite Easter brunch and egg painting event in collaboration with the prestigious Lucy Dream Gallery with a captivating acoustic music performance will be hosted. The event will feature some of the finest local painting artists. 
The Easter brunch at Blue Karma Dijiwa Seminyak promises to tantalise your taste buds with a delectable spread of culinary delights. From succulent meats to fresh seafood and vegetarian and vegan options, there is something for everyone to enjoy. 
Following the brunch, immerse yourself in the vibrant world of egg painting. Under the guidance of Lucy Dream Gallery's experienced local painting artists, unleash your inner creativity and design an egg that is uniquely yours.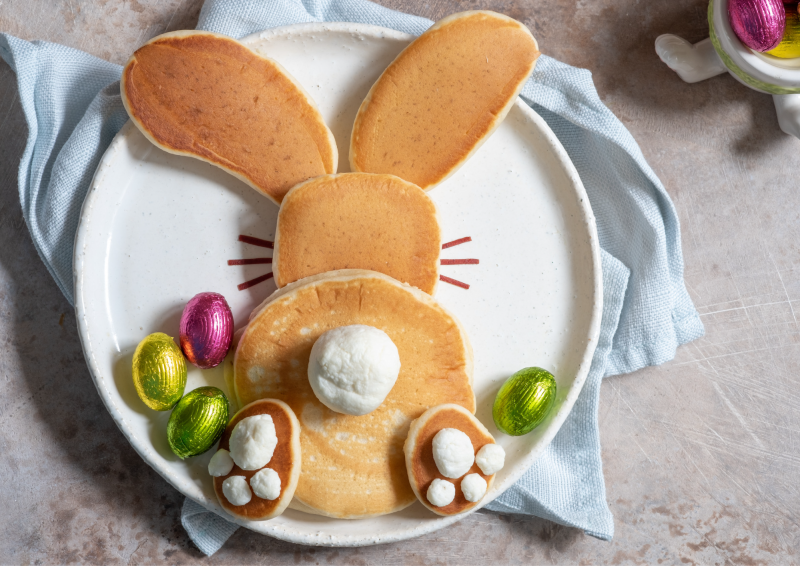 Anantara Seminyak Bali Resort 
Two delightful Easter celebrations at Anantara Seminyak Bali Resort are yours to revel in. 
On 9th April, guests can hop into the Easter fun with the Egg-citing Easter Buffet Brunch at Sunset on Seminyak from noon to 3pm. Priced at Rp498,000++ per person, the brunch features an extensive selection of scrumptious eats; including a French crepe stand and patisserie, bread and pastries, antipasto, salad bar, soup station, carvery, Asian corner, and sweet paradise. Activities like egg painting, egg hunting, and free usage of the swimming pool await guests.
The Phase of the Moon Easter Celebration at Moonlite Kitchen & Bar is from 4:30-11pm priced at Rp650,000++ per person. The celebration promises a truly unforgettable experience filled with a scrumptious six-course set menu dinner, delightful cocktails, and lively music – all set amidst the breathtaking sunset to moonlight glow.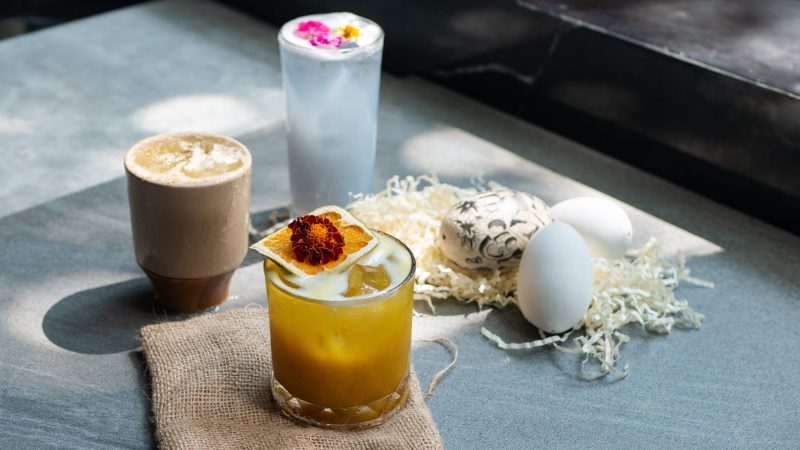 Hotel Indigo Bali Seminyak Beach
Celebrate the wholesome Sunday with Seminyak's Easter Brunch, presenting delectable roasted turkey and pork ribs, Japanese specials, a seafood counter, as well as the sweetness of tropical desserts. Get ready to be amazed by a magician performance and Easter activities, while a live DJ performance serenades your holiday. Join the feast on Sunday, 9th April from 12:30-3:30pm at the all-day dining restaurant, Makase, starting from Rp850,000++ per person.
The joy doesn't have to stop there. Wrap up the heartwarming day with selected cocktails on Easter Sundown at the beachfront bar, SugarSand. Enjoy the sunset with the limited-offer drinks, crafted specially for the holiday at Rp150,000++ per glass, available daily from 1st-9th April.
If you are up for a lively evening in casual sophistication, the Easter-inspired beverages on Egg-citing Refresher at Tree Bar are for you. Drop by the speakeasy bar and sip on the curated concoctions of locally-inspired cocktails at Rp120,000++ per glass, available daily throughout April.
NUSA DUA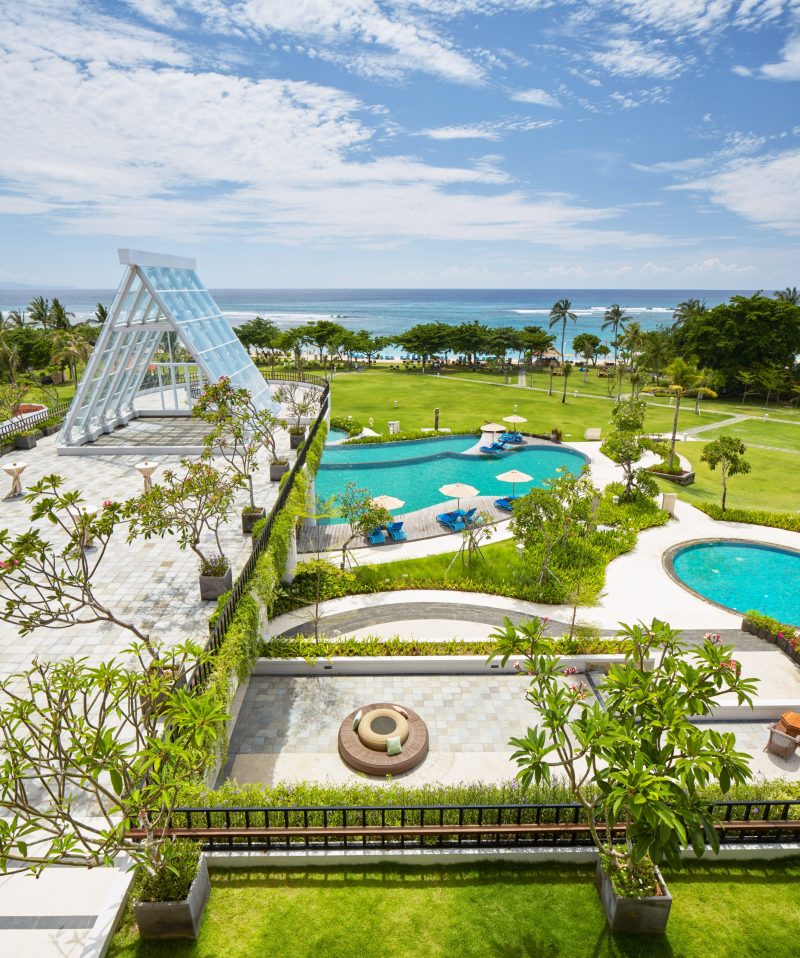 Merusaka Nusa Dua
Looking for a way to celebrate Easter with your loved ones? Merusaka Nusa Dua is the perfect destination to celebrate this special occasion. Indulge in the ultimate beachfront resort with a stunning ocean view, an array of resort amenities, and personalised service. The resort is strategically located in the exclusive, secure, gated compound of the Nusa Dua area, nestled along a stretch of white sand of Mengiat Beach, and surrounded by interesting places such as Peninsula Island, Water Blow, and Bali Collection shopping centre.  
For a limited time, book your family Easter stay at Rp1,950,000 nett per room per night and experience the well-appointed, contemporary-styled Deluxe Room for a minimum of three nights. Enjoy the daily breakfast and one-time Easter lunch, as well as take part in the exciting egg hunt activities for your kids. 
That's not all; this Easter package also includes a range of activities to keep you entertained throughout the day with special offers of 25 percent off on spa treatments, 10 percent off on food and beverages, kids eat free (kids menu) when dining with their parents, and complimentary access to Tamaya Kids Land.
Booking is valid until 15th April 2023, for a stay period from 1st to 20th April 2023. Get 25 percent off the second room if you purchase two rooms for a family with guaranteed interconnectivity, applicable for the Deluxe and Deluxe Pool Access categories only.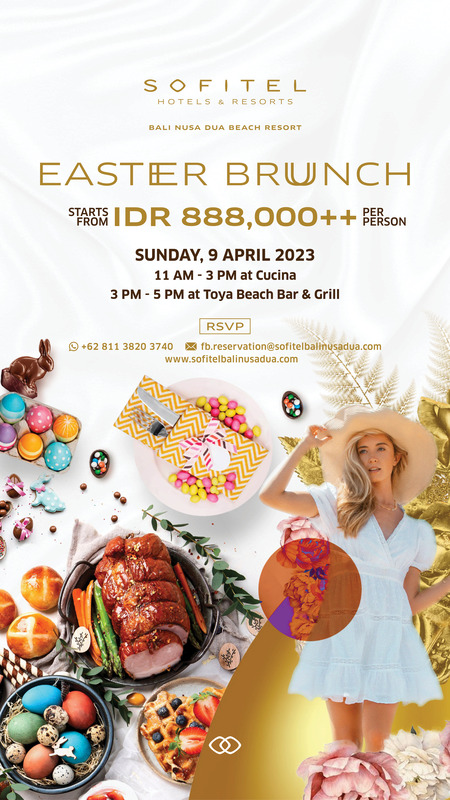 Sofitel Bali Nusa Dua
Experience the Easter Sunday Brunch at Cucina Restaurant with family and loved ones. Embrace the Easter weekend with an exciting Easter-themed brunch at Cucina Restaurant on 9th April 2023 from 11am-5pm, featuring various kids' Easter activities. The Easter Sunday Brunch offers various packages starting from Rp888,000++ per person. Kids under 12 years old are complementary and there is free access to the pool and beach.
There's also an extended Seaside Delight experience by the beach from 3-5pm! This is an exciting brunch extension not to be missed as a live DJ performance, crafted cocktails, savoury canapés, and seaside golf await.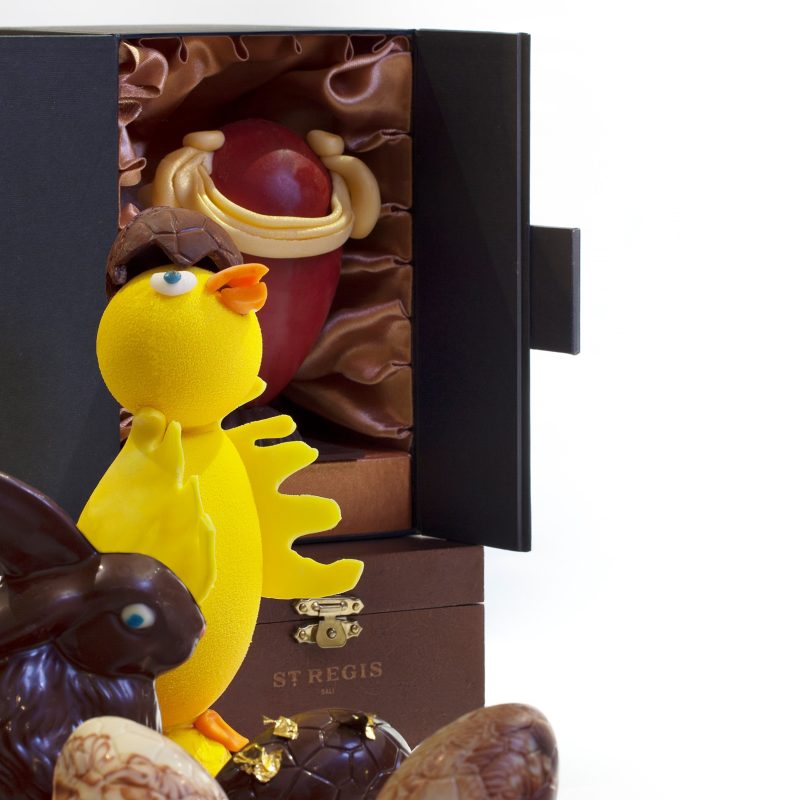 The St. Regis Bali Resort 
Enjoy this Easter tradition with your children and family at The St. Regis Bali Resort as the bespoke Easter goodies specially created by French Pastry Chef Vincent Stopin fill the Gourmand Deli. Indulge in a sumptuous The Astor Champagne Brunch or join the  Easter Sunday Brunch featuring delectable brunch favourites with egg painting and drawing competition activities at the Kids' Corner, led by two Easter bunnies.

The Astor Champagne Brunch is priced at Rp995,000 nett, while the Easter Sunday Brunch is at Rp595,000 nett and Rp130,000 nett for children aged 9-12 years old.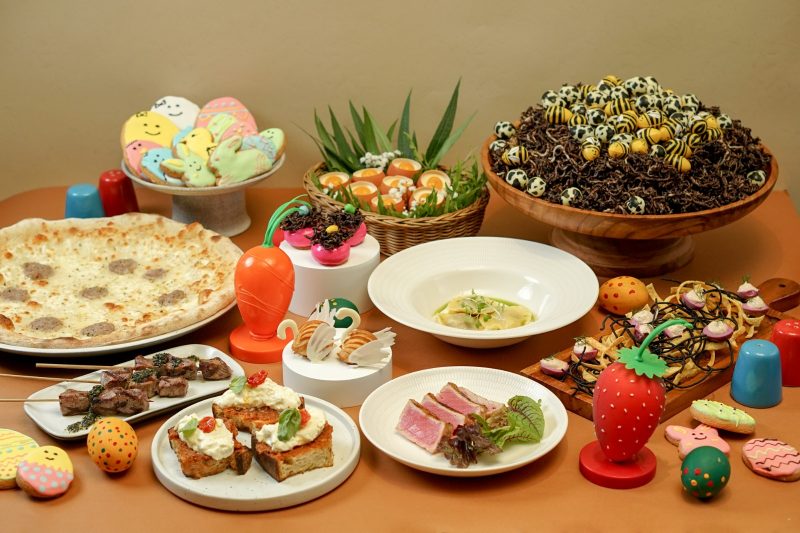 The Westin Resort Nusa Dua, Bali
Celebrate Easter at Prego, The Westin Resort Nusa Dua, Bali with one of the island's best family brunches featuring Italian fare, live BBQ, and delectable desserts by Chef Salvatore Catania and the team. Live acoustic tunes are ready to accompany the brunch. Meanwhile, the little ones will be kept occupied with various activities such as egg and face paintings, smoothie-making, and many more whenever they aren't roaming freely around Prego's lush gardens.
Easter at Prego is priced at Rp690,000++ per person and Rp390,000++ per child aged 6-12. 
UNGASAN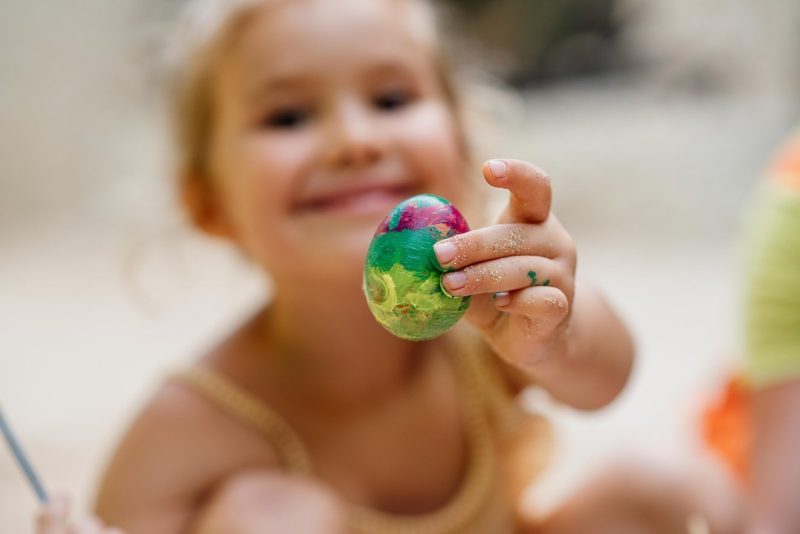 Karma Kandara Bali
Karma Kandara promises to deliver a basketful of good wishes with their annual Easter eggs-travaganza! As the time to renew, revive, restore, and rejuvenate is once again approaching, visit Karma to celebrate and eat some chocolate bunnies. 
The Easter Package is for three days and two nights, starting from Rp18 million, including a two-night stay in a well-appointed one-bedroom pool villa, daily breakfast, a bottle of sparkling wine upon arrival, a dinner for two, a 45-minute massage at Cliff Spa, free entrance to Karma Beach Bali, as well as free Easter activities for the kids. 
ULUWATU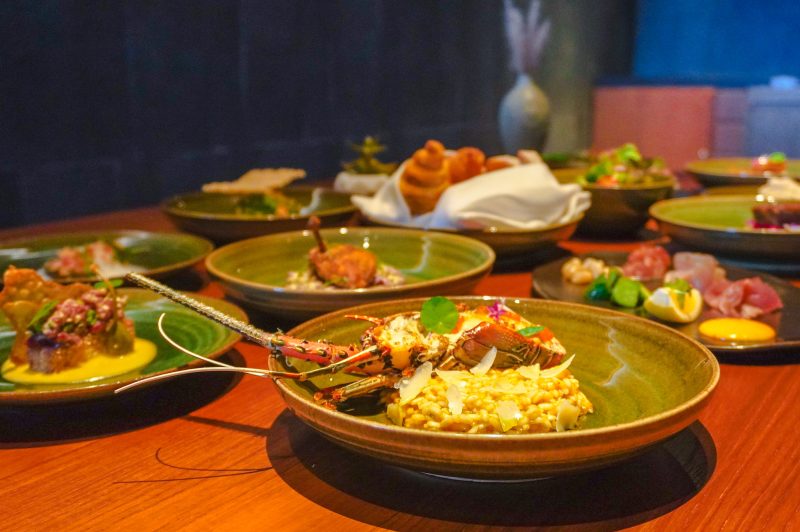 Six Senses Uluwatu
What better way to treat your family to a remarkable Easter than through a luxury escape to a cliff-edge resort in Uluwatu? Six Senses Uluwatu is hosting a weekend of celebration, including a Good Friday Set Menu Dinner at Watu Steakhouse, Easter BBQ Night at Cliff Bar & Poolside, Easter Brunch at Watu Steakhouse, and tons of activities for kids. Children of all ages will delight in an Easter Egg Hunt, Nature Easter Eggs, arts and crafts, games, and Easter ornament making. 
Enjoy a sublime five-course dinner at Watu Steakhouse on Good Friday from 7 -11pm, featuring an array of local produce from the land and the sea. Six Senses Uluwatu's dining attraction emphasises full-bodied tastes inspired by Balinese wisdom. Enjoy Chef Made Indrawan's modern and cosmopolitan twist for Rp1,250,000++ per person and Rp625,000++ per child aged 6-12. 
The Easter BBQ Night offers a unique BBQ experience on 8th April. At Cliff Bar & Poolside, you are bound to be in awe of the Indian Ocean as a backdrop while relishing a selection of fresh seafood and other Indonesian-inspired dishes. Complete your night with the easy grooves of live entertainment performances. Adults are priced at Rp750,000++ per person and children aged 6-12 are at Rp375,000++ per child.
A special Easter Brunch at Watu Steakhouse from 11:30am-4pm means specially crafted dishes will be presented by the restaurant's passionate chefs. The Easter Brunch is priced at Rp985,000++ per person including a glass of sparkling wine and Rp490,000++ per child aged 6-12, including a mocktail or fresh juice.
JAKARTA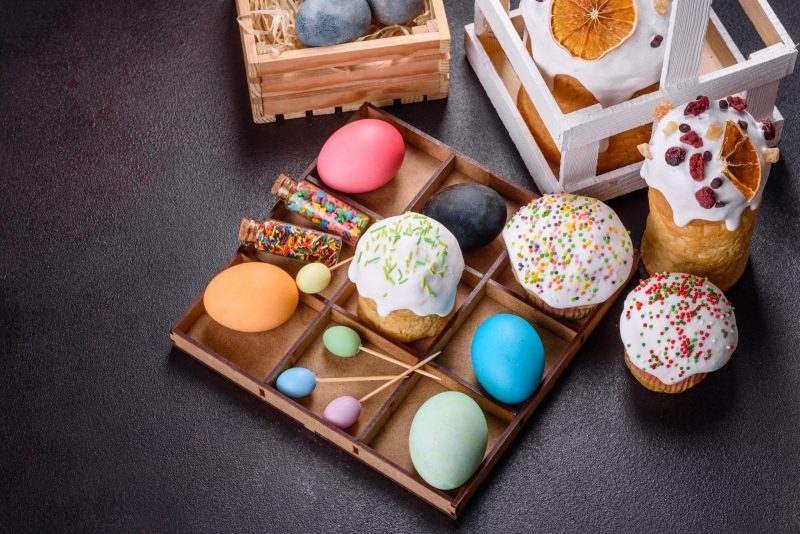 Gran Melia Jakarta
Celebrate the joys of Easter Sunday with friends and the whole family at Gran Melia Jakarta. The culinary team has prepared a tantalising Easter Brunch at Café Gran Via featuring a sumptuous buffet spread. An array of gourmet dishes, from appetisers to desserts, is all meticulously crafted to cater to different palates available from noon to 3pm.
Take your little ones to have fun at the kids' playground. A range of exciting activities, including an Easter egg hunt, egg painting, a magic show, and more will keep them entertained.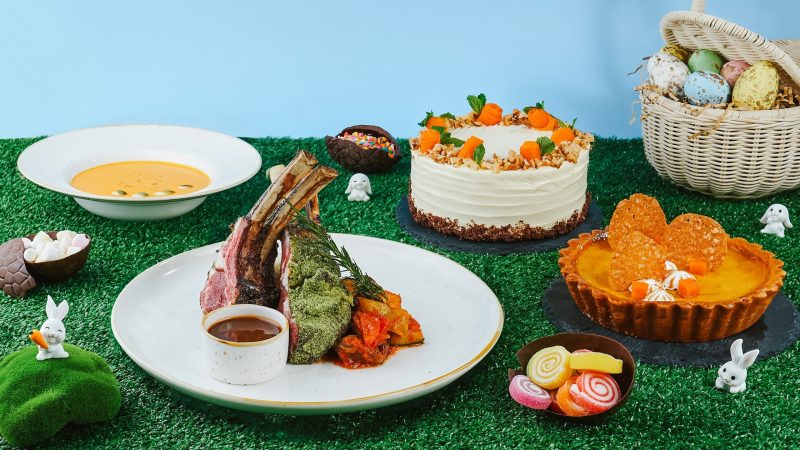 Sheraton Grand  Jakarta Gandaria City Hotel
Sheraton Grand Jakarta Gandaria City Hotel is marking a memorable Easter weekend with a lavish brunch for families and friends to celebrate at Anigré Restaurant on 8th and 9th April. 
Helmed by Executive Chef Denny Gunawan, this Easter Brunch highlights Easter-themed desserts, grilled seafood and steak, bespoke Indonesian fare, all-time favourite international cuisine, Easter-decorated desserts, and many more priced at Rp555,000++ per person. Children under 6 dine for free while children aged 6-12 dine for half the price. 
An exciting Easter egg hunt game designed for the little ones is available for children of all ages to play. After playing, they can have specially crafted kid-favourite sweets.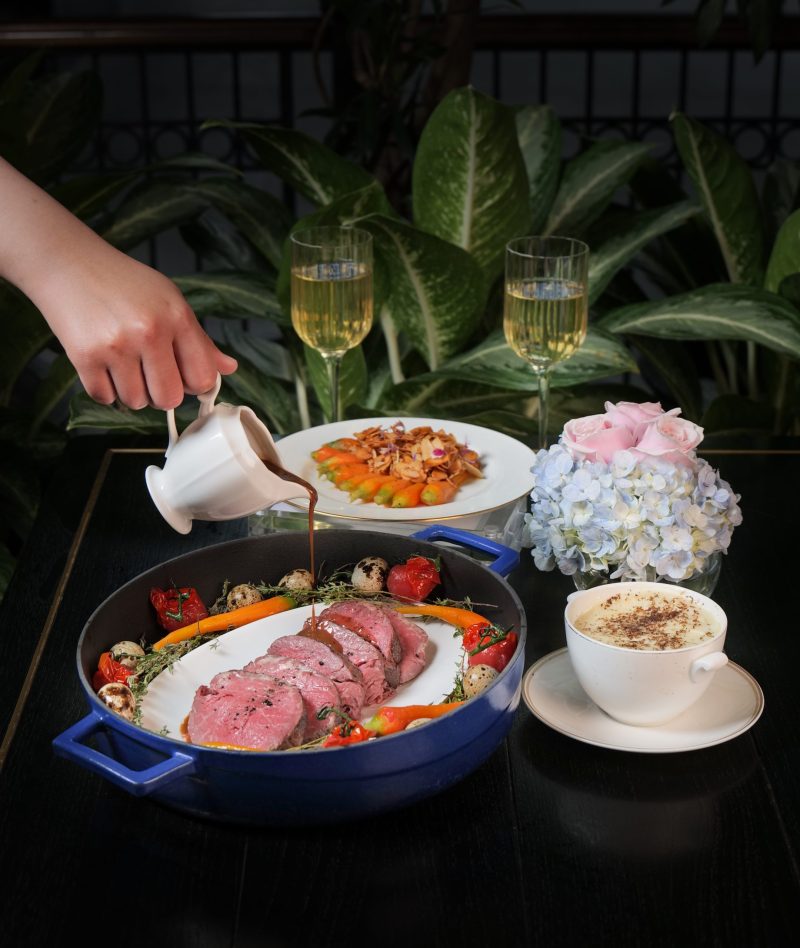 The Langham,  Jakarta
The Langham, Jakarta is approaching Easter weekend with a celebration full of fun and cheer.
Enjoy Easter Weekend from 7-10th April 2023 with a series of sumptuous dishes from the kitchen. From 11am-3pm and 6-10pm, a special serving of Chateaubriand au Poivre Vert will elevate lunch or dinner times. This consists of 500g whisky cured chateaubriand, roasted almonds baby carrots, truffle mashed potatoes, and peppercorn pepper sauce, priced at Rp1,328,000++ (suitable for two to three people, with 20 minutes waiting time).
The Easter Afternoon Tea is appealing with its set of cakes, bread, mini-bites, and fine cups of tea – available from 2-6pm for Rp398,000++ per person (minimum order of two people). 
ALICE also offers to cheer up your Easter with the presence of colourful Easter cakes. Each individual cake costs Rp78,000+, with choices of the Langham Bunny, Sunny Side Up Cake, and Egg Flower. The whole cake, Eggster Cake, is ready to be taken home for Rp750,000++.
Tom's by Tom Aikens is also offering a blissful Easter brunch on Sunday starting from noon to 3pm, with a selection of tasty and sophisticated Western favourites accompanied by exciting kids' activities. The brunch is available for Rp688,000++ for adults, and Rp388,000++ for kids aged 6-12.
Moreover, cheers to Easter with a selection of Easter cocktails; Love & Hope Spritz (Rp178,000++), Easter Egg-Hunt (Rp168,000++), and Tom's Easter Breakfast (Rp168,000++)!