Just imagine a beef cut into perfect pieces, seasoned, and grilled on a hot grill is one of the tastiest things you'll ever eat.
Steak is such an appetising dish as it has become everyone's favourite. Speaking about steak, you must be wondering where to find some of the best steakhouses, particularly in Jakarta, Indonesia.
Let's find out about all the most recommended steakhouses in Jakarta in the following list:
B'Steak Grill & Pancake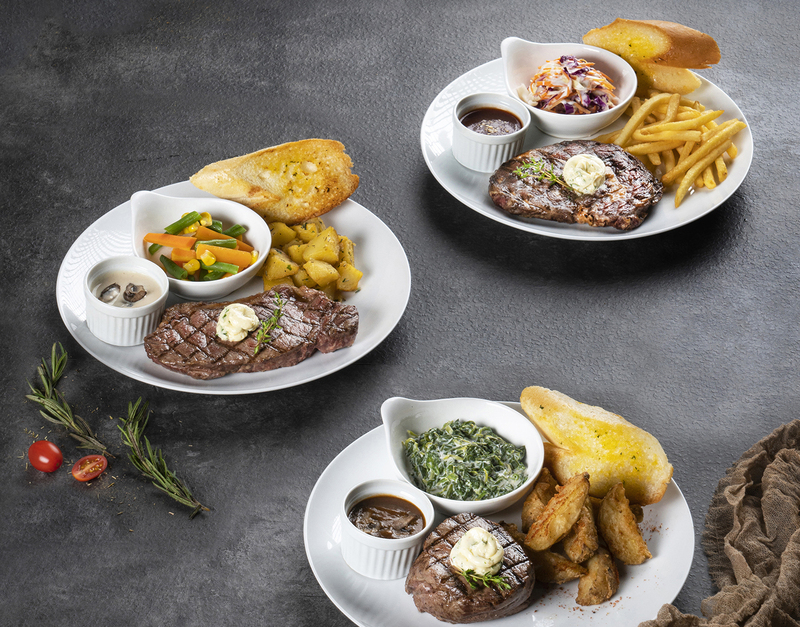 B'Steak Grill & Pancake offer a family dining experience, that serves up freshly prepared cut steak. We offer the finest quality beef from Australia. Guaranteed tenderness, excellent marbling, rich textures & plenty of flavours.
With our extensive menu, you can find almost everything here; from our speciality steak & grill, Italian pasta, Asian with rice, burger & sandwich, Mexican tacos & quesadillas, Swiss potato rosti, and of course our mouthwatering selection of pancakes.
B'Steak Grill & Pancake's ambience is modern polished and sleek, with a touch of warm, rustic and minimalist accents, which makes it perfect for the family dinner or gathering.
In Jakarta, we are located strategically at Greenville (West Jakarta), Muara Karang (North Jakarta), and Sedayu City Kelapa Gading (East Jakarta). We are easy to reach as we are one of the amazing and highly recommended family places to visit or experience an unforgettable meal at an affordable price. Good food, good place, good price!
We are open every day, starting from 10am – 10pm.
For further information, you can reach us by:
Justus Steakhouse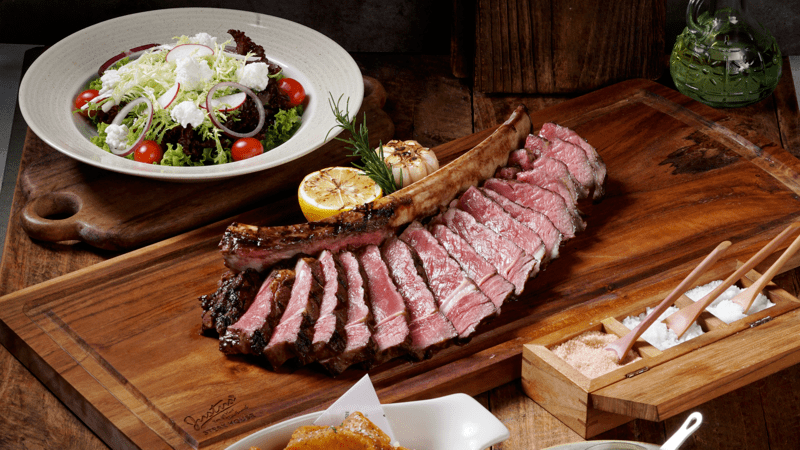 Established in Bandung, Justus Steakhouse started expanding its business in 2021. Jakarta is chosen as the second city for its business expansion, considering the high enthusiasm of steak connoisseurs in Jakarta and the purchasing power of Jakartans. The 11th outlet as well as the first outlet in Jakarta is located in Cipete, South Jakarta, and on 27th January 2023, Justus Steakhouse will open its 12th outlet located in Alam Sutera.
Targeting the target market for families, Justus Steakhouse always tries to provide family values where all customers who come have memorable memories of eating with their families. Unlike other steakhouses, Justus is here not only to sell affordable products but also to be consistent with the products served.
Justus Steakhouse offers a variety of steaks ranging from Big Cut Prime Steak, Dry Aged, Prime Steak to Specialty Steak. Various Pan-Seared menu choices starting from US Prime Porterhouse 500gr, US Prime Bone-In Rib Eye 500gr, New York Cut 250gr, Scotch Fillet 250gr and Fillet Mignon 250gr are the new favourite menus here. Not only steaks, but Justus also presents various other menus such as Western, Asian, Indonesian, Pasta, Burgers, Sandwiches, Family Sets, and many more. The price range for the food menu offered is from 35 thousand to 1.5 million rupiahs.
Justus Steakhouse always continues to innovate not only in food and beverage products but also innovates in terms of service and a sense of security that customers can get. This is manifested in the MUI Halal certificate, as well as campaigns and implementation of health protocols at all Justus Steakhouse outlets.
Our contact:
/GRAMS Crafted Grill and Smoke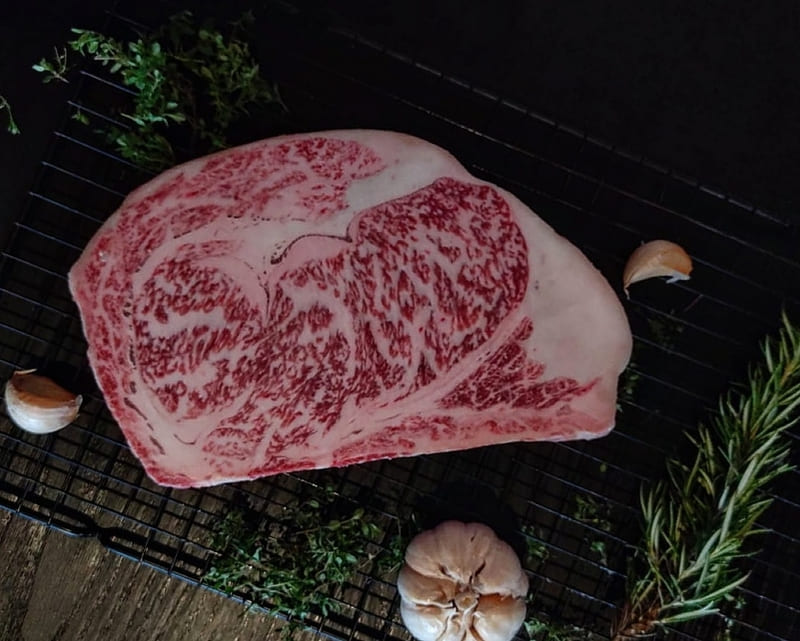 /GRAMS Crafted Grill and Smoke is a steakhouse restaurant located on Jl. Senopati no. 46, South Jakarta which emphasises the taste of Asian fusion.
We only provide the best culinary experience through our handcrafted menu with the best range of high-standard products.
With menu ideas and experiences created, we provide our customers to make their own favourite steaks with various flavours and sauces, and also with a choice of side dishes prepared to our customers' satisfaction.
For more detail about /GRAMS, you can find us at:
Address: Jl. Senopati no. 46 2nd floor, South Jakarta

IG: @per.grams

RSVP: WhatsApp +62 812-8303-1099
Meatguy Steakhouse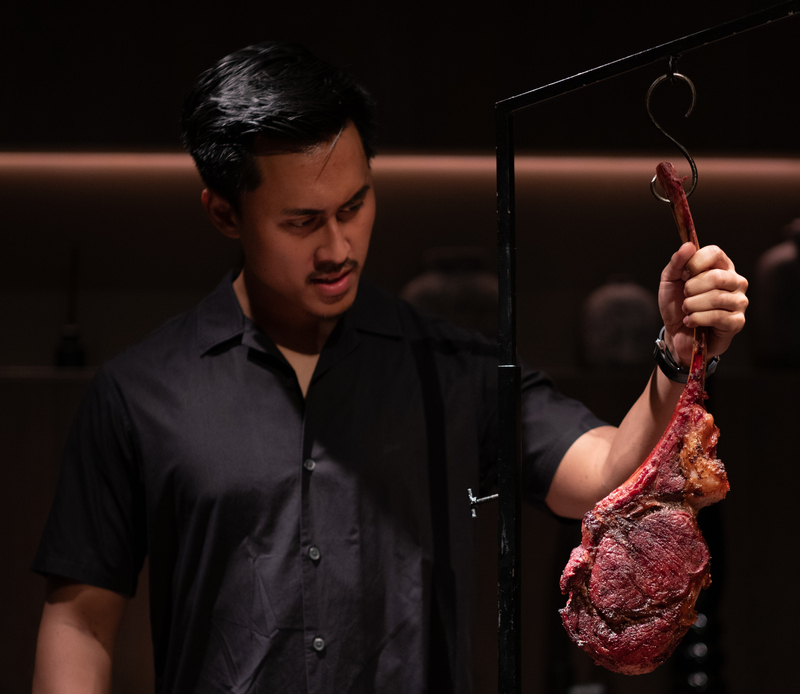 Meatguy Steakhouse serves more than just dishes on your plate. Every serving comes with a story.
Meatguy Steakhouse is known as the first Steakhouse in Indonesia that offers experience dining. Since it was first established in 2022, Meatguy Steakhouse has been the most sought-after steakhouse in Indonesia.
Meatguy was born upon Dimas' biggest dream of following his long-lived passion, cooking. Starting in 2014 as a self-taught meat enthusiast, Dimas is known as Dimsthemeatguy on social media.
With a broad selection of meats, Meatguy Steakhouse serves meats from the top three countries which produce the highest quality of meats; from US Prime Black Angus, Australian Wagyu Full Blood, to A5 Wagyu from Japan.
Catering to everyone's preference, Meatguy Steakhouse also produces its own dry-aged meats ranging from 30-day natural cuts to the 30-day experimental mix of dry-aged beef – they both are amazing!
The Maître D(s) are well-trained to tell the guests about their steaks. They know every cut and every detail about their meats. They love entertaining guests with shows. The show is mainly educational about meat treatments such as dry ageing or revealing their new additional exclusive meats.
Meatguy Steakhouse is open every day from 11am – 9pm.
For further information, please visit:
Address: Bintaro, South Tangerang

Telephone: (021) 5010 2860

Whatsapp: +62 812 5007 0094

Website:

www.meatguy.id
La Posta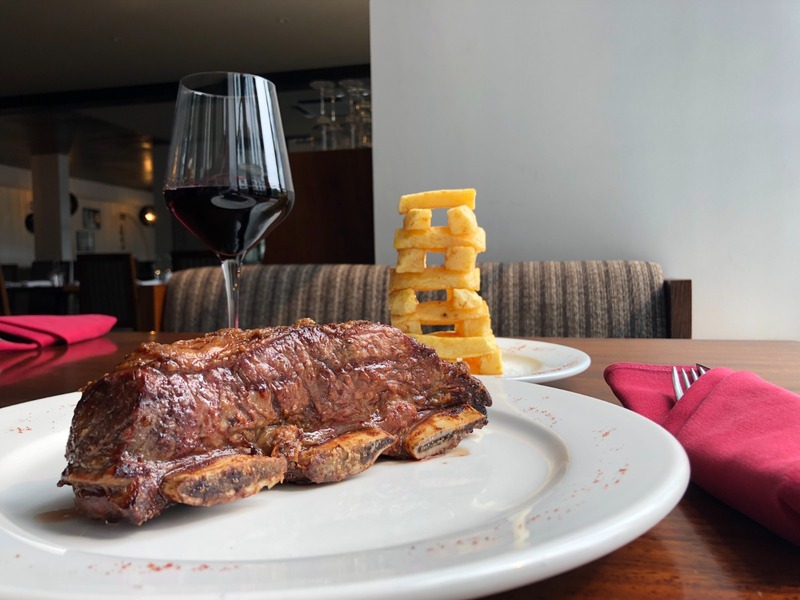 Taste Of Argentina is an upmarket steakhouse in the Sudirman area of Jakarta, specialising in North Argentine-style steak and wine.
The Argentineans are renowned for their meat culture, originating with the horse-riding cowboy – the "Gaucho" who would hunt and cook meat over an open fire. In La Posta, you will find lots of references to the iconic figure who made steak a cultural past-time in Argentina,
Signature steaks at La Posta include the salt-crusted beef ribs – "Asado," the sirloin strip – "Churrasco Salteño", and the flank steak – "Vacio," while pre-order dishes like the 5kg, slow-roasted suckling pig are the guests' favourite for special events.
Head Chef and co-owner Francisco (Chef Pancho) and his wife Katrina are the recognised faces in the restaurant, you will no doubt see them when you dine in as Chef Pancho is responsible for cleaning, trimming and preparing all the beef, while Katrina works hard to maintain their motto of warm and dependable service at the front of the house (Kat also does great Argentine desserts!)
Tuesday – Friday (excluding bank holidays) you can enjoy a fantastic set lunch for 120k++ that offers a variety of meat choices including homemade hamburgers and meatballs.
La Posta is open from Tuesday to Sunday for lunch and dinner. It is a non-smoking venue with a laid-back, unpretentious atmosphere that attracts both expats and Indonesians who want to enjoy authentic North Argentine steaks in a safe and welcoming environment.
Discover more at www.laposta.id or find La Posta on Instagram @laposta.id
Sudestada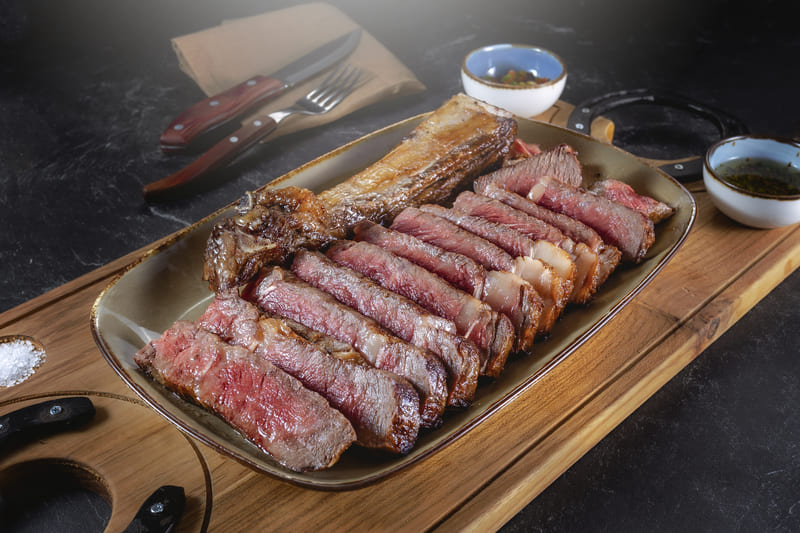 Sudestada Jakarta may be the quintessential hidden gem, tucked away in the back street of Jalan Thamrin. Opened in 2019, this Argentinian steakhouse helmed by chef-owner Chef Victor Taborda offers an honest menu with a strong Argentinian flair.
Chef Victor spent his childhood helping out in his father's steakhouse, where he thoroughly immersed himself in the concepts of Argentinian Asado – the art and technique of grilling meats on a parilla or grill. For Argentinians, the asado is not only a technique but a social gathering, where family and friends gather as the meat is grilled. This is the exact same social experience Chef Victor wants to give when diners come to Sudestada.
At Sudestada, the star of the show is the meats. Their signature steaks include the Chuleton, Rib Eye, and Striploin. All are cooked to perfection and served with refreshing Argentinian condiments of chimichurri and salsa criolla. They are some of the best steaks in Jakarta. Aside from their extraordinary meat selection, Sudestada offers a shared menu to give the guests an authentic Argentinian asado experience, where families gather around the table and feast together. Check out their house-made sausages, Matambre, Empanadas and Argentinian-style pizzas, all rounding out the Argentinian dining experience.
With the rich nuances of Argentinian asado and the relaxed atmosphere, Sudestada welcomes you. You come as a guest but leave an amigo.
Visit us at Jl. Irian No.18, RT.9/RW.5, Gondangdia, Menteng, Central Jakarta 10350
INFERNO THE GRILL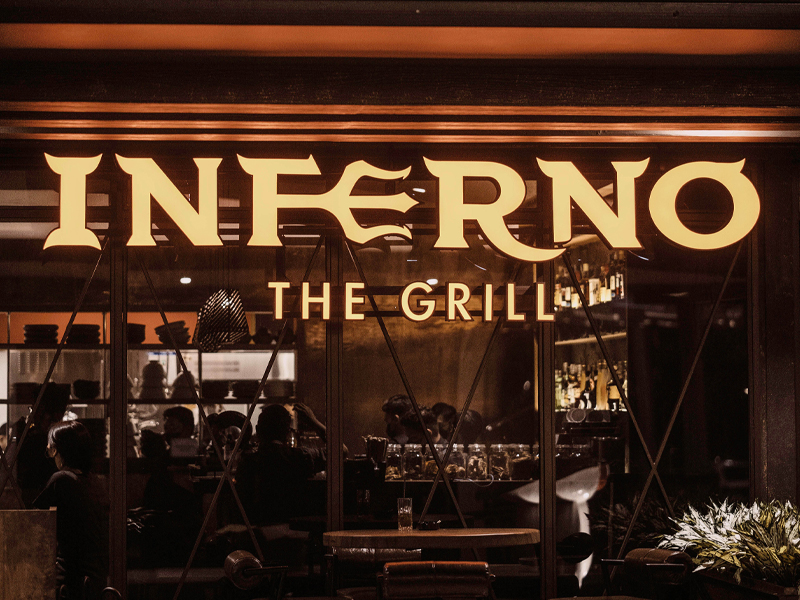 INFERNO THE GRILL is a grill house restaurant, which also provides steak, located on CBD, One Satrio, Jl. Prof. DR. Satrio Block 1 No.3, South Jakarta.
In Inferno, it's no secret that good quality ingredients are cooked on the grill. The menu is a combination of Italian and South American food artistry with an influence of Asia. It's a work of art created in collaboration between our resident chef, Chef Andres Felipe Gaibor, and Chef Patron Roberto Fiorini of Alba Group.
For more details about Inferno The Grill, you can find us at:
Address: CBD, One Satrio, Jl. Prof. DR. Satrio Block 1 No.3, South Jakarta
Instagram: @inferno.grill
RSVP: WhatsApp +62 813-8883-6696
Cutt & Grill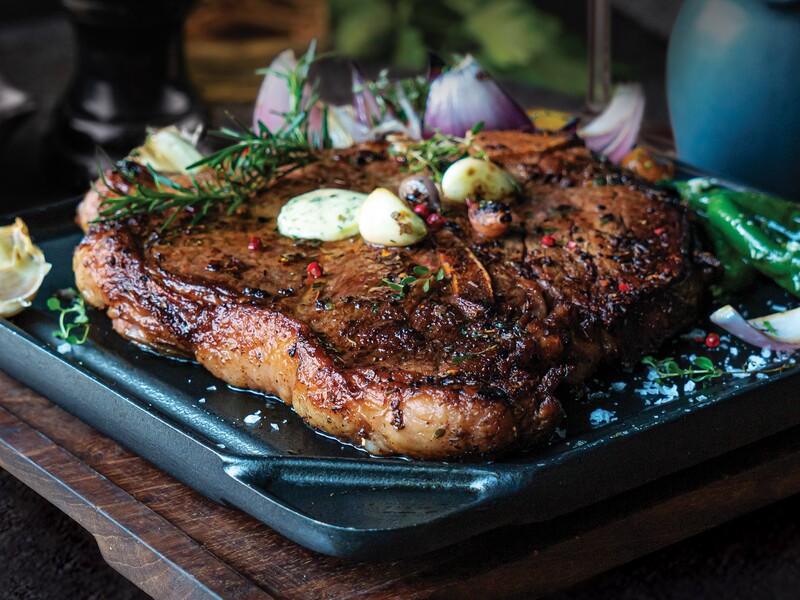 Mouthwatering steaks grilled to perfection at Cutt & Grill
There's something incredibly special about dining out and enjoying a steak meal with friends and family. It's more than just the food, it's a celebration! For those of you who enjoy a range of grilled meats and dishes created with that theme in mind, we implore you to check out Cutt & Grill to satisfy any of your carnivore cravings!
Cutt & Grill is a contemporary family steakhouse conceptualized by LDS Lifestyle Group, with outlets in Senopati, Tebet, Alam Sutera, BSD, and PIK 2. No matter where you are it shouldn't be too hard to find your way to one of their beautifully decorated branches.
What's unique about Cutt & Grill? They pride themselves on offering a range of high-quality meats across a range of price points, so there's truly something for everyone! From their range of Australian meats, to dry-aged USDA and everything in between! Not to mention their other signature specialities that take inspiration from around the world; such as their roasted bone marrow, chilled watermelon salad, wagyu burgers, hanging kebab, and delicious kinds of pasta. Attention to detail throughout is the defining difference in a steakhouse experience.
With a menu designed for sharing by our executive chef Kevin from Mauritius, let's get into the spirit of feasting with your loved ones! The team from Cutt & Grill can't wait for you to share great food and even better memories at Cutt & Grill.
For any more information on Cutt & Grill, kindly check out our website at https://www.lds-lifestyle.com/cutt-and-grill or follow us on Instagram @cuttandgrill.
Operational Hours:
Cutt & Grill Senopati
Sun – Thurs: 11.30 – 23.00
Fri – Sat: 11.30 – 00.00
Cutt & Grill Tebet
Sun – Thurs: 11.30 – 22.00
Fri – Sat: 11.30 – 23.00
Cutt & Grill Flavorbliss, Alam Sutera
Sun – Thurs: 11.30 – 22.00
Fri – Sat: 11.30 – 23.00
Cutt & Grill The Breeze, BSD
Meatsmith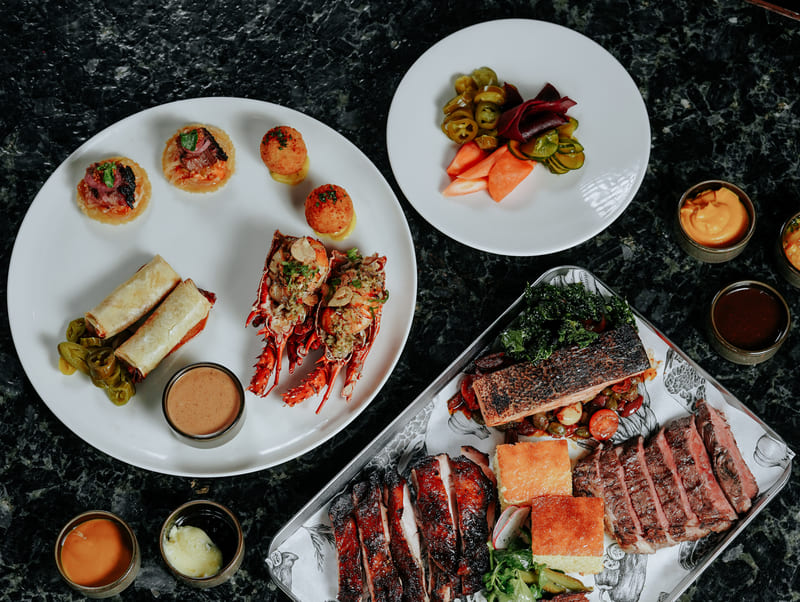 Conveniently located in the popular Gunawarman area in South Jakarta, Meatsmith is an American smokehouse with custom-built giant Southern Pride Smokers. It is also a brand that covers barbecue from all different aspects, ideologies, cultures, and flavours, all of which surround amazingly tasty wood-fired barbecued food. The food at Meatsmith reflects a casual, big flavoured and family-friendly style of eating.
The Garden Terrace on the ground floor provides guests with a relaxed outdoor ambience where guests can relax and have casual gatherings. The highlight of the Meatsmith garden terrace is the craft beer wall with a selection of local craft beers and international favourites on tap.
Meatsmith has also announced new additions to the menu, created by Culinary Director, Sebbie Kenyon and his team. The new menu offers guests dishes to feast on while enjoying an ice-cold craft beer, one of the Meatsmith signature cocktails or a glass of wine. Expect to see dishes such as Dry-Aged Porterhouse using USDA Prime Beef, Brisket Tacos, Smoked Chicken Flatbread, and Surf & Turf, which not only includes lobster and steak but also salmon.
Combined with our casual, friendly service and professional expertise, Meatsmith creates a vibrant environment and experience to dine at, leaving guests longing to come back for more.
Location: Jl. Gunawarman No.17, Selong, Kec. Kby. Baru, Kota Jakarta Selatan, Daerah Khusus Ibukota Jakarta 1211