Our expert epicure continues an undercover operation to bring you the truth about Jakarta's dining scene. No spoon is left unturned in the quest for honest, balanced reviews, from long-established favourites to the hottest new tables in town.
This month, the inexorably exotic E&O. 
What's in a name? That which we call a restaurant should, by any other name, taste as good. What, then, does globe-trotting boy wonder Will Meyrick's appellation do for his Jakarta gaff, E&O? Regular readers will know I recently reviewed another of the Union Group's Jakarta joints, Loewy, and it fared about as well as Juliet. Time to see whether their collaboration with the Street Food Chef lives up to the lasting popularity of his Bali efforts (Mamasan and Sarong).
On the subject of names, 'Eastern and Oriental' is that of a hotel established in Penang in the 1880s: thus are we instantly transported to the golden age of travel – a time when Noel Coward wasn't a hipster cocktail name but an artist on a tropical sojourn. I should think the original E&O probably had comfier chairs than this restaurant. But anyway, eventually it became part of a chain in which sister hotels included the fabled Raffles Singapore. So far, so Southeast Asian.
This is where Meyrick comes in. A wee Scottish scamp, he travailed in a few London kitchens before skipping off on a jaunt around the world, munching his way through Indochina. He settled for a spell in Sydney where he found favour with a few mostly Thai restaurants, before deciding more permanently on Indonesia. E&O's menu has gone through a couple of guises since its 2013 opening: the website currently proclaims Thai-Vietnamese, but there's more to it than that.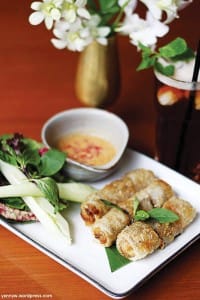 We started with a classic Vietnamese snack; Hanoi nem (spring rolls, Rp.40,000). Potentially a boring order unless you're actually in Hanoi, but our first choice, Thai fishcakes, was sadly kosong – just about to forgivable, as it was after Ramadan. The nems' rice paper was a little chewy and the fresh herbs on the side could have been a little more abundant, but the flavours were there, particularly in the authentic nuoc cham, and they were enjoyable overall.
An important dish to get right if you're doing Thai is som tum. This green mango salad (Rp.50,000) should be sour, spicy, salty and sweet – the balance of these elements is everything in Thai (and Vietnamese) cooking. I could have done with a little more spice, but this wasn't a major issue. The mango was suitably soft, and every key ingredient was present, from peanuts to dried shrimp.
The Massaman Lamb Curry (Rp.180,000) was a triumph. This is a lesser-known Southern Thai classic usually favoured by Muslim communities, starring flavours more readily found in subcontinental dishes: cinnamon, tamarind and cardamom, in this version. The lamb shanks were big and beautifully braised, lovingly enveloped by the stewed-down pumpkin in the rich, robust sauce. I could have eaten this for days: a thing of delight, and easily one of the best curries I've had in Jakarta.
To go with this, a side order of roti canai (Rp.45,000) is to be encouraged. This one was perhaps a tad undercooked, but the flakiness was good and you can't beat it for mopping up Massaman sauce.
For our other main we strayed from the Thai-Vietnamese canon to Balinese Pepes (Rp.150,000), a firm, dense barramundi fillet marinated and steamed in banana leaves. You could pick out the appropriate bumbu in the dish: candlenut, daun, lemongrass in the sambal matah, etc – again, we could have coped with a little more spice (and this along with the som tum are supposed to be the menu's spiciest choices) but the flavours were lively on the palate. Have this with simple jasmine rice (Rp.15,000).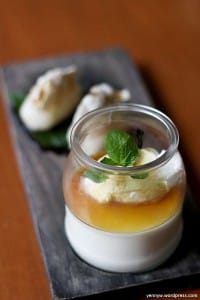 Unusually for me, I must wax lyrical about the desserts. This oft-maligned course can suffer from either a lack of attention, or too much – at the expense of the real food. Meyrick has struck the perfect balance: imaginative, but also well-executed.
Peanut Butter Palm Sugar Ice Cream (Rp.50,000) was like a sexed-up, adult-sized Reese's cup: topped with chocolate and homemade honeycomb pieces, it was a naughty plus-sized joy.
Shame-eat the lot and torture yourself in the gym later. The Mocha Cappuccino Ganache (Rp.65,000) also came with a big slab of honeycomb; the creamy coconut ice cream topped with coffee granita was the best bit.
To go with your repast at E&O, it's surely got to be a selection from their extremely well-stocked bar. They do some of the best cocktails in town: creative and unusual, and not just for the sake of it, but because it actually tastes good. Go classic with a Hemingway Daquiri, or 'Signature' with a lychee Lady Butterfly. Wine-wise, you need off-dry with the spice – maybe a Trimbach Riesling. I cannot however, for the life of me, understand the beer menu. Heineken and Erdinger, really?! Decent enough beers – but is that the best they can do in an eastern-themed restaurant? Where's the Singha, or the Bia Ha Noi? Even Bintang would have been welcome.
Though not quite at Ramsay-esque levels of celeb-chefdom, clearly Meyrick is not able to cook here daily (he's got gallivanting to do, you understand). But on the day we visited, the kitchen mostly pulled it off. Service is marginally better than the usual brand of slightly useless, and the food is great value for money. All in all? Pleasing to see Meyrick's name is not just there as a crowd-magnet, but that it does in fact equate to the best option for upmarket Thai and pan-Southeast Asian in the city.