The seasoned traveller and street food chef of Mama San, Sarong, Hujan Locale, and the soon-to-open Tiger Palm brings an eclectic mix of traditional and uber urban to his popular venues. He talks to us about his interest in the Asian cuisine culture inspired him to open his restaurants.
You are originally Scottish but born in Portugal. Tell me about your background.
My parents lived in Beirut before the war, where they had my brother and sister. Then they moved to Peru, then Portugal where I was born. After that, we moved to Italy. My father then moved to Spain and I moved to Scotland with mum. I was very used to the expat lifestyle; that's why it's never been hard for me to live in any part of the world as I do now. I left Europe when I was 21 years old and went to the US before travelling around Asia. I moved and worked in Australia for a while before coming back to Asia.
What inspired you to become a chef and subsequently a creator of unique restaurants?
I started learning cooking not because of passion; I just had to find a career, since I was not very academic. I tried cooking, and I had to prove to people than I could do it. But then, when I was travelling around Asia I fell in love with the culture, and the food. What I see in Asia's cuisine culture is what inspired me to open my restaurants. With the collaboration between my business partners and me, we try our best to introduce Asia's cultures through our food and venues.
Explain how street food brings us closer to the true cuisine of an area.
The streets and villages are the places where you can find authenticity. Most of these people got their recipes from their families, from generation to generation. I do add little tweaks to the dishes, especially the way we serve it, which is inevitable. However, my goal is to keep the taste authentic and introduce it to a wider audience.
Your travels have taken you all over Asia; Southeast Asia in particular. When did you decide to make Bali your home?
It was when I started Sarong eight years ago. At the time, I already had my beautiful family and Sarong completed my life.
After the success of Sarong, you opened Mama San in Bali. Can you tell us about the differences in concepts for each venue, and what influenced them?
Each of the restaurants I manage has a different concept. While Sarong is more of a fine dining restaurant highlighting Indian and Thai dishes, Mama San is a little bit more casual, highlighting Vietnamese and Chinese dishes. Hujan Locale in Ubud specializes in Indonesian dishes, and the new Tiger Palm serves Malaysian dishes: Kopitiam-style breakfast, all-day lunch, and dinner.
In your travels to Burma you wrote, "The purity of the Burmese spirit is what comes through the strongest". Did it remind you of your early days in Bali?
When I started my life in Bali in 2006, it was a lot simpler; a lot more tranquil. Cultural activities were visible everywhere without having to look for it. But comparing it to Burma, I think Bali had been more modernized at the time already; more vibrant with a lot of western influences.
Tell us about the amazing floating gardens on Inle Lake in Burma.
I admire how the farmers there grow their vegetables. They use water hyacinth, which are secured in position using bamboo poles. Topped with mud from the bottom of the lake, the mixture becomes a fertile floating flatbed to grow tomatoes, gourds, cucumbers and other vegetables. I really hope this system survives the 'attack' of pesticide use, which I hear has already begun.
How does a chef's connection to the land and the sea influence the way he approaches his work?
When a chef knows where the ingredients he uses comes from – how the farmers grow them, how the fishermen catch the fish and understand the people and their cultures – then he knows what he cooks, and how he's supposed to cook the dishes. Food is not only about cooking and serving it on a table; it's about heritage and culture.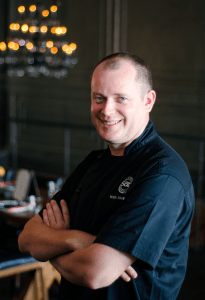 Do you see the sourcing of high quality produce from local growers turning into a requisite for fine dining as well as a booming trade at all levels? How are Bali and Lombok contributing to this trend?
It is turning into a trend indeed. I really see it as a positive move and it will do nothing but help local communities in creating sustainable farming, even though I don't see that most business practitioners actually try to do more than just use the trend as a marketing gimmick. Bali and Lombok have a lot of resources that are not yet industrialized – these places can be a good start to support the move.
In all your travels what food experiences stand out in your memory?
One of the most memorable food experiences was when I visited Manado and I ate bats and rats. It was OK, but those dishes were definitely not my favourites.
Has your stellar career made it more difficult to slow down to the simplicity you respect so much, where life is only about dealing with the necessities?
I consider myself a realistic person. By default, I do things the simplest way possible, but then 'necessities' change according to your roles and responsibilities. In my case, the business needs me to move fast and I follow the stream.
As a father, and with your accumulated knowledge of agriculture and aquaculture, what are your hopes for the future of foods when your children are adults?
I'd like to see food as a culture, which develops sustainability within communities through well-managed boutique farming that can empower the people and strengthen their quality of life – like what I am trying to support through my restaurants.
What cookbooks have you published?
I've published Sarong Inspirations, which is now going for its third print edition. Next year, the plan is to write some regionally-focused cookbooks.
What is your latest venture?
We are opening Tiger Palm at The Village in Seminyak this month. The next step is to develop cooking class programmes involving learning the Balinese cuisine culture from locals in their villages.
Thank you, Will Meyrick!