UPDATE / THIS PLACE HAS CLOSED
Tapas Movida Cipete is going through some changes and it is all about the menu! After opening a branch in CITOS Mall with the original more casual menu, Spanish-British executive chef and owner, Manuel Verdaguer, has decided to get back behind the oven and let his imagination go wild to create a gourmet menu more attentive to details, presentation and combination of flavours. 
Tapas Movida is one of the few restaurants featuring Spanish tapas established that far south in the city, and is well known amongst the residents of Cipete and Cilandak. The tapas restaurant opened its doors in 2011 with the goal of offering Spain's most famous delicacies, tapas, to Jakartans. Tapas is the Spanish word for appetizer and is some sort of equivalent to the Indonesian Padang; small portion meals. It is designed to be shared and encourage conversation around the table.
If the tapas concept remains, the original Cipete branch is stepping up its game to offer a more upscale gourmet menu, with more researched taste combinations and fine presentations. In order to do so, chef Verdaguer has decided to get back in the kitchen and get in the full creative mode. Indonesia Expat was invited to have an avant-goût of his new creations and even if it is still on the working board, we were particularly pleased with the huevos rotos, poached egg with chorizo, baked potatoes, fresh greens, cherry tomatoes, red pepper sauce and churros ice cream sandwich with chocolate sauce. The new menu will be revealed later this month. But don't worry, the good old classics will remain, such as albandigas con salsa de tomato picante (meatballs in spicy tomato sauce) or Palla de marisco (Spanish rice with seafood).
Along with a reinvented new menu, Tapas Movida is also launching Latino Night starting October 10th. Just in time to practice for the annual Latin Ball! Beginner salsa lessons will start at 7.30pm until 8.30pm, followed by a social dancing evening of salsa, bachata, merengue, reggaeton, with a live DJ.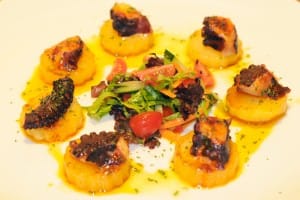 Also taking advantage of his British heritage, the chef has also launched a good old full English breakfast menu, including English bacon and sausages, hash brown potatoes and black pudding, of course, with a Spanish touch, featuring authentic Spanish cheese.
Chef Verdaguer was born in Spain and grew up in England. Before moving to Indonesia in 2007, he worked in several Michelin stars restaurants and hotels in the UK, such as Café Royal, High Park Corner and Grosvenor Hotel.
Tapas Movida Website: www.tapasmovida.co.id
Jl. Cipete Raya no. 66, South Jakarta
Email: [email protected]
Tel: 021 751 0851