Sandwiches can be extremely subjective. One man's tuna trash is another's turkey treasure. To avoid coming to blows over butties, certain principles can be applied to ensure sarnie satisfaction: freshness of ingredients. Quality of source. Yumminess of bread. Adequate bread-to-filling ratios. These things can make or break your lunchtime. Brown Bag in Kemang knows this well – and aims to score high on all counts.
Brown Bag's location is a little bit like its moniker – a bit of a surprise, all packaged up and hidden in the back of Plaza Adorama on Jl. Kemang Raya. You wouldn't necessarily know it was there, were it not for a few signs on the front doors of the mini-mall. But since the separate, enclosed smoking section at the front of the building (with windows looking out) was opened a couple of months ago, foot traffic to the original, cosy, smoke-free café upstairs has increased.
The first incarnation of Brown Bag was Glory Jeans Coffee, a franchise the Gunawan family (who own Plaza Adorama) operated in their mini mall starting in 2004. Running this operation convinced the family there was demand in the area for freshly-made, delicious sandwiches to go with the decent coffee one family member learned about whilst studying in Perth. Thus the family opened Sandwich Club, which eventually morphed into Brown Bag Kemang in late 2013. The sister location in Menteng has been open longer, since 2010, and has a slightly different emphasis – on breakfasts to go with coffee for the local office crowds.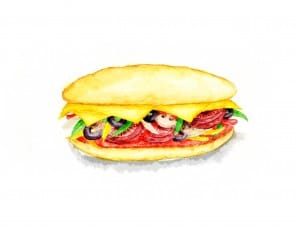 We visited the Kemang location on a Friday lunchtime – one of their busiest times. The space is small but comfortable, with exposed brick and large sofas to recline on. The showpiece on the baristas' bar is their prized Lamazoto espresso machine from Italy, which works overtime churning out a high standard of coffee.
Brown Bag have their own coffee bean roasting stations, which interestingly are matched to their locations. The northern Jakarta one, serving the Menteng location, makes a stronger coffee more suited to local tastes, whereas for expat-heavy Kemang, the southern roaster makes a fruitier, sweeter taste out of their mix of Javanese and international beans. They sell bags of their coffee too for Rp.100,000, for those who want to take the taste home.
The menu here stretches from breakfast to lunch to dinner, with some hot main meal choices that can be enjoyed at any time. But of course, the focus here is sandwiches – so that's what we homed in on.
The beauty of Brown Bag is that you can choose your bread. They humbly suggest the best option, in their opinion – but you are free to differ. You can also request it to be toasted or untoasted. We took them as they come: the Tuna Swiss Sandwich (Rp.56,000) came on black pepper and onion bread, which was slightly crispy when toasted. The taste of the tuna and the Swiss cheese together was spot on for any sub, and certainly hit the spot.
The Veg All Out (Rp.48,000) is not kidding – it is choc-a-bloc packed with perfectly-cooked veggies: mushroom, sundried tomato, olive, pepper and onion, all smothered in tomato sauce and melted cheese on a toasted-flat focaccia.
Even for a committed carnivore such as myself, this sarnie has enough going on to make you forget all about the likes of bacon or chicken (but if you really can't, the establishment recommends its Club Sandwich at Rp.68,000 – a popular classic).
I was impressed with their freshly-squeezed juices. You can create your own, or order one of their concoctions, with guava as one of the fruits available. They exclusively use imported navel oranges because they provide a sweeter, juicier squeeze. This was a nice fresh start to our meal.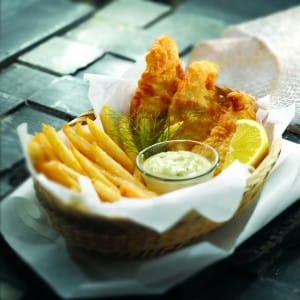 Alongside the sandwiches we also sampled the vegetable spring rolls (Rp.38,000) which were very reasonably priced for a fairly big portion of long, stuffed rolls – and the veggies inside were tasty. We also chose the fish and chips (Rp.70,000), to try one of their popular hot main courses. We were pleasantly surprised: they had folded over the dory fish inside to make for a rounder, more goujon-shaped wedge encased in a light beer batter, which wasn't too crispy or too soft. This was with chunky chips and a decent tartare sauce – overall, quite satisfying.
An alternative hot choice is their roast chicken, a simple dish that has found many fans in the Kemang location. Otherwise, the kitchen serves up a comprehensive selection of pastas, from lasagne to carbonara, for which the sauces are made offsite.
We couldn't leave without a coffee, and the straight-up cappuccino is pretty good. They could perhaps consider offering skim or soy milk, just to up the ante over their many competitors in the local area. My companion tried the rather special Javanese tea, which came with a custom-made teapot and cups, rock sugar and a very delicate flavour.
Finally, we caved and ordered a chocolate brownie for a sweet ending. Although a little more cake-like than brownie-like, it was served with a little fresh strawberry and some good vanilla ice-cream, and went down with no complaints.
What would I go back for? Definitely the coffee and the sandwiches. I'd like to see Brown Bag round out and differentiate their offering with some really special homemade muffins to go with that morning caffeine craving. I also suspect they could further live up to their name, corner more of the local market—and even overcome the very slight disadvantage of their somewhat hidden location—by becoming the best coffee-and-sandwiches delivery service in Kemang. Now, that'd be something even the staunchest of sandwich enemies could agree on!
—
Brown Bag
Plaza Adorama, Lantai 2, Jl. Kemang Raya No. 17, Kemang, Jakarta 12730
+62 (0) 21 7181010
Menteng Central, Ground Floor, Jl. H.O.S. Cokroaminoto No. 78-80, Jakarta 10350
+62 (0) 21 230 5000