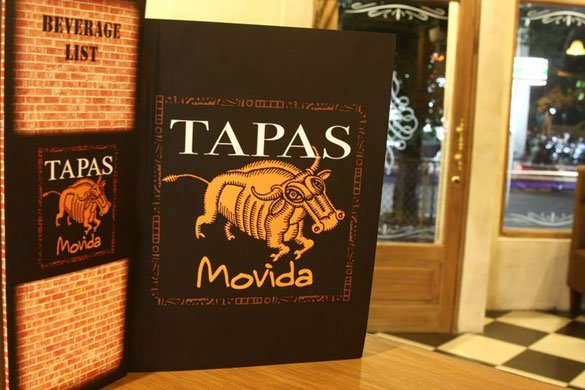 Tapas are appetisers or snacks that make up a wonderful part of Spanish culture and cuisine. The smaller portions enable you to taste a variety of dishes without over ordering or over eating; I like to think of it as a conveniently located miniature buffet. Tapas are designed to encourage conversation by allowing diners to focus less on the process of eating and more on the company around you. Although it is placed under the starters section, this does not mean you can't fill your belly's worth – just order more!
Tapas Movida is a Spanish restaurant in Cipete that "aims to be Little Spain in Jakarta". Tapas Movida is not boisterous or flashy. It offers traditional Spanish cuisine, Mediterranean and Atlantic, in a modest set up. The walls are refined concrete or exposed red brick. Paintings of traditional Spanish dance, lipstick red napkins and candles melted atop wine bottles on tabletops bring pops of vibrant colours without screaming too loud. A masculine touch displays support to football in the form of jerseys and paraphernalia at the end of the bar. Outside has banquets that are multifunctional serving as art and seating; mosaic inspired by Gaudi.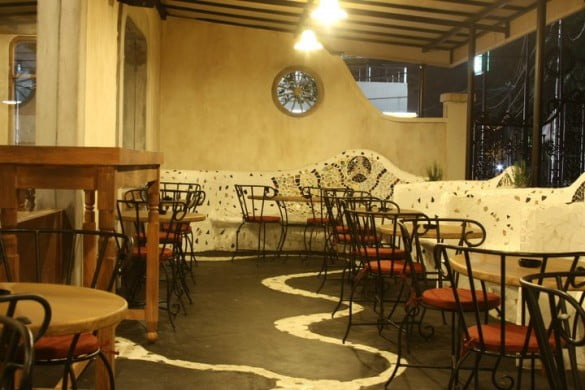 Karina Harton, Marketing, helped explain the menu and quantity we should order. We picked the must haves to our taste, Ensalada Tomato and Pollo a la Vasca, whilst the rest was chosen for us. I think tomato salads are a good way to judge a restaurant. Tomato salads are simple- few ingredients but need attention to detail for the wow factor. Fresh ingredients are a must; ripe tomatoes are the heart of the dish, seasoned well with high quality olive oil and fresh herbs. The Ensalada Tomato was delicious and ticked all the boxes for a good tomato salad. The tomatoes were soft but firm and seasoned well with rock salt, freshly cracked black pepper, extra virgin olive oil, finely chopped herbs and onion. The Brocheta de guacamole y gambas ajillo was tasty with well matched ingredients. The guacamole with sweet corn spread across a lightly toasted slice of baguette tempered the fresh sliced red chilli sprinkled on top of plump shrimp. Montadito de solomillo had a medium rare tenderloin well rested and lightly seasoned which enabled the other flavours, blue cheese, green olive and caramelised onions, to complete the open sandwich's flavour. The Gambas ajillo came with fresh crunchy baguette. The sauce was lovely. Real butter was used with garlic, parsley and sliced red chillies. Depth of flavour was gained by either the use of white wine or sherry. The shrimp was cooked well and remained firm. The Pollo a la Vasca had superb chicken. The flavourful chicken was so tender it literally fell off the bone. The acidity from the tomato based sauce went perfectly with the rich potato gratin. Sliced green peppers in the sauce offered freshness.
After our meal we had Sangria which was yummy and a must have if you come here! It tasted similar to mulled wine. Erna, our waitress was friendly and knew what she was talking about when I asked her about information regarding the dishes and recommendations; her personal favourite is the Championes al ajillo. Although the Paella is recommended and synonymous with Spanish cuisine, it was too large of a portion for us to order. Other recommended dishes include Jammon iberico and Pancetta asad. If you get confused as to what to order you can also find some recommendations from the previous patron's comments that are written on the wall in front of the restrooms. Tapas Movida is on the pricier end but makes sense as the ingredients used, such as cheese and cold cuts, are rather expensive ingredients to source in Indonesia.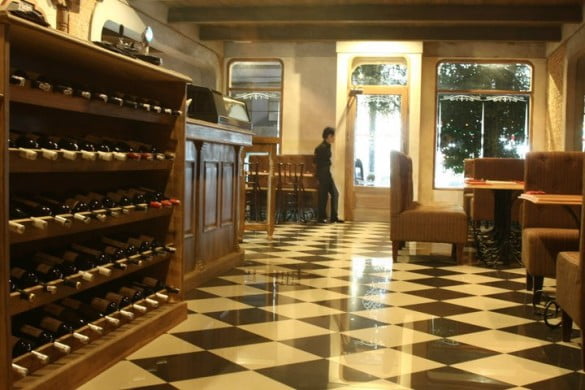 Tapas Movida is doing a Valentine's Day Special Set Menu, bookings are essential. You can choose one option for each course. Starters: Chicken liver parfait, red onion marmalade and toasted sour dough or seared scallops with mango and melon salsa or three freshly shucked oysters with ginger and chilli (Rp.50,000 supplement). Soup: Celeriac and apple with toasted walnuts or white onion and garlic with parmesan croutons. Mains: Chicken roulade with mushroom, chilli and ginger with steamed rice or roast salmon with red pepper and black olive tortellini with tomato coulis. Desserts: Banana and chocolate cheesecake with nut brittle or sticky toffee pudding with toasted pecans. This is priced at Rp.250,000++ per person and includes a glass of house wine or a mocktail.
Happy hour is available on weekdays, 3pm-6pm: Buy one, get one for beer and sangria. On Sundays, every purchase of a jug of sangria entitles you to free Paella. Vegetarian and gluten free dishes are available on request.
Tapas Movida
Jl. Cipete Raya 66
Reservations: +62 21 7510851
Opening times: 9am-6pm Weekdays and 9-am-12am Weekends
http://www.tapasmovida.co.id