This September, Ovolo Hotels launches 'Mese Del Negroni', a Month-long Celebration of Negronis.
Ovolo Hotels has partnered with the World's Best Bars to launch the 'Mese Del Negroni' for the entire month of September – offering premium Negronis.
From The Clumsies in Athens to Tropic City in Bangkok and Locale Firenze in Florence, plus more, the best bartenders have placed their spin on the Negroni, creating new takes on the classic to enjoy across Ovolo Hotels.
There's no doubt all true Negroni lovers will want to try one of each, so sink in and sip your way through the signature list this September.
Available at all Ovolo Hotels, including Mamaka by Ovolo, Bali at Street32 and its premier rooftop pool club, Kuta Social Club for Rp150,000 nett each – only for the whole month of September!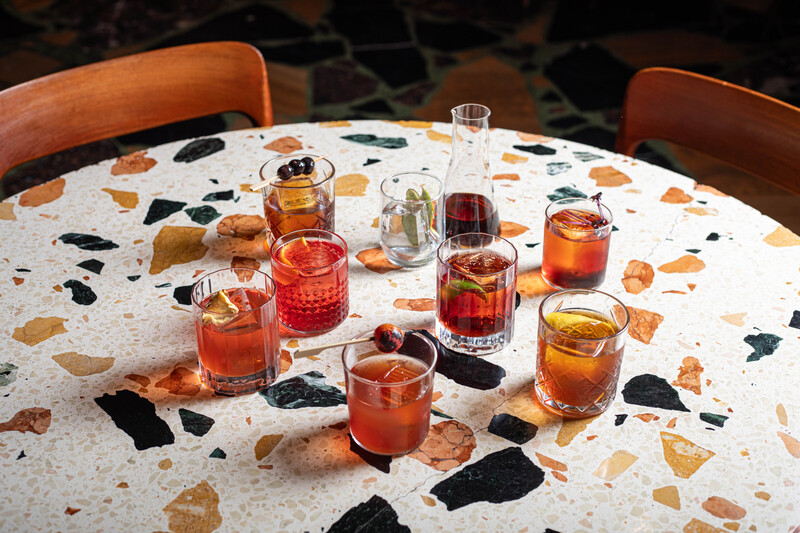 The Negroni lineup includes:
The Clumsies, Athens #19 Bar – #clumsienegroni
A Negroni that is true to The Clumsies and a tribute to Greek aromas and herbs. It's tense to taste and feels boozy, but it's oh-so perfectly aromatic.
Baba Au Rum, Athens #20 Bar – The Buccaneer's Negroni
A woody and aromatic take on the classic, switching gin with a soft rum from Guyana, with notes of Vetiver, grated tonka bean on the top and a zest of lime.
Tropic City, Bangkok #24 Bar – A Tropical Negroni
A Negroni with a tropical touch – what's better than pineapple and coconut? These two fruits represent Thailand better than anything else, with both flavours marrying together like a quick barrel ageing.
Side Car India, New Delhi #26 Bar – Himalayan Negroni
A hat-tip to the ethos of Side Car India. Attention to homegrown produce and craft spirits is the reason for using Hapusa – a delightful Himalayan dry gin sparkling with botanicals sourced from the hills.
The Wise King, Hong Kong #34 Bar (#1 Bar in Asia) – Brulée Negroni
Spiced Gin is expertly mixed with Americano Bianco, Vermouth, and Aveze Gentian with a dash of chocolate to create the perfect Christmas-inspired Negroni.
Locale Firenze, Florence #39 Bar – Caterina's Elixir
Draws inspiration from an angel holding wine and an artichoke, symbolising the family's motto "Wine will give us hope."
Galaxy Bar, Dubai #45 Bar – Scorpius Negroni
One of Galaxy Bar's brightest cocktail stars, shining bright since its very beginning, with a twist to the classic.
28 Hong Kong Street, Singapore #55 Bar – Black Forest Negroni
Inspired by the Black Forest Cake from the Black Forest in Germany.
Book now and feast on the Negronis via the WhatsApp link.