Will Meyrick's name is now almost synonymous with the emergent Indonesian dining scene, with an ever-growing list of restaurants and accolades, from Sarong to MamaSan; Seminyak to Kuningan. He's known for riffing on a Southeast Asian theme, but for me, the Meyrick hallmarks are simple: quality, flavour, and creativity.
Safe to say, then, that Hujan Locale is the natural progression of the Street Food Chef's restaurants. For some time prior to this project, Meyrick had been making a point of sourcing his ingredients from local providers as much as possible. It follows then that Hujan Locale should pop up in Ubud, Indonesia's spiritual zenith and health-food haven, where you can barely make it across a broken pavement without tripping over a raw-food, ethically-sourced vegan cafe. Reflecting this ethos, Meyrick helpfully points out the vegetarian, gluten- and nut-free dishes on his menu.
The restaurant is in an old, high-ceilinged house, overlooking a beautiful, typically Balinese courtyard next door. Indochine-chic complements the cool-grey walls, and a lovely breeze passes through the windows of the top floor space.
As we sipped a few of the bartender's more inventive cocktails – another Meyrick trademark – the man himself popped over to recommend a few dishes. Whereas MamaSan and E&O are unmistakeably pan-Asian, Hujan 'Locale' keeps it quite literal. "It's different to our other restaurants," Meyrick says, "in fact we're changing the menu up to become even more Indonesian and Balinese."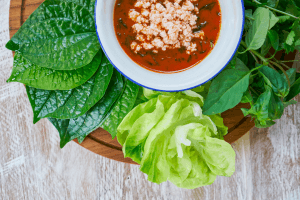 Indeed there are some real synergies between Balinese cuisine and that of Thailand and Vietnam, as Meyrick's dishes often demonstrate. Lots of Indonesian food is fairly sweet and rich, but in the tropical paradise that is Bali, these flavours give way to salty, sour, and fragrant elements, courtesy of herbs, galangal and lemongrass – just as they do in the salads and soups of Indochina.
Exhibit A was some superb local squid, crispy with rice flour on the outside but soft in the middle, in a spicy salad of julienned ginger flower and crisp-fried Thai basil leaves. Herbs play a big role in Meyrick concoctions, and at Hujan Locale these are fresh from the kitchen garden. The ginger flower was refreshingly different, and overall this was a salad that packed a real punch, especially with its accompanying chilli jam. So too did the Tuna Tartare with watermelon and sliced banana flower. Generous chunks of spankingly fresh fish were perfectly complemented by the sweet, juicy watermelon. Two delicious, light starters to begin with.
What, I ask you, is a meal in Bali without the wonder that is pork? Babi 'genyol' was Meyrick's take on this classic: slices of pork belly stewed in a soup-like sauce fragrant with turmeric was the main attraction, but it was almost overshadowed by its accompaniments: great homemade Balinese 'urutan' sausage, and fantastic 'krupuk' made from farm-to-table pig's ears. They boil the ears first, then dry and deep fry them really hot, to make a brilliantly crunchy and obsessively moreish snack: Bali's answer to pork scratchings.
Next up was Sulawesi barramundi with sambal dabu dabu, which, I discovered, is also from Sulawesi and firmly my new favourite sambal; made with sour onions and green tomatoes. The fish was baked in a salt crust, a Mediterranean technique which locks the moisture in and results in soft, flaky flesh – a real star dish.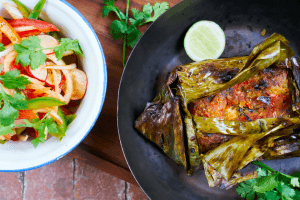 Finally, the Balinese speciality of 'betutu' – usually with duck – was given the Meyrick treatment. A generous portion of chicken was cooked in the traditional way: in lots of bumbu (a spice paste with kencur), underneath rice husks in the backyard overnight. The meat was very soft, and the dense, distinctly Balinese flavours danced around the palate.
It is imperative to leave room for something sweet at a Meyrick restaurant – his are some of the most innovative and straight-up debauched desserts I've had in the archipelago. There's also a whiff of nostalgia about them. Take the Ovaltine parfait for example – which managed to taste both exactly like Ovaltine and much, much better – or perhaps decadent chocolate cake with brilliant peanut butter ice cream. Finally, a real winner was the lemongrass panna cotta. I've had lots of interesting variations on this creamy Italian dish in Indonesia from chefs who think they're being clever. But this one did not disappoint – refreshing, and just wobbly enough.
The wine list is out of the ordinary, and happily, some of the better bottles are offered by the glass, including a delicious, mineral-y Grüner Veltiner from Austria. The restaurant is a great spot for a relaxed lunch. Hide here, out of the heat from the midday sun, and while away a few hours in between unbelievable Ubud shopping sprees. Equally, the well-stocked bar and cool atmosphere promises just as much fun for a night of cocktails, as you share a few dishes with friends and soak up the unmistakeable atmosphere of this unique town.
The clincher? I almost forgot all about the 'conscious eating' angle, embarrassingly enough. Hujan Locale is such a class act, it could have been peddled by the nefarious golden arches of McDonalds and I wouldn't care. So by all means, choose this restaurant because it sources from local suppliers and treats them well – you'd be right to do so. But I'm a simple soul. I'll go back because it tastes so darn good.
Hujan Locale
Jl. Sri Wedari No.5, Ubud, Gianyar, Bali 80571
+62 (0) 361 8493092