To welcome the Year of the Rabbit, Fairmont Jakarta unveils a wealth of delightful experiences and enticing treats to share good fortune and blessings with loved ones.
In Chinese culture, the rabbit is known to be the luckiest of all the twelve animals in the Chinese Zodiac. Centred in the prestigious address in the heart of Jakarta, the glamourous Hotel is ready to bring in heart-warming feasts, beautiful décor, and lavish soirees.
"As Chinese New Year lights up the city in shades of red and gold, it's the perfect time to present the vibrant Chinese culinary delights for the most anticipated family and friend reunions. Whether you are in for new flavours, enjoy a classic recipe with a new twist, or surprise your loved ones with a delightful meal, we want you to have an abundance of joy during this festivity," said Executive Chef Hamish Lindsay.
To mark this special occasion, the Hotel will present a vibrant lion dance performance in Fairmont Jakarta. It is believed that the lions could bring the blessing of good things if they approach during the Chinese New Year's season. After the eye-dotting ceremony in the main lobby, the lions will go to the restaurants to greet the guests during Chinese New Year's Eve dinner and Chinese New Year's Day lunch.
ORIENTAL AFTERNOON TEA AT PEACOCK LOUNGE
Elegant and welcoming, the light-filled Peacock Lounge combines a delightful dining experience with live entertainment to ring in the New Year. From 16th to 31st January 2023, guests are invited to share indulgent Oriental-themed Afternoon Tea inspired by the Year of the Rabbit in a stunning setting, glowing with traditional colours and warmth.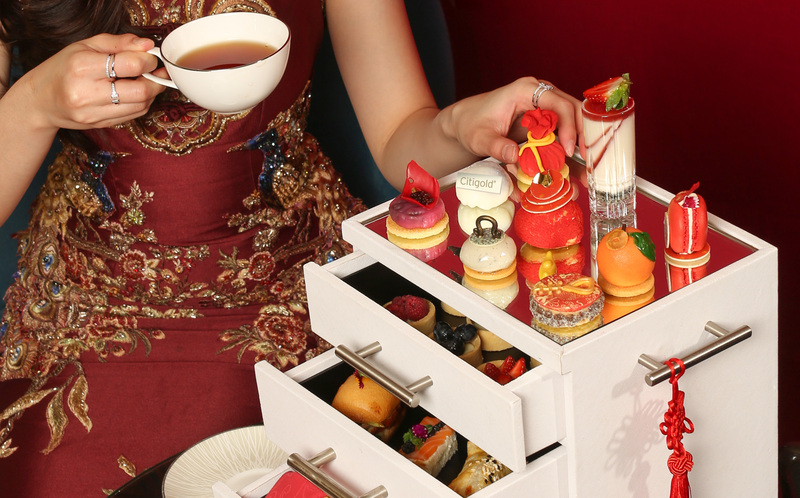 Explore vibrant flavours that capture the authentic spirit of celebrations with savoury dishes, such as Hunan Lobster Fruit Salad, Hoisin Duck Szechuan Bun, Honey Glazed Carshiew Puff, and Cured Salmon Sandwich. The sweet selection brims with fresh and festive flavours, from a Mandarin Orange Cake, Almond Cookies, Black Sesame Cheesecake, Raspberry Choux, Red Bean Mochi, Blueberry Snow, Lychee Strawberry Vacherin, and Strawberry Banana in the shape of a money bag. Guests can also savour teatime classics such as warm scones with clotted cream and jam. This remarkable repertoire of savouries and sweets is complemented by Chinese tea or coffee.
Amidst the beautiful Oriental-themed decoration, the traditional Chinese instrument Guzheng performance and the fortune teller will be available every day to set this stylish Lunar New Year celebration on a high note.
The Oriental Afternoon Tea will be available from 16th to 31st January 2023, from noon to 8pm and is priced at IDR 488,000++ per set, including tea or coffee for two people. This special afternoon soiree at Peacock Lounge is supported by Citigold from Citibank Indonesia. Special offer for all Citibank Indonesia debit card holders to enjoy 20% savings on Oriental Afternoon Tea.
PROSPERITY FEAST AT SPECTRUM RESTAURANT
Gather with family and friends for a joyful reunion with an abundance of delicacies from around the world and special honours accorded to Chinese specialities. Spectrum restaurant promises a lively celebration, complete with live music and staff dressed in themed attire to complement the lavish buffet. Executive Chef Hamish Lindsay and his team are preparing delectable Oriental dishes that spotlight fresh, seasonal produce and expert culinary creations.
Enjoy an elaborate menu such as Abalone, Barbecue Suckling Pork, Whole Roasted XO Snapper, Sichuan Roasted Chicken and fresh lobster and other kinds of seafood that are responsibly caught from the Lombok waters. Unique selections include wok-tossed dishes, dim sum, suckling pig with sliced skin, Chinese BBQ, and festive sweets.
The highlight of the festive menu is the traditional Yee Sang, made with premium ingredients such as abalone, salmon fish belly, and marinated spicy jellyfish. After mains, enhance celebrations with a dessert station where a range of heavenly desserts will provide a sweet ending for the memorable experience.
The prices for each feast event:
Chinese New Year's Eve Dinner (21st January 2023): IDR 928,000++ per adult,
Chinese New Year Lunch and Dinner (22nd January 2023): IDR 888,000++ per adult
Children ages 7 to 12 can enjoy 50% off the price above.
For more info on dining offers and to make reservations, please contact us by: