Victoria Bannerman people-watches in malls to bring you the fashion rights and wrongs of Indonesia's capital city.
Being a stylista, I am always intrigued by people's choice of attire, and when wandering around Jakarta's malls, I have to say I have encountered a few fashion faux pas that are simply not acceptable!
Get your sartorial act together and let your imagination take charge.  Mix-match, clash it, flower power it, drop the black (well, occasionally), leather it, and just don't be scared to be different. No ubiquitous, hoi polloi attire please. Be stylish and not a slave to fashion – just because it's in, it doesn't mean you've got to have it!
The way you present yourself is important. It is like your calling card; first impressions and all that jazz. Raise the bar, my fashion friends. For fear of being controversial, I have to say that there is something lacking in the fashion individuality stakes of Jakarta. The uniform of ill-fitting straight/skinny jeans and a non-descript top seems to be the choice of garb, with shoes that don't fit!
Just to let you know, there are a multitude of jeans in enticing hues of blues, fantastic prints, a rainbow of colours, some embellishments with angry rhinestones, scary zips, lace, tuxedo stripes and even melted coins and fabric paint. The cuts are varied too, so you don't have to stick to skinnies, which really don't work for everyone!
Take advantage of the smorgasbord of denim designs and be super-duper stylish. Try G-Star men's ARC 3D shorts or the A-crotch shorts (wear them fitted or loose), team them with a chemise top, silk shirt, or an embellished tee with sky-high shoe boots, a fedora and waistcoat and ta-dah, you are style personified. How about some denim overalls? They would look cool with either a boob tube or a billowing-sleeved blouse and high-top platform, funky trainers like those from Giuseppe Zanotti. Less expensive pairs are available, but I adore Giuseppe! No bling jewellery required, just gold hoops and a cuff will suffice.
On the end of the skinny jeans tends to be a vertiginous pair of designer shoes, often from Christian Louboutain. Now ladies, if you are going to buy "them here shoes", you had better darn well know how to sashay in them. In the catwalk of the malls, this indeed is not happening. Remember you are not wearing your flip-flops! And don't buy them two sizes too big either – you will not be growing into them. It will only make you look like you are borrowing your mamma's big-old shoes. There are other shoe designers like Sophia Webster, Jimmy Choo and Charlotte Olympia, whose designs are happiness-inducing and interesting.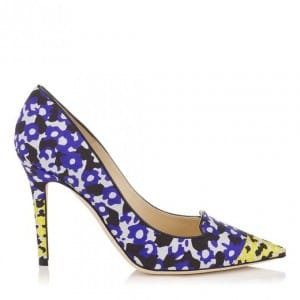 No more big hair that resembles heavy black-out curtains. Ditch the brown, auburn and chestnut! Dye it, flick it, fringe it, layer it, plait it, bob it, crimp it, and please lay off the lacquer; that bird's nest has to go – we don't want a curious fowl perching on your barnet! No just-taken-out-curlers looks either. Be experimental with your dyes – try copper, fiery red, midnight blue, hot chilli red, purple, or dip-dye. Bring life to your beautiful face.
I also see a sea of impossible-looking false lashes, as though they are about to sweep the floor! You are not about to set the stage alight as a drag queen extraordinaire. Stop! Enlist the help of a professional who can put individual lashes in so you look like you were born with a set of a natural, luscious-looking lashes. Tone down the cement-like make-up, no cadaver would be seen in war paint like that! Less is more. No more cartoon-character eyebrows, naturally shaped please. Get them threaded, and remember no two eyebrows are the same, so honour each brow. If you have to have semi-permanent make-up, employ an expert who is also gentle and kind with a lifetime of experience.
If you insist on wearing shorts, please make sure they fit perfectly. It is a scary world in the malls when shorts have been cajoled to wrap around a generous thigh and booty when there is clearly not enough material to go around! Don't hurt the shorts, go a size up and wear them on your hips. You do not want to have that appalling crotch-caught-between-chafing-thighs scenario! Equally, if you are skinny, that does not give you the right to show the world your 'hoo-ha'. So cover your beautiful bits and start to show your lovely pins mid-thigh!
I am watching you. Keep fashion tidy.