We all know Bali is full of varied, enchanting natural beauty. Cliffs, forests, lakes and volcanoes adorn this island, showcasing Mother Nature at her finest. Here, you can frolic with fish and mingle with monkeys. But if you really want a sight for sore eyes, turn your peepers onto some of the island's indigenous fashion species found in their natural habitats…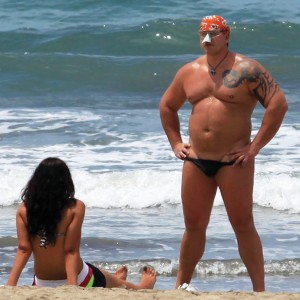 The Oligarchs Abroad
On him: By the pool? A budgie smuggler so tight you're afraid an off-balance swagger to the loungers will reveal all of St. Petersburg's treasures. At night, a shiny shirt unbuttoned just enough for copious chest hair to enjoy the breeze. Sunglasses, gold rings, and a massive cigar. Think knock-off Burberry, pre-Christopher Bailey – mostly found on Scousers and Cantonese housewives.
On her: As little as possible. By day, she takes 'barely there' to barely legal, with neon swimwear from Victoria's not-so-Secret. Allow your teenage son to play nearby at your peril. At sundown, she ups the ante with a rotation of body-con dresses that you would rather left something to the imagination. Accessories consist of towering heels, cigarettes and a scowl. See Hervé Léger.
Stomping ground: Jimbaran, Nusa Dua.
The Beach Bums
 On him: A six-pack (not the beer variety), board shorts, and a smile. May also entertain rash vests, ankle bracelets, long hair, and sport some scars from swashbuckling surfing war-stories. Likely to resist clothing on matters of practicality rather than principle (see Eat-Pray-Lovers). If all else fails, a Bintang vest.
On her: Sporty Spice goes tropo. Cutesy tropical-print triangle bikinis, itty-bitty shorts, tousled sea-spray hair, and lashings of sunblock. See Quiksilver, Billabong, et al.
Stomping ground: Kuta, or else Uluwatu surf breaks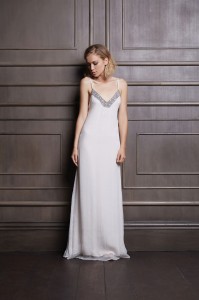 The Cityfolk
 On him: Look up 'hipster' in the dictionary. Bingo. Obligatory facial hair sits atop a doesn't-look-designer-but-actually-is shirt (possibly lumberjack), slim-fit jeans, and Toms. Illusions of individuality are provided via 'quirky' accessories: a laissez-faire bracelet here; je ne sais quoi sunglasses there. The entire look head-to-toe can be found on Jl. Petitenget.
On her: By day, something comfortable enough for hopping off her Garuda flight from Jakarta: skin-tight white denim jeans and six-inch wedges should do it. When she steps out of her secluded, little-known villa, she has transformed into her version of a Bali butterfly. It could be a billowing Biasa blouse, or a pair of printed harem pants. Hitting only the best bars at night, it's got to be a maxi dress with sandals, gold or costume jewellery, and fabulously coiffed locks. See Lulu Yasmine.
Stomping ground: Look no further than Seminyak.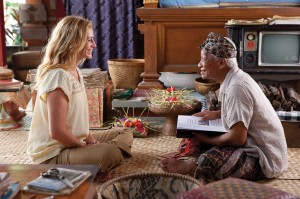 The Eat-Pray-Lovers
 On him: Preferably nothing. Clothing is for fascists, man. If coerced into covering up, he might be able to put his hands on some scratty, been-around-the-backpacker trail pants, flip-flops and a mandarin-collared shirt that possibly used to be white. It is crucial that he looks unwashed – a shower would ruin the look. Think Jim Morrison.
On her: Depending on her surroundings, she vacillates between too-small spaghetti-strap tops and full-on culture vulture cover-ups. It is important that something on her person is elephant-printed – preferably her harem pants. Copious friendship bracelets, anklets and love beads adorn her person, and she greets one and all with a beatific smile, smugly garnered via morning yoga sessions and kale smoothies. I can't name labels as she rejects them, whilst single-handedly upholding the businesses along Jl. Monkey Forest.
Stomping ground: Ubud, of course.