The curious, the fashionable, the movers and shakers of Jakarta, resplendent in all their finery, turned up in full force at Indonesia Fashion Week to observe and opine on the wares of the land's great designers.
With the sprawling hall bedecked in sleek black, the pomp and ceremony unfolded. There were ambassadors, speeches and presentations – I felt a strange sense of patriotism as the national anthem was sung. The beating drums welcomed all and signalled four serious days in the business of fashion.
Day 1
Romantic Cotton showed us "A Picnic in Spring". This was cotton-candy sweet, with almost edible pastels fashioned into skirts, simple tops and shirtdresses.
Retty Seyla took us down boho-chic lane, with whimsical chiffon and superbly embellished kaftans. This is Marrakesh meets Miami, just kissing Bedouin-chic.
Winny Nagawaty's "A City Movement" sent the models down the runway in supreme colour blocking of black and white, yet popping it with colours like aqua blue in the form of chiffon jackets, shorts, skirts and trousers.
Everlasting Batik by Elda Veronica saw colour-infused batik interpreted through 50s-inspired skirts and tops in tempting, gelato colours.
Zikin – a homage to Paris. A classic black and white combo with an injection of red made this collection retro yet contemporary. Billowing flowing skirts, jaunty hats perched seductively on the models' heads, corset tops and wide-legged trousers made for an elegant, quirky collection.
Tyra Modeste presented a show of lush velvets in green and purple mixed with Aztec-like prints. The collection was clever in its simplicity and easy on the eye.
Dana Duryatna – enter into a world of cool. Full of fringing and tassels, necklaces, gold platforms and floating robes, this is very Elizabeth Taylor-esque.
Later in the day Zalora, a fashion emporium, showed its wares. In many ways, the show did not excite – the redeeming feature was the soundtrack. If they aim to be Asia's answer to ASOS then it has a way to go, but it is leaning in the right direction.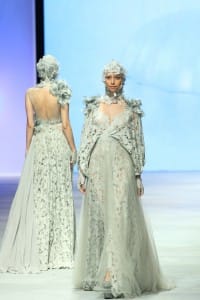 Ivan Gunawan showed us why he is one of Jakarta's most loved designers and personalities. Thalassa, the sea goddess, inspired his collection, consisting of shimmering, mesmerising silver, depicting the sunlight as it bounces off the waves – a vision both calming and beautiful. The sea-green dresses were, for me, the best part of the collection.
Wandering along the warren of designer house stalls, I discovered many a delight like jewellery designer Kayikala, whose designs are delicately subtle yet stand-out.
I stumbled upon Steven Huang. His designs are deliciously unique. At first sight, the dresses gave the impression of being crafted from paper, but of course, they are not. A strapless camouflage dress and an interestingly-cut top caught my attention, not to mention the snakeskin print padded tops and skirts.
Day 2
Muslim-wear was at its best, with diverse and glorious ways of wearing the hijab. Observing tradition never looked so beguiling. I adored the AIRA Muslim bridal wear; delicate and ethereal with an antique 1920s feel.
Vivi Zubedi – colour-blocking cover-up with 'Aztec' prints to give a pop of colour.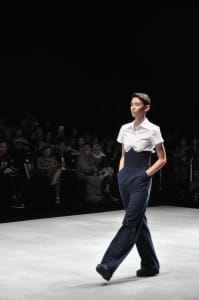 Kaimma Malabis made red the theme in this collection – long, flowing skirts and headdresses with flair.
Simply Mii – the collection was hip-cool with taupe and mint green making an unlikely coupling, bringing about a fresh feel. The cleverly cut trousers with 'fake' slits showed us just how not showing flesh but still looking sexy should be done.
Monel – headgear was intriguingly stylish and the use of grey, cream, brown and sea green provided a scrumptious palette to feast on.
JenaHara bravely mixed Navajo with Muslim attire with spectacular results. I liked the little touches, such as the feather belt, pantaloon skirts and the dream catchers attached to the headdresses.
Day 3
Saturday night saw Stage 1 packed to the rafters. Three designers showed and the standout one for me was ALGARRY by Albert Yanuar. The captivating print, reminiscent of the dragons and floral motifs in Ming Dynasty porcelain was breathtaking. A full-skirted dress with blue panelling at the back was delightfully chic.
His pièce de résistance was a stunning gown, in which halfway down the runway, the model performed a Houdini and whipped off the bottom half, transforming it into a cape!
Klé – this was chic, boho-Birkenstock traveller with a strangely quirky appeal – tunics over skirts and chunky platforms. Culottes in lime green, cropped tops, combat-style and shin-length trousers in orange brought a bit of zest to an otherwise muted collection. If shorts over leggings are your thing, with oversized bomber jackets and random colours paired together, then this is for you.
Rinda Salmun presented us with "Elevation". A monochrome-fest saw a sleeveless jumpsuit teamed with preppy lace-up/loafer-type shoes. A swirly, psychedelic top with a pair of 'two-face' trousers was sensational – the front of the trousers grey, the back black, with a pink tuxedo stripe just to complicate things! This was a collection of mish-mashed beauty. The best piece was perhaps a trouskirt (trouser and skirt) – gorgeous slacks with a train attached.
Sav Lavin – a moody collection, even though some of the collection was in clinical white. Symbols and signs adorned tops, some with honeycomb cut-outs. A grey, metallic bell-sleeved shift dress was simply exquisite and so too was a black dress with cage sleeves. The white dress with interesting quirks would be at home on Katy Perry.
Day 4
Bintang MirA's collection was batik – beautiful with embellishments and cleverly cut shapes. The checked material mixed with black and tan fabrics made for extremely wearable, cool ensembles.
Both Dhiantia and Francesca Irene produced worthy collections.
The standout collection by a furlong was Dini Pratiwi Irawati. Never has denim looked so majestic and elegant. The shredded-sleeve jacket was streetwise cool. I loved the high-waisted jean trouser – it would look great with a humongous-sleeved, blood-red chiffon blouse. Red carpet worthy.
Anne Avantie showed us how to do grandiose-simplicity to the nth degree. Her best collection yet; lighter, brighter and younger in style.
Peggy Hartanto's collection – made well, wearable and original.