CasCades enjoys an Ubud location so stupendously stunning, it is reason enough to visit the well-established fine-dining favourite. But Chef Nic Vanderbeeken hopes you'll agree the food is just as enticing. We were privileged to enjoy a languid, multi-course lunch gazing at the Valley of the Kings, where we ate like royalty.
Eating is my main preoccupation in life, and many times I have found myself pondering how similar it is to the experience of dating. CasCades Restaurant in Ubud brought this into sharp perspective on a recent visit. With a space as beautiful to look at as this, the initial attraction was undeniable. But were we well-matched for a palate-pleasing partnership? The proof of the pudding is, as ever, in the eating.
An amuse-bouche is like a chef's online-dating profile. It's a little teaser. Done right, it should have all his key hallmarks, and work as a tempting tell-tale of treats to come. Like what you taste? Swipe right for more.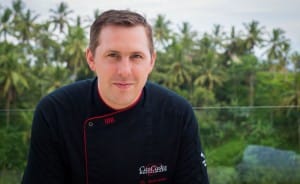 Chef Nic Vanderbeeken began with a little whipped salmon affair adorned with a beetroot sauce and seaweed 'soil'. This told us several things: one; anyone who goes to the effort of making soil likes technique. It's a safe bet bells, whistles, test-tubes, sous-vide machines and spherical dry-ice contraptions turn Vanderbeeken on. Two; he likes to use classic European ingredients like salmon, but modernised. Third; as evidenced by the seaweed krupuk under the salmon, Indonesian heritage is equally important to him. All three of these key themes unfolded nicely throughout the course of our culinary courtship.
Take the salmon starter (slightly anomalous to be served two salmon dishes in succession in a dégustation, but we'll breeze past that). This lovely piece of cured fish came with a gentle wasabi cream, good crispy skin, and soil's cousin, toasted breadcrumb 'sand'. But Vanderbeeken's technique talent didn't stop there. We also had some pickled cucumber, which went very well with the other flavours. A successful first date with the Belgian chef.
Another starter, from the à la carte rather than the degustation, was delightful: a simple-sounding Heirloom tomato salad celebrated fresh flavours with its lovely lavender oil and basil sorbet. Vanderbeeken was proving to be quite the flirt.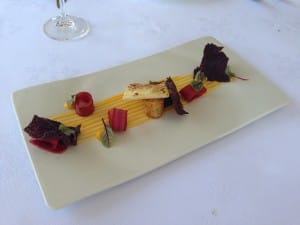 Next up for the set menu was a beautifully-cooked piece of Jimbaran squid, which nestled on the same seaweed soil, but with an innovative and tasty black rice krupuk. There was more pickling – this time, lovely purple carrot shavings, and a mango sauce. Another dish bursting with the CasCades East-meets-West hallmarks – and certainly second-date material.
Following that was the day's star dish: grilled scallops with pickled shimeji mushrooms, shiitake, celeriac sour cream and kalamansi yoghurt 'pearls'. These cold, spherical drops (formed either by a 'molecular' machine or dry ice) were not just technique for the sake of modernity, but added real flavour to the dish. The scallop was perfectly cooked and every element played its part.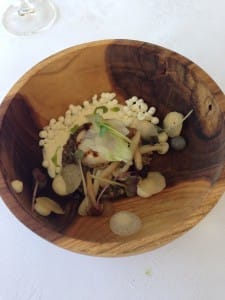 Before the main course we had the opportunity to cleanse our palates with a kalamansi sorbet. This citrus fruit tastes like a combination of lime and clementine and is perfect for refreshing yourself in between lots of different flavours. It resets your taste buds, ready for the next round.
Taking a swerve to the East, Vanderbeeken served up the big guns for our third date. His take on rendang was made with beef cheek, the most tender part of many animals. It was quite a dry, sweet, rich sauce – as it should be – accompanied by a fortifying nasi kuning tumeric rice cake, and a blanket of grilled cabbage leaf over the top. Pleasingly, this dish was not over-elevated for the sake of modern fusion. Instead, the true flavours of rendang came through, and the meat was beautifully soft.
No romance is complete without a sweet ending. But Vanderbekeen had a surprise up his sleeve again: his 'savoury' dessert of red bell pepper sorbet, chocolate 'aero' cubes, beetroot sponge, and berry-beetroot sauce. The sorbet tasted exactly like it said on the tin: red peppers, distilled into an icy quenelle. In itself this was not at all sugary, however the name of the dish proved to be a bit of a misnomer, since the cubes, sponge and sauce had a sweet aftertaste. Overall this was a cheeky little bombshell of a plate, which certainly kept us guessing.
The restaurant has an extensive wine list, which has in the past attracted numerous industry awards. Wine is what you need with this level of food, and I would consider going by the glass to get the best matches out of the different flavours on Vanderbeeken's menu. We sampled a delicious rosé, but there are also ample cocktails to be enjoyed as you sit and savour one of Bali's top dining experiences.
CasCades is often touted as the perfect spot for a special night out in Ubud, particularly for date nights and special occasions. But I insist it is just as magical for lunch, when the sheer greenness of your surroundings are set off to their best advantage by the gorgeous architecture of the Viceroy Hotel. Take your paramour and delve into a dining dalliance to remember.
CasCades
Jln. Lanyahan, Br. Nagi, Petulu, Ubud, Gianyar, Bali
+62 361 972111 www.cascadesbali.com