The sixth edition of the Jakarta Culinary Feastival (JCF) is coming back this 3-6th October 2019, at Senayan City.
Foodies can overindulge on a flavourful culinary adventure to taste and sip on selections of Indonesia's latest food and beverage trends, hosted by some of the region's most loved hot spots.
Celebrating this season's rich ingredients and best practices that influences the current culinary market is what this year's theme of "In Bloom" is all about. It will certainly bring about an unimaginable experience.
A wide range of activities will be spread out over two large tents – Spoon Tent located opposite Senayan City's North Lobby, and Fork Tent located opposite of Senayan City's South Lobby. This is a chance for everyone to taste, sip, learn, and have fun!
In Spoon Tent, Restaurant Area and GoFood Festival will be where foodies can enjoy a variety of cuisines from Jakarta's famous restaurants, as well as 20 top-rated merchants of GoFood. Foodies have the opportunity to get a variety of vouchers and exclusive merchandise from GoFood at the Food Miracle Cave. There are also 20 culinary merchants to pick from at the GoFood Festival.
"GoFood's existence is now no longer merely a messaging-food platform, but as a catalogue of the most complete culinary merchant for consumers who want to explore the culinary flavours of 400,000 merchants in Southeast Asia," explained Marsela Renata, Senior Marketing Manager of GoFood.
Fans of dessert and coffee will be pampered at the Fork Tent, featuring the Dessert Garden and Coffee Room. In addition, Fork Tent will also be home to the Marketplace; an area for food vendors and kitchen appliances, as well as GoFood Paradiso; a zone where foodies will explore the culinary paradise of GoFood to fulfill all sorts of cravings through various installations such as Journey to the Food Sanctuary, Bakso Meditation Room, Satay Mystical Trees, Boba Tea Sacred Pool, and GoFood Prophecies Booth.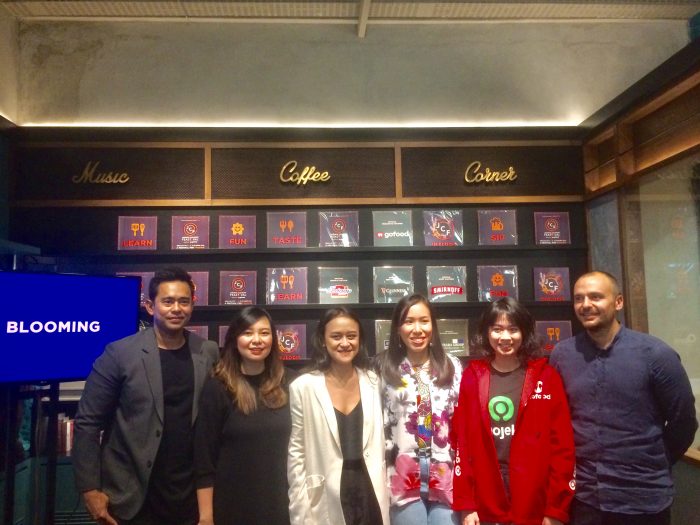 "Foodies and famous figures in the culinary world can interact with each other through a variety of activities held during the 4-day festival," said Sarah Deshita, Brand Manager of Ismaya Live.
A total of more than 49 culinary stars in Indonesia, from various backgrounds such as chefs, mixologists, barista, and food and beverage experts, will be starring in JCF 2019. They will conduct various activities during JCF 2019 which include cooking demos, coffee demos, kids ' cooking classes, a talk show, pastry demos, a masterclass, and wine tasting.
"Through a variety of masterclasses, foodies can directly participate in classes exclusively guided by the culinary stars that we present. The culinary stars will also entertain foodies in the activity of a Chef's Table Experience where they will cook and directly serve their respective signature dish to foodies," Sarah continued.
Slots are very limited so hurry up and book tickets for a masterclass and a Chef's Table Experience, tickets are available at www.jakartaculinaryfeastival.com!
A total of 4 Michelin Starred chefs will enliven the JCF 2019, among them Julien Royer from the Odette restaurant in Singapore (No.1 Asia's 50 Best Restaurants 2019 and No.18 World's 50 Best Restaurants 2019), Ivan Brehm of the Nouri restaurant in Singapore (No.39 Asia's 50 Best Restaurants 2019), Richie Lin of Mume in Taiwan (No.7 Asia's 50 Best Restaurants) and Manjunath Mural who is the head chef of the new restaurant concept Ismaya Group Gunpowder Kitchen & Bar. Melbourne Huxtaburger will open its first pop-up booth in Indonesia and also Mangkok Ku – a collaboration of MasterChef Indonesia's jury, Arnold Poernomo alongside Gibran Rakabuming and Kaesang Pangarep – will also roam around the festival.
In addition, the founders of the renowned pastry shop BEAU Bakery, Talita Setyadi, as well as the Chef of the Year winner of the Jakarta's Best Eats Award, Fernando Sindu, will also greet the foodies along with Boga celebrity Sisca Soewitomo will be one of the culinary stars of Indonesia that will do a cooking demo.
Foodies who want to show off their cooking skills can participate in The Chef Hunt 2019. Together with one of the world's finest culinary institutions, Le Cordon Bleu, and Modena, The Chef Hunt is open to aspiring chefs. The first winner of The Chef Hunt 2019 will get a short course at The Malaysian campus of Le Cordon Bleu complete with airline tickets, accommodation, and pocket money. Registration is open online at www.jakartaculinaryfeastival.com/chefhunt and is open until 15th September, 2019.
Last year, a total of 70,000 visitors attended, which was livened up by more than 130 programmes, 72 tenants, and 54 culinary stars from outside and in the country for four days.